Jump to Footer
Jeff Stephan '68 - An Alaskan Fish Tale
---
An Alaskan Fish Tale
Jeff Stephan's fondness for SUNY Plattsburgh stretches back 40 years, four time zones and 4,800 miles.
The member of the Class of 1968 has come a long way, professionally and geographically, from his days in the economics department as an undergrad. A chance meeting with a teacher recruiter from Alaska, sitting alone in a classroom in Hawkins Hall, set the wheels in motion that propelled Stephan from his Plattsburgh surroundings to those of the Yukon Territory and Kodiak, Alaska.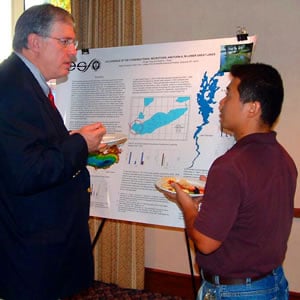 Left to right: Jeff Stephan & Xingye Yang
Long-held Interest in Alaska
"I had an interest in Alaska since childhood, but it was heavily accentuated during the winter of my senior year at Plattsburgh," he said. "On one of those very notable January Plattsburgh days, I entered Hawkins Hall through the rear northwest door and into the hallway where the old bookstore used to be. Because of the horrendous weather, Hawkins Hall was almost empty, and there was not much going on. There was a teacher recruiter from Alaska set up in one of the rooms in the subject hallway. There was a sign outside the door alerting passers-by that (he) was interested in speaking to education majors who may wish to teach in Alaska."
Although he was an economics major and interested in working for a large corporation in New York, he took the opportunity to chat with the recruiter about Alaska.
"We chatted for a very long time. You might say that that conversation, and the picture that was painted by the recruiter, stuck in my mind, frequently recurring and ultimately drew me here," he said. "(That) recruiter was a salesman and almost convinced me to drop my business leanings and come to Alaska to teach."
Kodak Job Awaited After Plattsburgh
The call of the Alaskan frontier had to wait for a while, however, because Stephan pursued his plan to work for big business in New York, landing a job with Eastman Kodak in Rochester, N.Y., where he worked for five years. He arrived on the Kodiak, Alaska, scene in 1973, intending to take a break from work before earning a graduate degree.
Backpacking it through Alaska, he ended his travails in Kodiak where circumstances "put me on a commercial shrimp boat as a crewmember," he said. "I fished for shrimp for a short time out of Kodiak, after which time I left Kodiak to spend Christmas in Oregon with my future wife (Karen)," he said.
Travel, Marriage then Alaska
His intention to return to Kodiak in mid-January extended into a two-and-a-half-year excursion in which he traveled and worked in 16 countries in Latin America. He returned to the United States in late 1976, married Karen, and the couple moved to Kodiak where the commercial fishing industry lured him back.
"In November 1978 I took the job I currently hold," he said.
As manager of the United Fisherman's marketing Association, Inc., in Kodiak, Stephan oversees an organization whose members conduct fishing operations throughout the Gulf of Alaska and the Bering Sea/Aleutian Islands.
"Kodiak is a beautiful and magnificent part of the world," Stephan said. "I (also) have a deep and profound fondness for Plattsburgh."
Often Stephan said he finds himself "talking about my fondness for, my pleasant memories of, and my enjoyable experience at SUNY Plattsburgh, the City of Plattsburgh, Lake Champlain and the general area. Plattsburgh is a wonderful place, and my four years at Plattsburgh were among the most enjoyable of my life. Next to my 28-year marriage and having been provided with the gift of two wonderful children - son, Nathan, 26, and daughter, Kathryn, 22 - Plattsburgh is pretty much next on my list of favorable experiences."