Jump to Footer
Inclusion, Belonging at Heart of SUNY Plattsburgh Muslim Student Association
---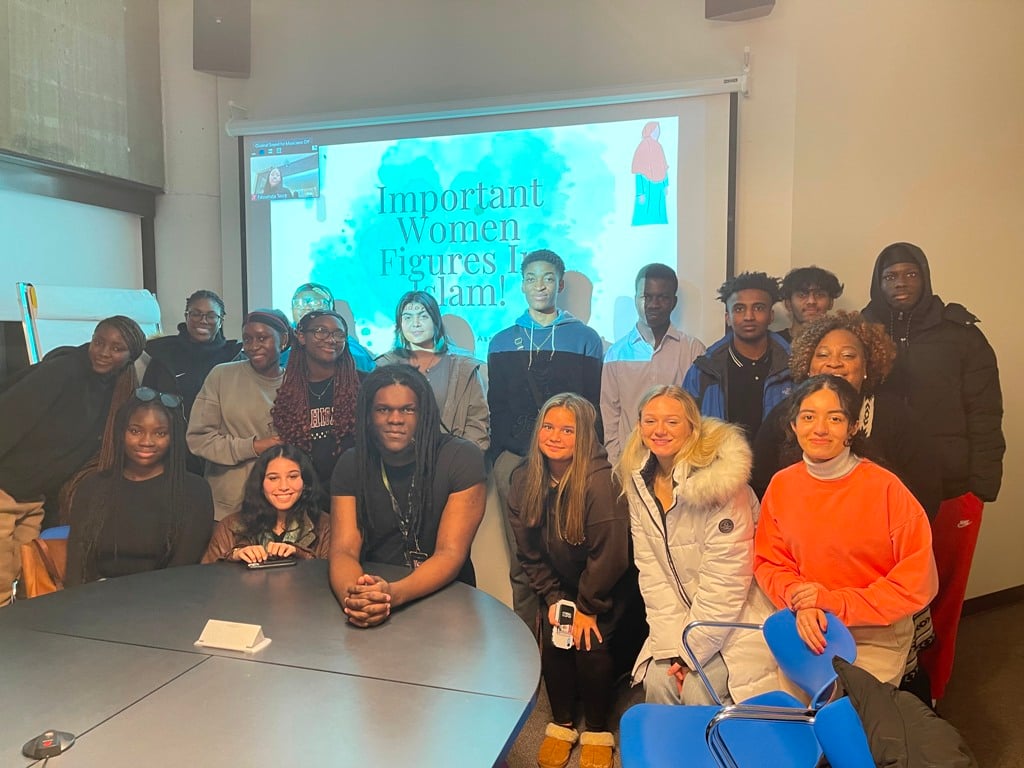 Photos/Felicia Krieg
Members of the SUNY Plattsburgh Muslim Student Association at a recent meeting.
Inclusion and fellowship are fundamental tenets of the SUNY Plattsburgh Muslim Student Association.
"Representation really matters when it comes to identity and how a person fits in a society," said senior Saran Kaba, club president.
'Welcome Different Religions and Backgrounds'
"Our mission is advocating for Islam, bridging the gap between the misconceptions about Islam and the (general population's) lack of knowledge when it comes to Islam," said Kaba, a communication disorders and sciences major from the Bronx.
Students of other faiths and non-religious students alike can attend club meetings and learn more about Islam while forging new relationships, Kaba said.
"Not everybody on our board is Muslim. We are welcoming to different religions, different backgrounds and different people. Islam is not one specific race or ethnicity. It's literally worldwide, with different races, backgrounds, cultures," Kaba said.
After Kaba and some fellow Muslim students saw a void in representation on campus, Kaba said she made it her mission to resurrect the college's Muslim Student Association, which hadn't been active for many years.
Well-attended Inaugural Eid Dinner
The process toward gaining permanent club status started about a year ago when more than 100 students, faculty and staff attended an Eid Mubarak event Kaba helped organize, complete with halal dinner, dance and singing performances, and an educational presentation about the religion.
"We weren't anticipating that much (attendance) since we weren't even a club yet," Kaba said.
"We were just a small community who wanted to celebrate Eid in the ballroom with the help of different sources on campus."
Chartwells partnered with the students, who trained the food service employees to prepare halal food properly.
"Ever since that event, it definitely exposed us to a different group of people. The same people keep coming to me asking are we going to have Eid this year, so they are expecting that event again," Kabe said. "They said the food was good, the performances were good, the presentation was great. It exposed them to what Islam is and what the month of Ramadan means to Muslims."
Gained Permanent Club Status
In the fall 2022 semester, the Muslim Student Association's board members worked to get permanent club status, which includes funding from the Student Association's $1 million annual budget.
After the organization submitted the necessary paperwork and met club meeting attendance requirements, the Student Association voted last semester to grant the Muslim Student Association full club status.
2023 Ramadan Events
This year, the holy season of Ramadan began on March 23 and ends with Eid on Friday, April 21. Kaba said club members expect a strong turnout at this year's Eid celebration.
And for the second consecutive year, Muslim students will gather on various dates in the first-floor kitchen lounge of Kent Hall for Iftar dinners and a prayer as part of Ramadan. Iftar is eaten after sunset when Muslims break their daily fast during Ramadan.
Faculty and staff can join students at the events. The next Iftar dinner in the 11-dinner series will be held Tuesday, April 4.
Additionally, on many Fridays throughout the semester, students pray together in the interfaith prayer room in Moffitt Hall. In Islam, Friday is the holy day, similar to Saturday in Judaism or Sunday in Christianity.
'Similarities to Christianity'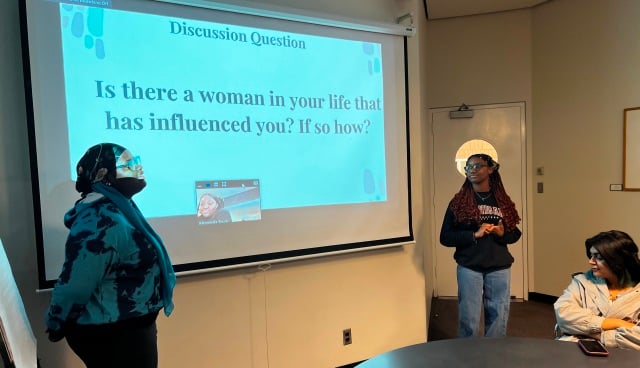 At a Muslim Student Association meeting in March, Kaba and other members talked attendees through a PowerPoint presentation that detailed the lives and experiences of key female figures in Islam, many of whom were relatives of the prophet Muhammed.
Fatoumata Toure, the club's vice president, helped with the presentation via Zoom from a study abroad experience in England.
Jamal Dornellien, a senior psychology major from Brooklyn, said he attended the meeting to support his friends and that it was one of a few events he planned to participate in as part of Women's History Month.
"Being a Christian myself, we're very close in terms of religion, and I've been to other (Muslim Student Association) events in addition to this. I've found many things we do correlate," Dornellien said.
"Morally, we're not that different in terms of how we handle things except different countries may vary in their opinion of how certain religions work, but we're not that different," he said.
Addressing 'Common Misconceptions'
Kaba said a common misconception about Islam is that women in the religion face oppression and that speaking about it during Women's History Month was important.
"We do tend to be more private and covered up" in terms of clothing, Kaba said. But "it's a misconception that men oppress women. That's not the case. We (women) have a lot of rights just like men do, and we have our own voices."
After the presentation, students took turns speaking to the group about the women in their own lives and their influence on them. Several students spoke about their mothers, grandmothers, sisters and cousins.
Allison Heard, vice president for diversity, equity and inclusion, joined the conversation that evening and spoke about how her mother's work ethic set a position example for her. Heard has attended multiple Muslim Student Association events this academic year.
Previous meeting discussion topics and activities include Islamophobia, Islamic Jeopardy, gender roles in religion, a painting activity with refreshments, and hijab vs. non-hijab Muslim women.
'Meet New People, Learn New Things'
Sidiya Faye is in charge of public relations for the club. After attending last year's Eid celebration, Faye heard Kaba was recruiting board members.
"At the time, I didn't really have any club experience, so I thought I'd give it a try," said Faye, who is from Manhattan. "I just joined for a new experience.
"For me, the club experience is just to come down, wind down, see people who are in the same culture as me, learn, have fun," Faye said. "I come here to talk to people, meet new people, play some games, learn new stuff."
For more information about the Muslim Student Association and its events, follow them on Instagram at @msa_suny_plattsburgh or email Kaba at [email protected].
— By Assistant Director of Communications Felicia Krieg