Jump to Footer
Hundreds Return for Heartfelt, Emotional Homecoming 2018
---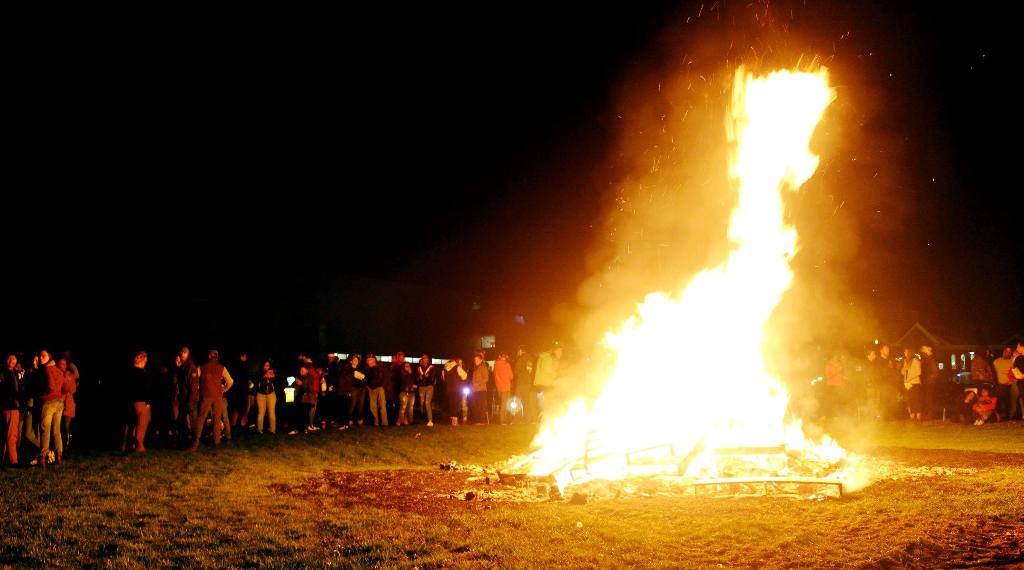 Homecoming 2018 saw more than 700 alumni and friends of the college return to campus for myriad activities that brought smiles and — for some — tears over the course of the Oct. 12-14 weekend.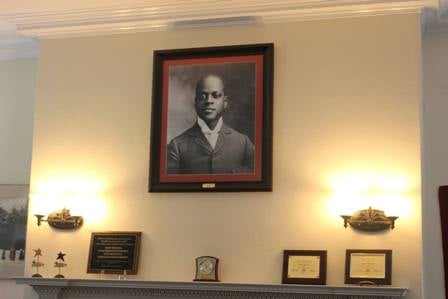 Friday began with a standing-room-only crowd in Champlain Valley Hall during the dedication ceremony of the James Augustus Wilson Commons. The Commons was dedicated to the Class of 1902 African-American to honor his achievements and commitment to social justice throughout his life. A scholarship in his name to benefit African-American/black students who emulate the qualities he embodied was announced at that time.
That night, more than 200 attended the Cardinal Athletic Hall of Fame Induction and dinner in the Warren Ballrooms, Angell College Center, including family, friends, alumni, faculty, staff and current student-athletes. There they welcomed the induction of Breanne Doyle '07, women's ice hockey; Kris Gibbs-Smith '06, men's basketball; Susan Hutchins '88 G'92, track and field; Julie Devereux Kimball '08, women's ice hockey; Matthew LoPiccolo '97, cross country and track and field; Curtis Smith '06, men's basketball; and Christopher Waterbury, head men's soccer coach emeritus.
As the sun went down Friday, the temperature rose during the annual Homecoming bonfire behind Memorial Hall, with more than 300 students and alumni enjoying musical entertainment and seasonal refreshments.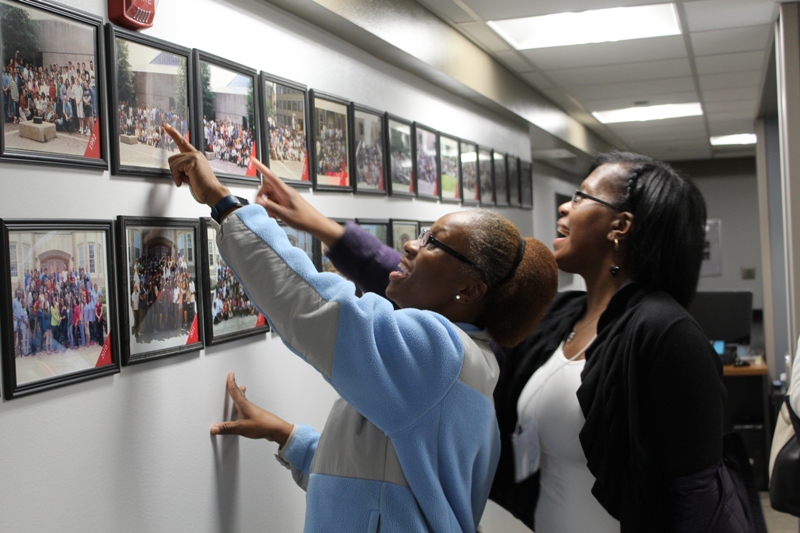 On Saturday, Student Support Services and the Educational Opportunity Program's new suite of offices in the ground floor of Macomb Hall were open for tours and the 40th anniversary of SSS.
"I spoke with a few alumni who were quite impressed with the new space in Macomb," said Kerry Chapin-Lavigne, director of alumni relations. "The were so pleased that our students have access to such contemporary spaces."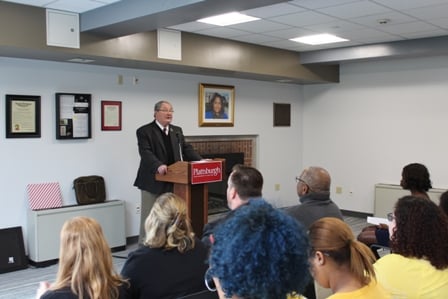 It was also fitting time to dedicate the Kyla J. Relaford Room, a gathering space just outside the EOP and SSS offices, Relaford, who served as EOP director, died suddenly in April at the age of 37.
"Since then, we've gathered together and celebrated another graduation of the class of EOP students, initiated into college life an EOP Summer Institute and moved the EOP offices out of the cramped Angell College Center into these palatial new digs," said President John Ettling during another standing-room-only crowd.
Relaford's widow, Michael Gallagher, and her father, William, sat in the front row. Students, alumni and community members teared up during a rendition of "Amazing Grace" by the EOP Choir and continued throughout the dedication.
Richael Quartey, a sophomore EOP student is the first recipient of the Kyla J. Relaford Memorial Scholarship.
"Without EOP my first year of college would have been way more stressful than it was," Quartey told those gathered. "With Kyla as my primary adviser, I never lacked anything. Kyla always made herself readily available to every one of her advisees; she was the 'mom.'"
Quartey said she was shocked when, during the EOP spring awards ceremony, she learned she was the recipient of the Relaford scholarship, being reminded that Relaford would say, "Each one of you was chosen for a reason."
"That's when it hit me," Quartey said. "I was chosen to carry on Kyla's legacy, and that has been my source of motivation and strength through the summer and now. When I feel like giving up, I remind myself that I have to make Kyla proud because she chose me for a reason, and I have to uphold her legacy."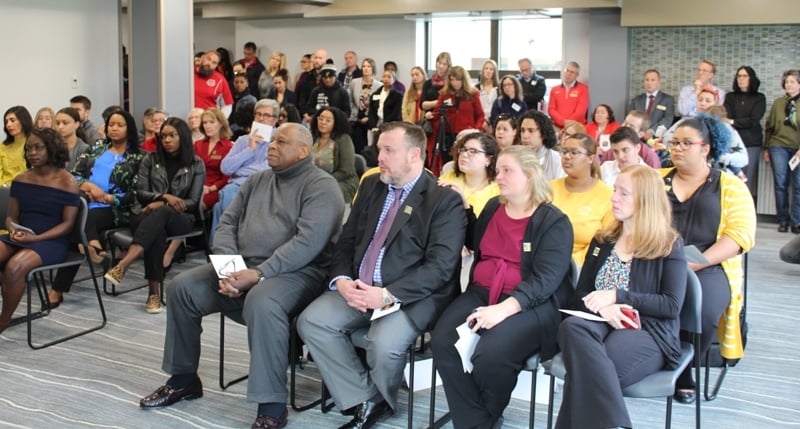 The college also honored Dr. David "Doc" Mowry, distinguished teaching professor emeritus and founding director of the Honors Center, with the renaming of the Honors Seminar Room B as the David N. Mowry Seminar Room. The Krinovitz Recital Hall in Hawkins Hall served as the venue, and it, too, was full with close to 100 people. A reception followed in the Honors Center.
In addition to the bonfire, athletic games, planetarium shows, musical entertainment, the annual welcome-back social at the Monopole, and skating with Burghy at the field house, alumni were treated to tours of campus so they could see how their alma mater has changed over the years.
Amazed at Upgrades, Additions
"The alumni on the campus tour were amazed at the upgrades and additions to the campus," Chapin-Lavigne said. "They were quite impressed with the renovations to Clinton Dining Hall. They couldn't believe the number of food choices available to the students. They appreciated the modern feel and expansion of the campus, from the residence halls to the new buildings."
The Campus School had a reunion within Homecoming, with students and teachers returning to relive memories of when Sibley Hall was an elementary school that served as a lab for SUNY Plattsburgh's education majors. A dinner party Saturday was followed by a Campus School picnic Sunday at the college's Twin Valleys Education Center.
Sunday was also time to remember and celebrate the life of Dr. Douglas Skopp, the beloved professor of history, college historian and distinguished teaching professor emeritus who died in May after a lengthy battle with cancer. Some 150 family, friends, colleagues both retired and current, members of the community and former students gathered in E. Glenn Giltz Auditorium in Hawkins Hall to pay tribute.
Chapin-Lavigne looked at the weekend as a "huge success."
"It was fantastic to have alumni return to visit their favorite spots on campus while reminiscing and exploring what was new," she said. "The weekend was an emotional one, full of celebration, remembrances and dedications. So many of the events, from the Hall of Fame induction to the dedication ceremonies, were emotional and heartfelt. We honored and celebrated individuals and programs that help make SUNY Plattsburgh a special place."