Jump to Footer
Once-in-a-Lifetime Friendship Between Alumni Sparks SUNY Plattsburgh Scholarship Gift
---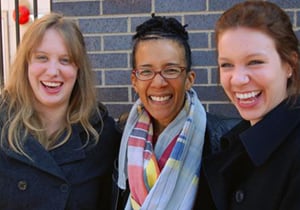 'Like Peas and Carrots'
They were "tadas" - their codeword for "best of friends, buddies and sisters." They roomed together, student taught together, and even backpacked through Europe together.
"We were like peas and carrots, as Forrest Gump would say," said Pamela Hewitt '74 of her friendship with Lynne White Scheider '74.
"Lynne was an extrovert and made friends so easily that it was scary. She was bright and was a procrastinator but generally was an A student. She was cute; had 'too thin' hair, as she said; had a great smile; put on the freshman 15; and loved to have a good time and dance. We had fudge ice cream sundaes after student teaching from time to time and more boyfriends than we could count."
Hewitt loved Scheider very much, but now her friend is gone, taken in a tragic car accident at 30 years of age, leaving behind two young daughters – daughters whom Hewitt had a chance to meet a few months ago. And now, Hewitt plans to honor her memory.
Providing Assistance to Students in Need
Hewitt once needed a little extra support. After all, she came from a family with financial challenges and parents who couldn't finish school because they needed an income.
Fortunately for her, in addition to having very supportive parents and a vibrant friendship with Scheider, Hewitt had access to resources from the college's Educational Opportunity Program. The program helps individuals from financially disadvantaged families who have faced academic, personal and economic challenges but have the motivation and potential for success in college.
With such support, Hewitt found that success – both in college and in her career. She is now a human resources consultant and was the vice president and senior vice president of human resources for corporate giants like the Clorox Company, the Quaker Oats Company and Gatorade and Snapple.
Now, to help others find similar success and to pay that special tribute to Scheider, Hewitt is endowing the Lynn White Scheider Memorial Scholarship. It will help EOP students in their second, third or fourth year, because such financial assistance is difficult to obtain after the first year of school.
Honoring a 'Life Well Lived'
For her part, Hewitt hopes the students benefiting from the scholarship will realize that it comes in honor of an individual who "dedicated her life in service of others and who had the best of times at Plattsburgh."
Said Hewitt, "What better acknowledgment of a life well lived than to honor Lynne's memory with a donation to help others. I think she would be so happy to know this."
Contact Information
For more information, please contact the Admissions Office:
Phone: 518-564-2040
Toll-free: (888) 673-0012
Fax: 518-564-2045
E-mail:[email protected]