Jump to Footer
Garden Club Opens its Gates, and Bounty, to HarvestFest
---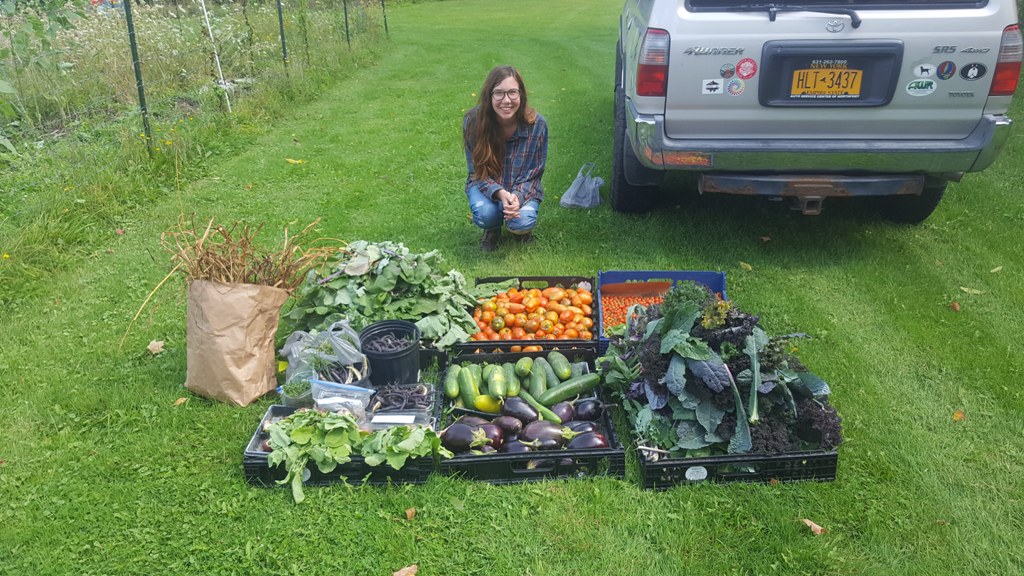 The SUNY Plattsburgh Garden Club will share the fruits, and vegetables, of its labor at HarvestFest Saturday, Sept. 14, noon to 5 p.m. adjacent to the garden at the end of Tower Way, behind Sibley Hall.
HarvestFest will feature live music, foods prepared from garden ingredients and the opportunity to meet gardeners and tour the grounds. Visitors will find plenty of parking in the Sibley lot.
Buffalo native Monica Warren, senior nutrition major with a food and farming minor, is president of the club.
"This is the second-annual HarvestFest and is free for all to attend. It's a celebration of the hard work put into the garden throughout the entire year," she said. "We have a tent so the event is rain or shine."
'Deeply Committed'
She said that while they're certainly hoping for no rain for the event, when it does rain on the garden, "it means we don't have to water the garden manually by filling up five-galleon buckets from our two cisterns and bringing them to the garden one by one."
According to Dr. Lauren Eastwood, associate professor of sociology and coordinator of the garden, it was started more than 10 years ago "by students who were deeply committed to better understanding the politics of food."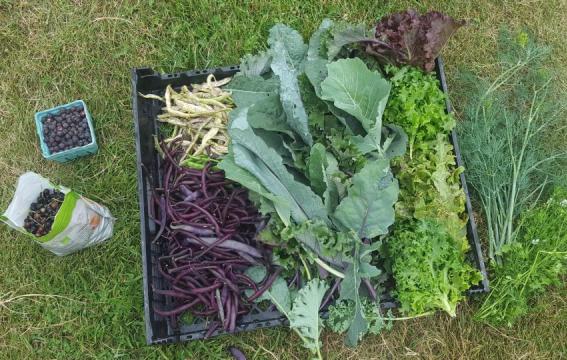 "They have always had two goals — educating people about where our food comes from, who produces it, how it is produced, etc. and then growing food that they can take pride in and/or donate to people who need it," Eastwood said.
Warren said it was revitalized from campus garden to Campus Garden Club.
Interest in Garden Thriving
"The club was born out of the Food Group Club, which focused on health and sustainable eating and was a big garden promoter," she said. "After being treasurer of that club for a year, and then becoming president, I realized that interest in the Food Group Club was dying while interest in the garden was thriving, so I just changed the name and now we consistently have at least 15 members at each of our meetings."
Eastwood calls the garden "a labor of love for the students, but it's also a great learning experience. They take on a project that is only partly within their control — as they depend on certain weather conditions for things to grow as they 'should,'" she said. "Additionally, they learn how hard it is to keep something like sustainable farming going. Then there is the issue of not having access to a source of water — other than cisterns— and electricity, and very little funding, so everything is really done by hand. They recruit their friends who are equally passionate, and everyone gets to see the literal fruits of their labor.
"That's what is so great about HarvestFest," she said. "Not only is it a chance to showcase the garden, but it is an opportunity for students to take a moment to just celebrate how hard they have worked."
Food grown in the garden is regularly donated to the Joint Council for Economic Opportunity.
"We make donations on a roughly weekly basis," Warren said.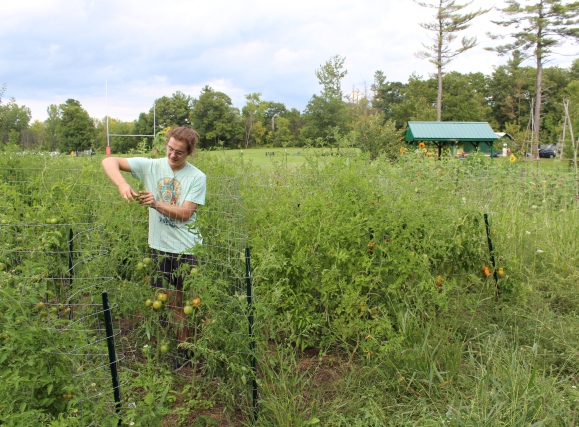 Club member Coleman Perella said he thought it was "cool to have a lot of the club members down with donating most of what we grow." The senior environmental planning and management major from Saratoga Springs, said members will soon begin working the soil with compost from a pile they've established in Rugar Woods.
Club Active Year 'Round
The club is active even when the ground is frozen and the garden covered in snow, which, in the North Country, could be seven or eight months.
"When the garden is covered in snow, there is garlic beneath growing," Warren said. "We are working in the garden pretty much until the ground is solid. Garlic is planted in late October. After that, we begin planning for the next year, and we discuss sustainable food systems.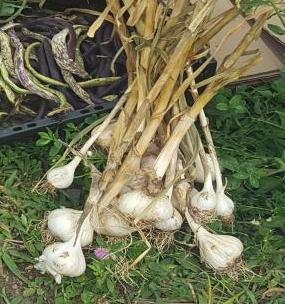 "We start collecting seeds by February, and they are planted in the greenhouse by March," she said. "So, in essence, we are not working directly with plants for only four months out of the year."
Cross-Curricular Opportunities
Eastwood finds student workers for the summers — this past summer found Warren and Roxy Jacone as paid workers, one through work study, the other through a campus Green Grant, "and we had Sadie Buys working with us through the month of June. But they recruited a whole bunch of other students, including alum Lucas Haight, who works for local farms, including Quarry Gardens. He has been supportive of the garden. He brings a lot of knowledge and labor," she said.
Eastwood touts the garden as something that has "a lot of curricular potential in terms of soil science, botany, sustainable farming practices and more. The fact that it exists is fabulous; so many students are becoming more passionate about sustainable food systems — and the intersections between food and inequalities."
For more information on the Campus Garden Club or on HarvestFest, contact Warren at [email protected].