Jump to Footer
SUNY Plattsburgh Mathematics Alumna Receives National Teaching Recognition
---
They were two simple words, but for Dr. Kathleen Fowler '96 those words – "don't quit" – are still making a difference.
Written by her undergraduate adviser at SUNY Plattsburgh, the index card seemed silly at the time, but it is still with her, serving as a reminder not to give up, even when things became difficult.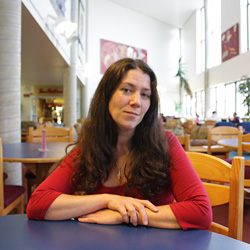 Cheerleading Math Students
The Plattsburgh alumna and associate professor at Clarkson University now uses that experience to be the cheerleader for her students when they become discouraged. She understands the encouragement needed to get through difficult classes and shares with them the experience she had at Plattsburgh.
Such efforts have won her a distinguished teaching award from the Mathematical Association of America.
EOP Experience Fostered Love of Teaching
Her time at Plattsburgh was inspirational to her success as a researcher and teacher. Her first experience working with students was a job working as a summer tutor for the Educational Opportunity Program at Plattsburgh. This opportunity had a big impact on her.
"It was a really big honor," she said. "I love teaching."
Plattsburgh also provided a collaborative, friendly atmosphere — that she hadn't encountered before.
"We all knew each other," she said. "We all got along."
Forming study groups where they could talk over problems was easy, she said.
Paying it Forward
Now she continues to pay it forward.
She has organized a roller coaster camp geared toward integrated math and physics education for middle and high school students. The program aims to lead local students into science technology, engineering and mathematical college majors. Since its inception five years ago, she has watched the students grow up.
Seeing some of them now head to college "has absolutely been awesome," she said.
Other projects include collaboration with hydrologists and environmental engineers working to clean up contaminated ground water.
Optimization, she said, is the main focus of all her research.
"Whenever you are doing something, you want to do it the best."