Jump to Footer
Former SUNY Plattsburgh President Joseph Burke Dies at 86
---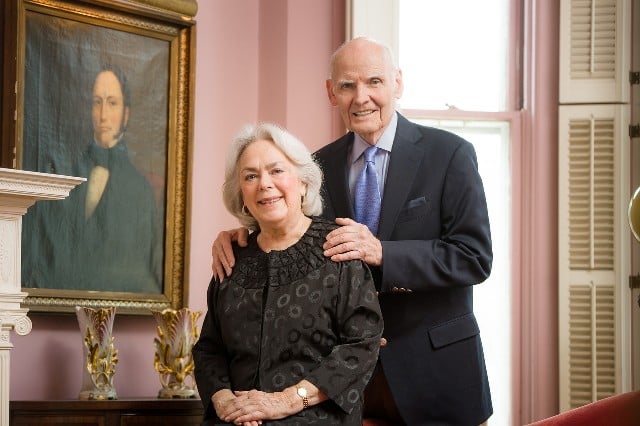 Dr. Joseph Burke, SUNY Plattsburgh president emeritus, died Friday, Aug. 3, 2018 at his home in Albany. He was 86.
Burke arrived at the college in 1973 when then-President George Angell brought him on board to serve as vice president for academic affairs. Upon Angell's retirement in 1974, Burke took over as the college's seventh president at a time of historic budget cuts, organized labor on campus, a new faculty senate and the winding down of the Vietnam War.
"Budget cuts came with me," Burke said in 2015 when he and his wife, Joan, a clinical social worker who maintained a private practice in marriage counseling while her husband served at the college, were being honored with the Distinguished Service Award. "We had a new faculty senate, a new faculty union and then, of course, George Angell was a tough act to follow. I had to adopt a "do more with less" mantra, and we did."
Centers of Excellence
Over the course of his 12-year presidency, Burke stabilized the college's budget and increased enrollment, created what he called "centers of excellence" in the Center for Art, Music and Theater, the Center for Earth and Environmental Science, the Center for Teacher Education and the School of Business and Economics, among others. And in an effort to become more visible to students, Burke moved the Office of the President from the 10th floor of Kehoe to the more student-accessible second floor where he adopted an open-door policy.
"One can point to several good and enduring things that Joe accomplished during his presidency," said John Ettling, the college's 10th and current president. "My favorite was his success in coaxing the Brohels — Ed and Bette — away from the art scene in New York and giving Ed carte blanche to build the Plattsburgh State Art Museum. This astonishing collection has grown over the years to more than 10,000 works of art and artifacts displayed both indoors and out in galleries, hallways, offices and lawns.
"It is an intimate part of the beauty and educational mission of our college and the visual expression of what makes us distinctive. It seems somehow fitting that the last time Lisa and I saw Joan and Joe together was some months ago in New York City when we bumped into each other in the crowded lobby of the Metropolitan Museum of Art."
Dr. E. Thomas Moran, distinguished service professor emeritus and founder of the Institute for Ethics in Public Life at SUNY Plattsburgh, served as Burke's provost and vice president for academic affairs and had remained close over the years, speaking to him as recently as this past Father's Day.
"Joe Burke was a leader of uncommon courage, penetrating judgement and far-seeing vision," Moran said. "He served the college powerfully well in a challenging time and left a legacy of a modern and professionally dynamic institution."
Miner Institute
In 1986, Burke left SUNY Plattsburgh to assume the post of provost of the State University of New York in Albany. At the same time, Burke's longtime friend and ailing president of the William H. Miner Board of Trustees, James A. FitzPatrick, asked Burke to take his place on the research institute and farm. Burke remained in that post until his death.
"It's been a joy," he said of the work he did with Miner. "I've seen incredible changes here in terms of research, demonstrations and education, and the great Applied Environmental Science Program, which I started when president at SUNY Plattsburgh, is still one of the most popular programs here."
"Joe Burke's passion for the Miner legacy, together with his wife, Joan, has ensured that William and Alice's vision for the region will endure," said Dr. Richard Grant, president of Miner Institute.
"Except for the Miners themselves, no one has done more. Joe was a monumental leader of both Miner Institute and SUNY Plattsburgh, and by creating the Applied Environmental Science Program, he was able to strengthen both."
Instrumental in Creation of Concordia University
Burke earned his bachelor of arts in history and philosophy at Bellarmine University in Kentucky, and his master's and Ph.D. at Indiana University. He served as a professor of history at Duquesne University in Pittsburgh, and became vice president for academics at Loyola College in Montreal. He negotiated its merger with Sir George Williams University that resulted in Concordia University.
It was then that he moved 60 miles south to become vice president then president at SUNY Plattsburgh.
After serving nine years as provost for SUNY, he spent a year as interim chancellor before moving on to become the director of higher education with the Rockefeller Institute of Government and a senior fellow with the institute for 10 years.
Always the historian, Burke returned to his writing, penning the biography, "William H. Miner: The Man and the Myth." He was in the process of working on a history of the Miner Institute and Alice T. Miner and the museum that bears her name in Chazy.
He and Joan, who herself is passionate about the Miners and serves as chair of the Alice T. Miner Museum Board of Directors, were married Sept. 1, 1956 and are the parents to daughters Colleen Burke Rein and Maura Burke Weiner.
Arrangements are pending.