Jump to Footer
SUNY Plattsburgh Grad Named Vice President of U.S. Green Building Council
---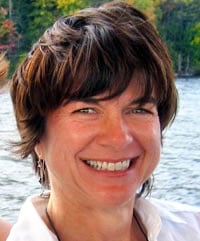 Rebecca Flora has been passionate about environmental stewardship long before "being green" and "global warming" became buzz words of a new millennium.
The 1980 graduate of SUNY Plattsburgh's environmental science program, who said she was "driven in the 1970s by the energy crisis at the time, (her) respect for nature and our need to co-exist rather than dominate our environment," has been named senior vice president, education and research, for the U.S. Green Building Council in Washington, D.C. She made the move Jan. 15 from her former position as executive director of the Green Building Alliance in Pittsburgh, Pa.

Green Leanings Take on Urgency
Flora's green leanings continue today and have "become even more urgent with the growing knowledge about human health impacts, climate change and our growing ecological footprint that is taking resources from future generations," she said for an article that appeared in the spring 2008 issue of Plattsburgh Magazine.
"We are trying to reduce the impact that the built environment has on humans and the national environment."

First Female Chair of U.S. Green Building Council
As one of the first Leadership in Energy and Environmental Design-accredited professionals, Flora was the first female chair of the USGBC, the national organization that developed and administers the LEED building certification system.

Uniquely Qualified for Leadership Role
"Rebecca's leadership as executive director of the Green Building Alliance in Pittsburgh makes her uniquely qualified to lead USGBC's far-reaching education program and expanding research initiatives," said Rick Fedrizzi, president, CEO and founding chair of the council. "Under her guidance, Pittsburgh rightfully has become a national leader in green building market transformation."
"'Green building' has become a buzz word for changing how we design, construct and operate buildings," Flora said last spring for the magazine.
A first-generation college student, Flora chose SUNY Plattsburgh because of its size, proximity to her St. Regis Falls, N.Y., home, and because of its "strong academic offering," she said. "When I found out about the environmental science major in my second semester, I was ecstatic."
Flora said the college provided her with the opportunity to explore career options in her field of interest while attending classes. An internship with the Clinton County Planning and Zoning Office gave her the chance to learn how to connect her love for the environment with the need for smart land-use planning.

Thrilled to Join Incredible Team
"I wanted practical work experience, and it was a good choice since it led to my decision to pursue a master's degree in urban and regional planning," she said. "When I first decided to major in environmental science, I had little exposure to the real world outside of my small town, so I thought I would become a forest ranger or something that would allow me to live in nature. I later discovered the impact of the built environment on nature and decided I could work to protect the places I loved by influencing how and where things were built."
Of her appointment, Flora said, "I'm thrilled to join the incredible team at USGBC. Research and education are delivering practical, effective solutions to environmental and health challenges in our industry. I welcome the opportunity to expand these important initiatives and contribute to USGBC's mission of market transformation."
As executive director of the Green Building Alliance in Pittsburgh, Flora headed the design commission for the LEED Gold-certified David L. Lawrence Convention Center, the first green facility of its kind and the world's largest green building.
In addition to her environmental science degree from SUNY Plattsburgh, Flora holds a master's in urban and regional planning from Virginia Polytechnic Institute and State University.