Jump to Footer
Faculty, Staff Excellence Recognized with Chancellor's Awards
---
Four faculty and staff members at SUNY Plattsburgh have been recognized by the SUNY Board of Trustees and Chancellor Kristina M. Johnson with the 2020 Chancellor's Award for Excellence.
Those selected are held as role models within the State University of New York community.
Recipients for the 2020 Chancellor's Award for Excellence at SUNY Plattsburgh are:
Curt Gervich, associate professor of earth and environmental science: Excellence in Faculty Service
Karen Glushko, adjunct lecturer, psychology: Excellence in Adjunct Teaching
Jeff Hornibrook, professor of history: Excellence in Teaching
Janet Manor, administrative assistant 1, biological sciences/Lake Champlain Research Institute: Excellence in Classified Service
Dr. Curt Gervich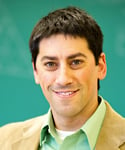 Gervich joined the faculty in the Center for Earth and Environmental Science in 2010 as an assistant professor and was promoted to the rank of associate professor in 2015. His record of service extends beyond the center, the college and into the community. At SUNY Plattsburgh, Gervich has served on search and curriculum committees, administrative working groups to explore innovations in higher education, and as an adviser for student clubs. He published the college's first assessment in sustainability, which explored campus heating and cooling, energy use, water use and departmental purchasing, waste and recycling patterns.
In his nomination, then-Officer-in-Charge Josee Larochelle wrote, "Dr. Gervich has a strong record of teaching and scholarship. He carries a full-time teaching load in a variety of areas within environmental science. He has developed a consistent program of scholarship focused on the ways that the framing of environmental issues impacts sustainability efforts.
"Dr. Gervich has been active and successful in pursing grants to support his research endeavors, including a $143,498 grant from the International Joint Commission for Great Lakes, Flood Management Planning for Lake Champlain and Richelieu River, a $998,677 grant from the New York State Energy Research and Development Authority, a $45,000 grant from the Science Education Resource Center at Carleton College and several more."
He has served on several local and professional committees, including the Association of Environmental Studies and Science Board of Directors, the community planning boards, the Lake Champlain Basin Technical Advisory Committee and the Adirondack Research Consortium Board of Directors.
In 2014, working with two students and a local app developer, Gervich developed a smartphone app to help residents make smarter energy choices and push energy behavior change.
Karen Glushko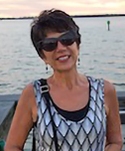 Glushko, who received both her bachelor's and master's degrees and a certificate of advanced studies from SUNY Plattsburgh, joined the adjunct faculty in psychology in 2000. She is a school psychologist in Beekmantown Central School District, a post she's held for 28 years. She is the recipient of the New York Association for School Psychologists Chapter B School Psychologist of the Year award in 2015 and 2018.
Glushko teaches both graduate courses in school psychology at SUNY Plattsburgh as well as undergraduate courses in other areas. Within the last calendar year, Glushko taught child and adolescent psychopathology at the graduate level, adolescent development, a survey of human development, a course on personality, and oversaw practicums for some 240 students.
In her nomination, Larochelle wrote, "This is an extraordinary variety of courses and a staggering number of students. Despite the numbers, Glushko is still able to maintain very healthy student/faculty engagement. One student noted, 'Karen is an amazing instructor and truly cares about the subject she teaches and her students. This was definitely my favorite class of the semester.'"
She is a member of the National Association of School Psychologists, the New York Association of School Psychologists and Phi Delta Kappa International. She has been a practicing school psychologist for nearly 30 years.
Dr. Jeff Hornibrook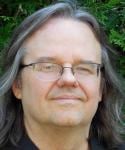 Hornibrook joined the faculty in history as an assistant professor in 1997 and was promoted to associate professor in 2003. He was named full professor in 2014. In his nomination, Larochelle wrote, "Dr. Hornibrook is an outstanding teacher, as demonstrated by the results of his course opinion surveys and the recommendations by former students.
"His student evaluations note his energy, humor and ability to infuse interest into the most arcane topics. He teaches very effectively in a wide variety of lower-level and upper-division courses in Asian history, global history, Asian studies, core history sequence and honors courses. He has worked to develop new curriculum for the history program in his area of specialty."
Hornibrook has been active on campus, serving on the department curriculum committee as a chair and a member since 2008. HE represented the history department in the education program's work to gain acceptance in NCATE and TEAC from 2000 to 2011. He has served on the Faculty Senate and Faculty Senate Executive Committee and has been an external reviewer for several departments' Peer Review Groups and is currently a member of the Committee on Courses and Programs. He has been an active participant of the Asian Studies Committee, serving as its coordinator and as its student adviser.
Janet Manor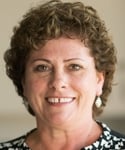 Manor joined the campus community in 2000 as a keyboard specialist 1 and was promoted to keyboard specialist 2 in 2003 and secretary 1 — now administrative assistant 1 — in 2013. She works in three academic units: biology, physics and the Lake Champlain Research Institute. In nominating her, Dr. Kathleen Lavoie, adjunct professor in biology and retired dean of arts and sciences, said, "She orders everything, from each person's favorite pen to fruit flies to support trending research. She has put her craft skills to good use, labeling everything from cabinets to our teaching assistants.
"She knows whom to contact to resolve any problems, and any secretarial jobs are done quickly, thoroughly and accurately. She multi-tasks with constant interruptions. I doubt any secretary on campus covers so many areas with so many faculty, so many students and such complex needs."
Manor was instrumental in organizing the move from Beaumont to Hudson Hall following its renovation. Lavoie said, "She is both efficient and effective in managing her domain. She is always working to help students whether it is helping them get into a class or managing a major life crisis. She is critical to the functioning of the public Northcountry Planetarium shows, making herself available beyond her normal work hours and answering phone calls about tickets."
On her nomination, Larochelle wrote, "Ms. Manor is an excellent role model for the SUNY community. Her professionalism and outstanding service to the faculty, staff and students of SUNY Plattsburgh well qualify her for the Chancellor's Award for Excellence in Classified Service."