Jump to Footer
SUNY Plattsburgh Ceramic Students' Art Helps Feed the Hungry
---
Advanced ceramic students at SUNY Plattsburgh do more than just practice their art - they give back to the community.
Every fall, students under Associate Professor Berry Matthews get their hands dirty making numerous bowls for a special soup supper.
The event is called Empty Bowls and in exchange for a donation, community members receive a meal and a bowl to remind them of hunger. This year, the event raised more than $2,000 for a local food shelf, and another $110 for Oxfam, an organization which fights hunger and poverty on an international level.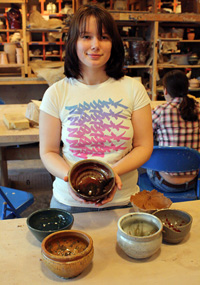 A Chance to Practice Art with Real-World Implications

The very creation of the bowls benefits students.

"Making multiples of pieces increases their skill in ceramics, and they enjoy participating in an event that gives back to the community," said Matthews. "Each time people look at their bowl, I hope they will remember all the hungry people in the world (those with empty bowls) and be more generous."

"I like the Empty Bowls event because we are able to use our art to help out the community" said ceramics student Marie Purdy, a past participant and an advocate for this year's event. Purdy worked to bring more students to the supper in support of the charitable cause.

Outgrowing the Space

More than a decade ago, Matthews learned of Empty Bowls at a ceramics conference. Interested in the charitable event, she decided to bring the idea to SUNY Plattsburgh and involve some of her students.

The event proved to be a tremendous success. More than 12 years later, SUNY Plattsburgh continues to host the meal, donating all proceeds to the Plattsburgh Interfaith Food Shelf.

Over the years, support for the event has grown so that much that its original venue, the Newman Center, became too small. Now, with Chartwells donating the space and four Chartwells employees donating their time to the cause, the Empty Bowls Supper is held in SUNY Plattsburgh's Algonquin Dining Hall, allowing even more participation from the community.

"After coming to Empty Bowls, I finally feel like I am truly a part of the community," said one attendee.

Unable to retrieve file contents for https://www.plattsburgh.edu/news/news-list.php
Warning: count(): Parameter must be an array or an object that implements Countable in phar:///var/www/staging/_resources/scripts/brei.feedmanager.ext/Filtering/FilteredObject.php on line 126