Jump to Footer
Alumnus Organizes 'CSI' Camp for Teen Detectives
---
An alumnus is putting his SUNY Plattsburgh experience to work helping youngsters learn about forensic studies, a science popularized in such television shows as "CSI."
Dr. Joshua Duntley '94, G'97, an assistant professor at the Richard Stockton College of New Jersey, organized the camp, which gives high school students hands-on experience as would-be detectives. The Stockton CSI Summer Camp (held in New Jersey) recently drew nationwide attention from such media outlets as The Wall Street Journal and NBC's "Today" show.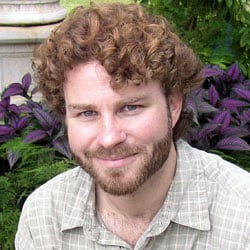 Mentoring Young 'Detectives'
"We direct our campers as they investigate a murder scene, investigate the crime and identify suspects, and bring one of the suspects to trial," said Duntley, who worked for SUNY Plattsburgh in several capacities as an undergraduate.
"I would not be effective in this role [as camp co-director] without all of my experiences mentoring students as a teaching assistant, resident assistant and hall director at SUNY Plattsburgh, " he added.
The psychology behind crime is a large focus of Duntley's research. As a faculty member working with the college's psychology and criminal justice programs, he examines violence and victimization as well as behavior in human mating. This interest in psychology was sparked at SUNY Plattsburgh, where Duntley took his first introduction to psychology course.
"The professors and the class blew me away," recalled Duntley, who said his professors worked skillfully to engage students in a conversation about the course material. They also "taught me the skills I needed to effectively question all of the things that appeared in my textbook and to question them."
A Campus Family
Throughout his undergraduate career, the people Duntley worked with at SUNY Plattsburgh were more than instructors, bosses or colleagues: "They became family to me," he said. "To this day, all of them are still incredibly generous in supporting my life and my career."
Duntley said he was grateful to his undergraduate professors for setting a professional example that he follows today as a college educator. His teaching philosophy, instructional style, course policies – and even many of the assignments he gives in class – are the direct products of his undergraduate experience.
"I owe everything to the college," he added, "to all of the people at Plattsburgh State who were so generous to help me make sense of my life and my future."