Jump to Footer
Douglas Skopp Remembered for His Caring, Tender Heart
---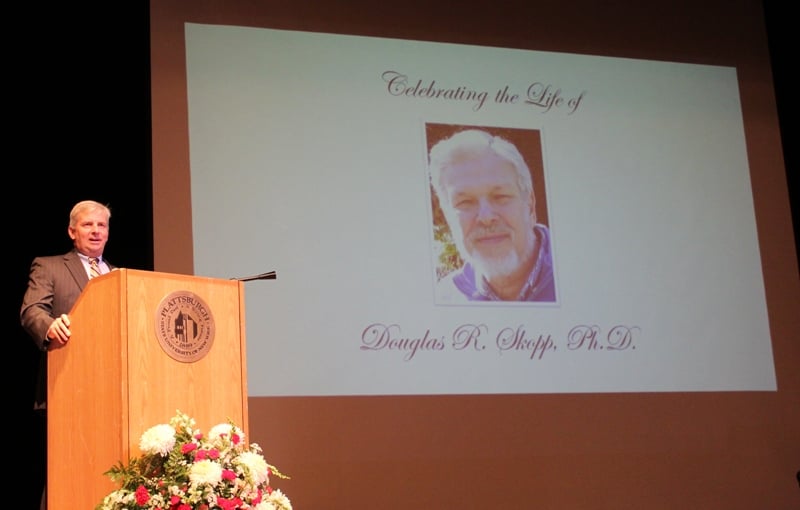 The life of Dr. Douglas Skopp, the late beloved professor of history, college historian and distinguished teaching professor emeritus, was celebrated Sunday in memory and song before some 150 family, friends, colleagues both retired and current, and members of the community.
The Oct. 14 event featured his son, Andrew, who welcomed those gathered on behalf of the family, including the late historian's wife, Evelyne. Skopp lost his years-long battle with cancer Sunday, May 27, 2018. He was 76.
Joining Andrew in remembering his father, whom he called "a Renaissance guy," were former students, including Alonna Haseltine Rudolph '99, Douglas Sloan '91 and Blake Harrison '92, and colleagues including Dr. E. Thomas Moran and Dr. Stuart Voss. Although former students Joseph DeSalvo '89 and Norman Radow '78 were unable to attend, they sent their regards to Evelyne and family. Radow, unable to attend following surgery, sent a letter to be read in his stead.
"Doug Skopp is a man I cherished and admired," Radow said in his letter, adding that Skopp "saw my inner strengths and got me to challenge myself. He lived his ideals til his last breath."
Pianist Rose Chancler performed Brahms' "Intermezzo in A Major," and together with soprano Jo Ellen Miano, professor of music, performed "Bist du bei mir" by Gottfried Heinrich Stolzel.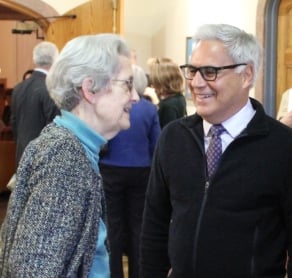 Skopp's friend, Dr. Luis Sierra, who works with people dealing with, among other ailments, cancer, led those gathered in a mindfulness exercise, asking that they carry Skopp in their hearts.
He called Skopp "righteous," explaining how in Judaism, it is believed that there exist 36 righteous people in each lifetime living on Earth who save the world through acts of righteousness.
"They are dedicated to bringing light to the darkness, speaking out about what is uncomfortable and inconvenient. My sense is Doug was one of these righteous beings," Sierra said. "He had a beautiful presence — he gave so much to so many. He was one of those people I've met who have a very tender heart."
Sloan remained close with the Skopps long after graduating, telling the audience that his sons call Evelyne "Oma," and called Doug "Opa," German for "grandmother" and "grandfather."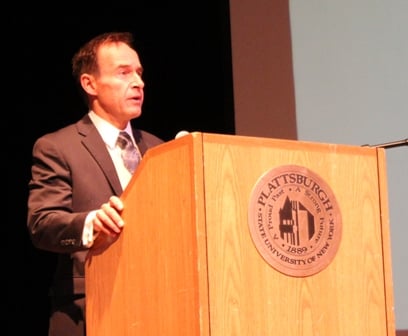 "Doug was very deliberate," Sloan said. "He set forth a few requests to celebrate his contributions. 'Give it a little time,' he said, 'until you celebrate whatever it is you want to celebrate. Time to grow and then let reason take over.' Memory is the scribe of the soul. A repository of learning. Doug was a great teacher. I personally don't believe his goal was to teach history for the sake of teaching history. He was a teacher of life." He helped us discover ourselves in our humanity and consequently in all we do, Sloan said.
"Do you want to celebrate him? Are you thankful for what he gave you? Take action. Apply your lessons learned. Take care of each other. Love and fulfill the promises you make to yourselves. Doug Skopp was extraordinary. A part of who I am is because of him."
Skopp joined the faculty at SUNY Plattsburgh in 1972 as a member of the history department, teaching aspects of European history, particularly modern Germany, as well as the Middle Ages, the World Wars, the Holocaust, education in Western Civilization, and historical research methods and skills. In fall 1998, he was an inaugural fellow in the college's Institute for Ethics in Public Life. He retired in 2006 but continued to assist each semester in the institute, even throughout his illness.
In honor of Skopp and Evelyne's contributions to the college and their "efforts to bear witness and bring an end to genocide," a gallery in Feinberg Library was permanently named the Douglas and Evelyne Skopp Holocaust Memorial Gallery in 2012.