Jump to Footer
SUNY Plattsburgh's DoNorth Student Magazine Promotes Tourism
---
SUNY Plattsburgh's DoNorth student magazine will soon be flying the friendly skies, tucked securely in the seat backs on board PenAir, one of the local carriers out of Plattsburgh International Airport.
DoNorth is a tourism-focused reinvention of the former student magazine, All Points North. Luke Cyphers, assistant professor of journalism and magazine adviser, brought the idea to Adirondack Coast Visitors Bureau a year ago, and the bureau agreed to sponsor the project.
"The bureau gave us financial support to do two issues, and last semester the student staff was charged with doing a whole magazine revamp," Cyphers said.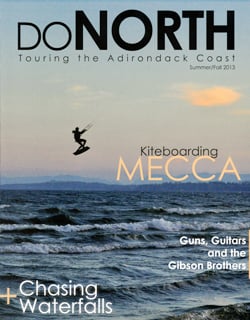 The result is a glossy publication that features stories and photography emphasizing the North Country as a vacation, recreation and shopping destination.
Student writers and photographers cover kiteboarding on Cumberland Bay in Lake Champlain, the waterfalls of the Adirondacks, North Country wineries and a country store with a musical twist in Churubusco, N.Y. — all in the inaugural issue, being distributed this month on flights, at the Plattsburgh International Airport information kiosk and at the North Country Chamber of Commerce building.
'Wonderful Partnership' to Grow
"The students did a really good job — there are only five of them, and they got story lists, ideas for designs and a title," Cyphers said of the journalism 411 class that worked on the project.
DoNorth editor-in-chief Alexandria Sisson said her own experience visiting the North Country and now living here is what she wants to share with readers.
"Being here really added to my life. We live in this amazing place," she said.
Michele Powers, vice president of marketing at the Chamber of Commerce, said the visitors bureau's partnership with DoNorth is one "we look forward to growing for years to come."
Student-driven Copy, Photos and Design
The twice-yearly magazine has a circulation of 10,000. Powers said that although the funding comes from the bureau, the content, photos and story ideas are all student driven.
"The journalism department couldn't be more excited about DoNorth," Cyphers said.
"We did a test run with our final issue of All Points North and gave PenAir a few boxes — 120 copies per box. They put them on the planes in early January, and they were all gone. People are taking them home. It's such a great way to show our students' work and to promote the area. That's what the chamber is hoping for, and we are, too."