Jump to Footer
Nancy Elwess and Lise Heroux Achieve SUNY's Highest Ranks of Distinguished Professor | SUNY Plattsburgh
---
Biology Professor Nancy Elwess and Marketing Professor Lise Heroux have been promoted to distinguished teaching professor and distinguished service professor, respectively.
The distinguished professor rankings are the highest honors the SUNY Board of Trustees can confer on faculty.

"These individuals are leaders and innovators in their field, serving as excellent mentors for our students while advancing groundbreaking research and discovery in New York and around the globe," said H. Carl McCall, chairman of the board.
Nancy Elwess: Undergraduate Research Opportunities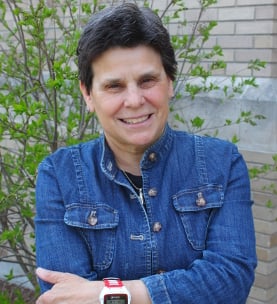 Elwess, an 18-year veteran of the faculty of biological sciences at SUNY Plattsburgh, holds degrees in zoology, science education, and molecular biology. She was a research fellow in the Department of Biochemistry and Molecular Biology at the Mayo Clinic from 1994 to 1998 when she left "to make a difference" — leading her to her appointment as an assistant professor at SUNY Plattsburgh in August 1998. She was promoted to full professor in 2009.
Elwess routinely includes SUNY Plattsburgh students in her research, giving them a leg up for future work in graduate school or in industry. During her tenure at SUNY Plattsburgh, Elwess has mentored more than 110 undergraduate research students who have given more than 130 presentations at regional, national and international levels. Thirty students have co-authored peer-reviewed articles with her. Of her students, 17 are SUNY Chancellor Award for Student Excellence recipients.
Many have gone on to become medical practitioners, professors, scientists and science educators. In her efforts to mentor students, she has received awards such as the 2009 Presidential Award for Excellence in Science, Mathematics and Engineering Mentoring presented by President Obama at a White House ceremony. Her research students have gone on to receive regional, national and international awards and student research grants.
Elwess herself is a Chancellor's Award for Excellence winner, having received the award for excellence in service in May 2012. The distinguished professorship raises the bar.
"I am humbled and grateful to receive such an distinction given the talented faculty we have on this campus," Elwess said. She said she is most proud "of the relationships that I have with my students; both current and former. I have always felt that my role was not only to teach but to engage and encourage them."
Lise Heroux: Record of Service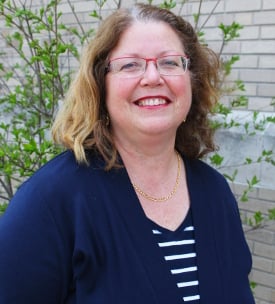 Heroux joined the faculty in the School of Business and Economics in 1987 as an assistant professor in marketing and entrepreneurship. Promoted first to associate in 1996 and full professor in 2002, Heroux's record of service to the college, region, and national and international communities led to her being nominated for the service professorship distinction. She holds degrees in business administration — accounting and marketing — and her Ph.D. dissertation while at Concordia University in Montreal was awarded the best in all business disciplines throughout Canada.
She is engaged in applied research, which makes those results directly relevant to organizations seeking information on marketing and entrepreneurship. Considered one of North America's foremost experts on Canada-U.S. comparative research studies in marketing, Heroux is often invited to speak on her expertise to organizations such as the Small Business Development Center, Border Business Neighbors Group, the Plattsburgh-North Country and Saranac Lake chambers of commerce, and the Kiwanis and Rotary clubs.
Every academic year, Heroux sponsors 12-15 student internships in addition to being an academic adviser to more than 40 business majors. She was recognized with the SUNY Chancellor's Award for Excellence in Teaching in 1998 and received the SUNY Plattsburgh Outstanding Teaching through Service Learning Award in 2003.
"I was honored to be selected for promotion to the rank of Distinguished Service Professor. It is a privilege to work for an institution that recognizes the importance of service to the community," Heroux said. "For the past 29 years, I have engaged marketing students in service learning projects with more than 100 local businesses and non-profit organizations. Applying their new marketing knowledge and skills to real world challenges has benefited the students, the community and it has been a learning experience for me as well."
'Consistently Superior Teaching'
As a distinguished teaching professor, Elwess is recognized for demonstrating "consistently superior mastery of teaching, outstanding service to students, and commitment to (her) ongoing intellectual growth, scholarship and professional growth, and adherence to rigorous academic standards and requirements," according to SUNY. In addition, faculty members who achieve this distinction "must have attained and held the rank of full professor for five years, have completed at least three years of full-time teaching on the nominating campus, 20 years of full-time teaching in the SUNY system, and must have regularly carried a full-time teaching load as defined by the campus.
As a distinguished service professor, Heroux is recognized for demonstrating "substantial distinguished service not only at the campus and state university level, but also at the community, regional and state levels. Many candidates have rendered influential service contributing at the national and international levels.
"Service must exceed the work generally considered to be part of a candidate's basic professional work and should include service that exceeds that for which professors are normally compensated. It must also extend over multiple years and must involve the application of intellectual skills drawn from the candidate's scholarly and research interests to issues of public concern."
'Best of the Best'
"The SUNY distinguished faculty are truly the best of the best," said SUNY Chancellor Nancy Zimpher. "Through innovative instruction, unique research opportunities and engaging applied-learning opportunities, they deliver a top quality higher education for our students that is second to none."
"When I came to SUNY Plattsburgh, I discovered that you can make a world of difference, even if located in a small town," Heroux said. "I oriented my research to contribute knowledge that could benefit rural tourism businesses on the U.S.-Canada border. I was also invited to Algeria three times to provide guidance for the development of entrepreneurship so that the large generation of young people could start their own businesses and not rely on the saturated petroleum-based industry. There is no limit to what one can accomplish here."