Jump to Footer
Conference to Showcase Winning Strategies for Cybersecurity
---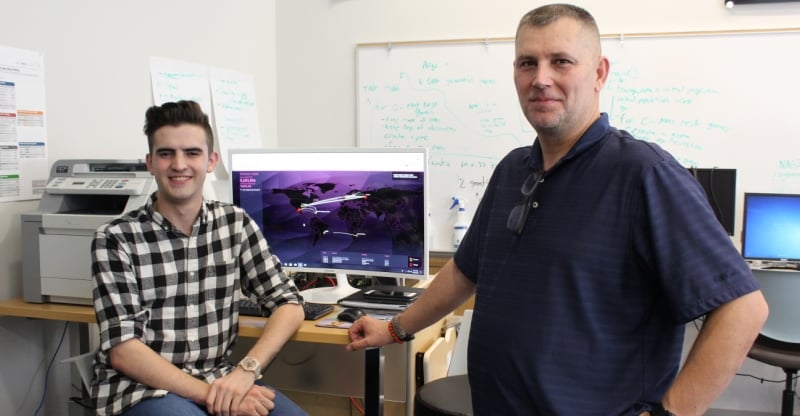 Cameron Gonzales and Cristian Balan in the Center for Cybersecurity and Technology.
SUNY Plattsburgh's Center for Cybersecurity and Technology is gearing up to help local businesses and government agencies develop strategies to keep data safe and secure at its annual North Country Cybersecurity Conference Friday, Oct. 19 beginning at 9:30 a.m. in Room 114, Au Sable Hall.
Cristian Balan, coordinator of the center, hopes to build on the scope of last year's inaugural conference where 140 people attended.
"We will deliver a more powerful and in-depth event with multiple tracks in business, government and technology," he said. "Our goal for this year is to move away from the 'doom and gloom' portrayal of cybersecurity to showcasing winning strategies for ongoing cybersecurity resiliency in the North Country.
Practical, Best Strategies
"Our speakers will share practical 'how to do it' best strategies to implement cybersecurity awareness, management and technical safeguards in their organizations," Balan said.
"The need for cybersecurity grows everyday," said senior computer science major Jesse Adam from Kingston, N.Y. "It not only affects major corporations but small business and individuals all the same."
Adam said the conference, made up of professionals who spend their career working in the business, is of great importance to students attending.
"Getting first-hand knowledge like this is priceless," Adam said. "The value that can be gained can be life-changing for most and an eye-opener for many. All students attending this even benefit from being around professionals in the field. Being a student and having the ability to ask questions that our books can't answer is key to my success when looking for jobs. This gives insider knowledge on latest trends and events in the security field. This is what will set me apart from others in interviews for my future career in cybersecurity."
'Women in Technology Roundtable'
Co-sponsored by Twinstate Technologies, Worksorce Development Institute, and Library and Information Technology Services, the conference begins with a panel discussion, Women in Technology Round Table, moderated by Dr. Rowena Ortiz-Walters, dean of the School of Business and Economics, featuring among other panelists Debora Snyder, chief information security office for the state of New York, Devi Momot, CEO, Twinstate Technologies, and Kim Scalzo '89, executive director of Open SUNY at the State University of New York.
Snyder will then give the keynote address. Sessions after lunch include a cybercrime update by special agents of the FBI cybersquad, incident response for government organizations, managing risk with cyber insurance, the dark web, small business cyber issues, security of state and local governments, and more.
Cameron Gonzales, senior marketing intern in the Center for Cybersecurity and Technology, said the conference is designed to give participants the means to better protect their operations.
"This conference is for anyone involved in business, government, technology, to help them find ways to prepare, plan and protect their information and their consumers' information," he said. "Now more than ever it's of paramount importance that our data is protected. People can so easily go in and take your information and sell it. How many places do you go where you're asked for your name, your phone number and your email? It's everywhere."
Networking Opportunities
It's also open to students who will have the opportunity to network during lunch, between sessions and again at a networking reception that begins at 4:30 p.m. in Room 114, Au Sable Hall.
"As a technology major, this is a great opportunity to network, find a mentor, find a job, or learn about industry-level skills, tools and standards," said sophomore management information systems major Christopher Hannou of Queens.
Senior computer security major Marc Balingit agreed, saying that "students should be networking with every opportunity they get. A lot of our interns and now alumni got internships and jobs by knowing someone in the industry. I learned by my mistakes and should have networked early on as an intern."
The cost, which includes lunch and all sessions, is $20 for regular registration, $10 for students. For more information, a complete schedule or to register, visit https://goo.gl/DxKMuV or contact Balan at [email protected].