Jump to Footer
College Sets Fall Dates for In-Person Open House
---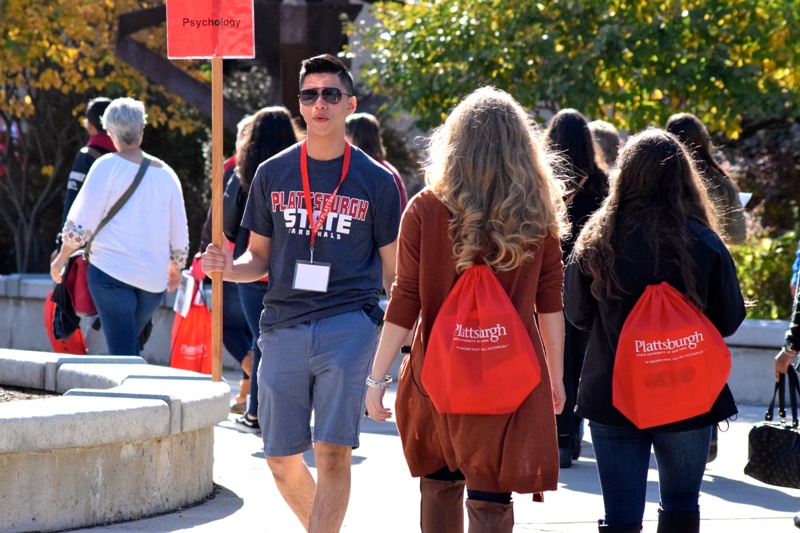 SUNY Plattsburgh's Office of Admissions will host two in-person open house events this fall, giving prospective students and their families the chance learn about programs, campus life and all the college has to offer.
Fall Open House will be held Saturday, Oct. 23 and Saturday, Nov. 13 from 9 a.m. to 3 p.m. and include campus tours, sessions with admissions, campus living, financial aid, dining and more.
Beginning at 9 a.m. and running through 2:15 p.m., visitors can attend one of three admissions presentations featuring a panel of students who will talk about academics, life at SUNY Plattsburgh, the admissions process and next steps to becoming a Cardinal.
Academic breakout sessions will be held with faculty from programs and majors across campus, including biological sciences, earth and environmental science, education, journalism, nursing and business and economics, among many others.
Tours of campus led by current students will be held from 9 a.m. to 2 p.m. and will showcase classrooms, dining facilities, residence halls and other campus features. Along the way, participants can stop by the Student Services Fair from 11 a.m. to 1 p.m. to learn more about the college's programs and activities available to all.
Individual appointments with financial aid and admissions can be made during the open house between 9 a.m. and 2 p.m.
COVID protocols will be enforced. For current campus updates, visit https://www.plattsburgh.edu/covid-19/index.html.
For more information or to register, visit https://www.plattsburgh.edu/admissions/visit/open-house.html, call 518-564-2040 or email [email protected].
Lorem ipsum dolor sit amet, consectetur adipiscing elit. Fusce in erat sed lorem sagittis iaculis. Nunc quis pharetra massa. Donec tortor arcu, mollis in dignissim faucibus, rutrum ut lorem.

---

First Name Last Name