Jump to Footer
College Rummage Sale Donations Benefit Community Members in Need
---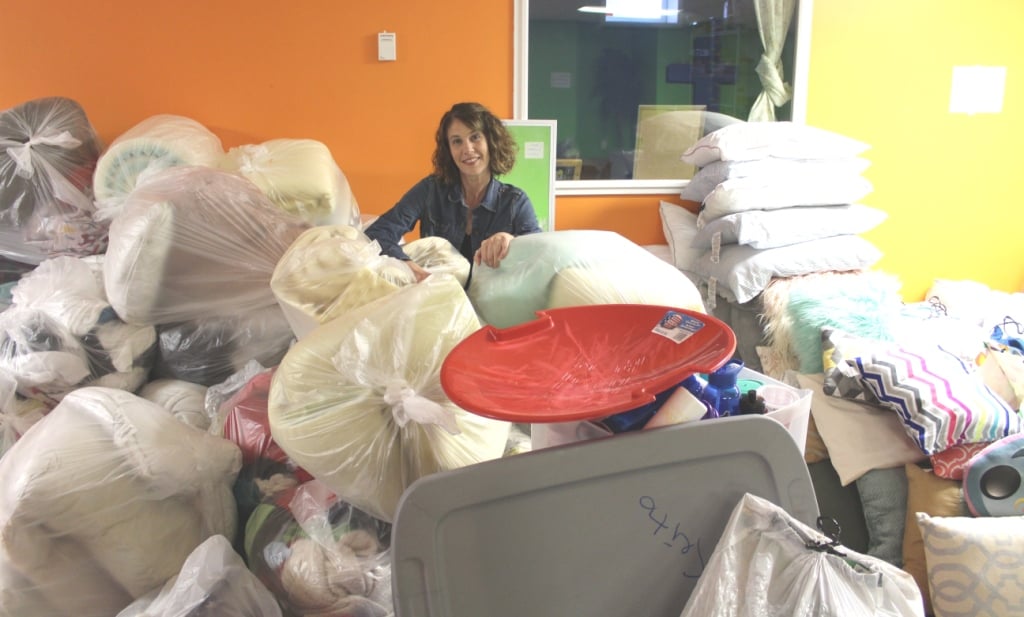 Valarie Drown saw a need in the community to help underprivileged young people stock their closets for back-to-school, and SUNY Plattsburgh stepped in to help.
Drown, counselor in the neuropsychology clinic in the Center for Neurobehavioral Health, said it had long been a goal to help these youngsters.
"School clothes are expensive," she said. "Many families can't afford the cost, but these young people want to have nice, name-brand clothes that they can be proud of."
As a result, Drown started the Cadyville Clothing Closet in collaboration with the Cadyville Wesleyan Church.
Rummage Sale
This spring, following SUNY Plattsburgh's annual residence hall rummage sale, Drown was contacted by University Police Officer Erich Pflanz to see if her operation could benefit from donations of what was left after the rummage sale. Like Drown, Pflanz is a parishioner at the church and knew there would be an opportunity to donate to the closet.
"I'm familiar with the outreach program and Val's clothing drive," Pflanz said. The college organizers of the rummage sale said he could avail himself of anything left behind, so together with volunteers from the college, bags of clothing were brought to the Route 3 church.
"I never thought I would see what I saw when I walked into the church," Drown said. "SUNY Plattsburgh delivered the items, and it filled our youth area. I was amazed at the generosity. People in the community will be truly blessed by the donations that were made by the college."
First Event August 2018
The first clothing event was held in August 2018. Drown said some 150 people walked through the doors and "shopped" the racks and tables that held new and gently used clothing and school supplies, much of which was donated.
"It was set up just like a store would be. We had clothing racks for hanging clothes and tables arranged according to gender and size, and we had dressing rooms available to try clothing items on," she said. "A separate area was set up for school supplies, and students and parents were able to tell us their needs so that we could either fill a backpack or a bag as needed."
She said the original idea for the closet would make its wares available for teens, "but adults and children also came to the event in need," she said. "We were able to reach everyone as we did have some children's clothes that were donated. I don't believe anyone walked out empty-handed."
All Items Free
Thanks in part to the donation made from the college rummage sale, Drown said she will open the closet doors again, Aug. 9-10 from 8 a.m. to 3 p.m.
"All items are free of charge to anyone who attends," Drown said. "Our goal is to help the community and to show others how important they are. Although the event is held in August, the closet has been available year 'round to those who are down on their luck and need assistance. We have been able to supply items to individuals who have had house fires, changes in income that resulted in a need, and to those who are starting over in their lives and need a little extra support to move forward."
Drown said volunteers and family members have been working, taking items home to make sure they're clean and in good condition. Volunteers work the weekend of the sale as well, helping shoppers, keeping racks neat and filled.
Stays Local
"The volunteers are wonderful," she said. "I couldn't do this without them."
"It's great that all those items from the rummage sale stayed local, they're getting distributed and serving a need," Pflanz said. "People giving of themselves to our community is always a great thing."
Donations of new and gently used clothing, as well as school supplies are always welcome, Drown said. For information on the Cadyville Clothing Closet, contact Drown at 518-578-1589 or the church at 518-293-7149.