Jump to Footer
College Hosts Naturalization Ceremony for New U.S. Citizens
---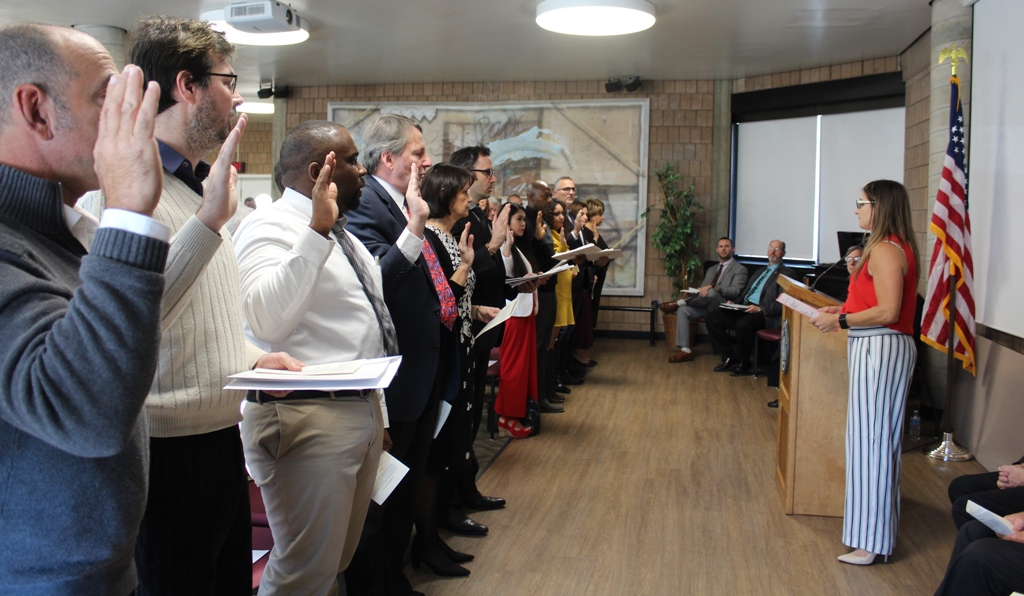 Twenty-seven people representing 17 different countries on three different continents were sworn in as U.S. citizens during a naturalization ceremony held on the SUNY Plattsburgh campus Friday, Oct. 19.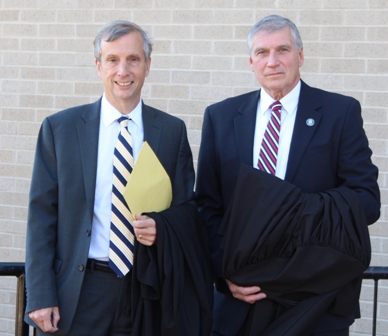 The Hon. Gary Favro and the Hon. Christian Hummel, U.S. magistrate judges and alumni from the classes of 1973 and 1977, respectively, presided over the ceremony, held before a standing-room-only crowd of family and supporters in the Alumni Conference Room, Angell College Center.
Following a Plattsburgh State Gospel Choir rendition of the "Star Spangled Banner," President John Ettling welcomed the candidates to SUNY Plattsburgh and welcomed the judges back to their alma mater.
"We're delighted to host this extraordinary ceremony. It is a privilege to have 27 men and women who will today become citizens of the United States of America," Ettling said. "I am honored by your presence."
Welcome
Favro welcomed family, friends and the soon-to-be citizens.
"I am pleased to welcome candidates for citizenship," he said. "Nothing we preside over is as exciting and as gratifying as presiding over a naturalization preceding." Favro and Hummel are two of three federal justices in the district. The Hon. Glenn Suddaby, U.S. district court chief judge, is the third, representing the Class of 1980. Favro conveyed Suddaby's regrets at not being able to attend the event and his regards and best wishes to the candidates.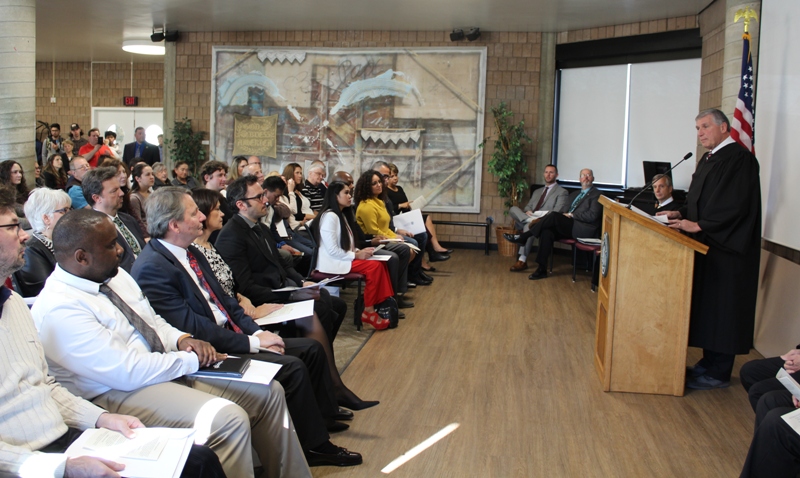 Favro then told the candidates it was a day of great importance.
"Thousands of immigrants take the oath of citizenship every year. You have joined those others," he said. "This is not just your home; it is your country." And with that citizenship "comes many opportunities but also with that comes many responsibilities. I challenge you, more today than other times in our country's history, to share your customs and your histories. As Americans, we draw upon your strength and your diversity."
Certificates Given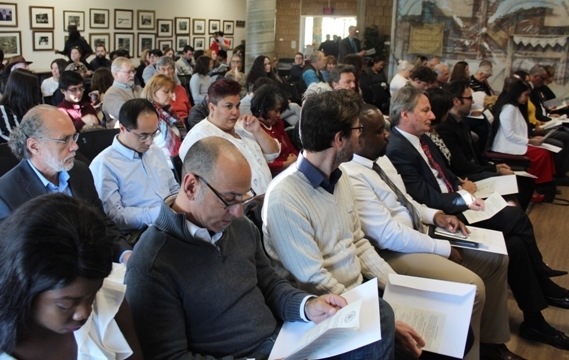 After being administered the oath for citizenship and led in the Pledge of Allegiance by Dawn Shaheen, courtroom deputy, candidates were then presented with their certificates of citizenship, a copy of the U.S. Constitution and an American flag. The choir then sang "America the Beautiful." Many of the new U.S. citizens wiped away tears; others turned to their neighbors in the chairs and congratulated one another.
Hummel stood to offer his congratulations and his thanks.
"In my 30-plus years as a judge, this is my favorite thing to do," he said. "It is literally the highlight of my month."
He then shook his head.
"There's noise out of Washington I'm hearing. Much of which I don't understand," he said. "This is a country of immigrants. The idea that we'd exclude anyone based on where they came from is wrong."
In addition to family members and friends, honored guests in attendance included Dr. Colin Read, mayor, City of Plattsburgh and professor of economics; Michael Cashman, supervisor, Town of Plattsburgh; Clinton County Legislator Harry McManus; Suzy Johnson and Betty Ann King from the League of Women Voters of the North Country; U.S. Citizenship and Immigration Services Field Office Director Michael Paul; and Travis Messier, immigration services officer.