Jump to Footer
College Awarded 'Night Prize' for Maintaining a Perfect Place to Sky Gaze
---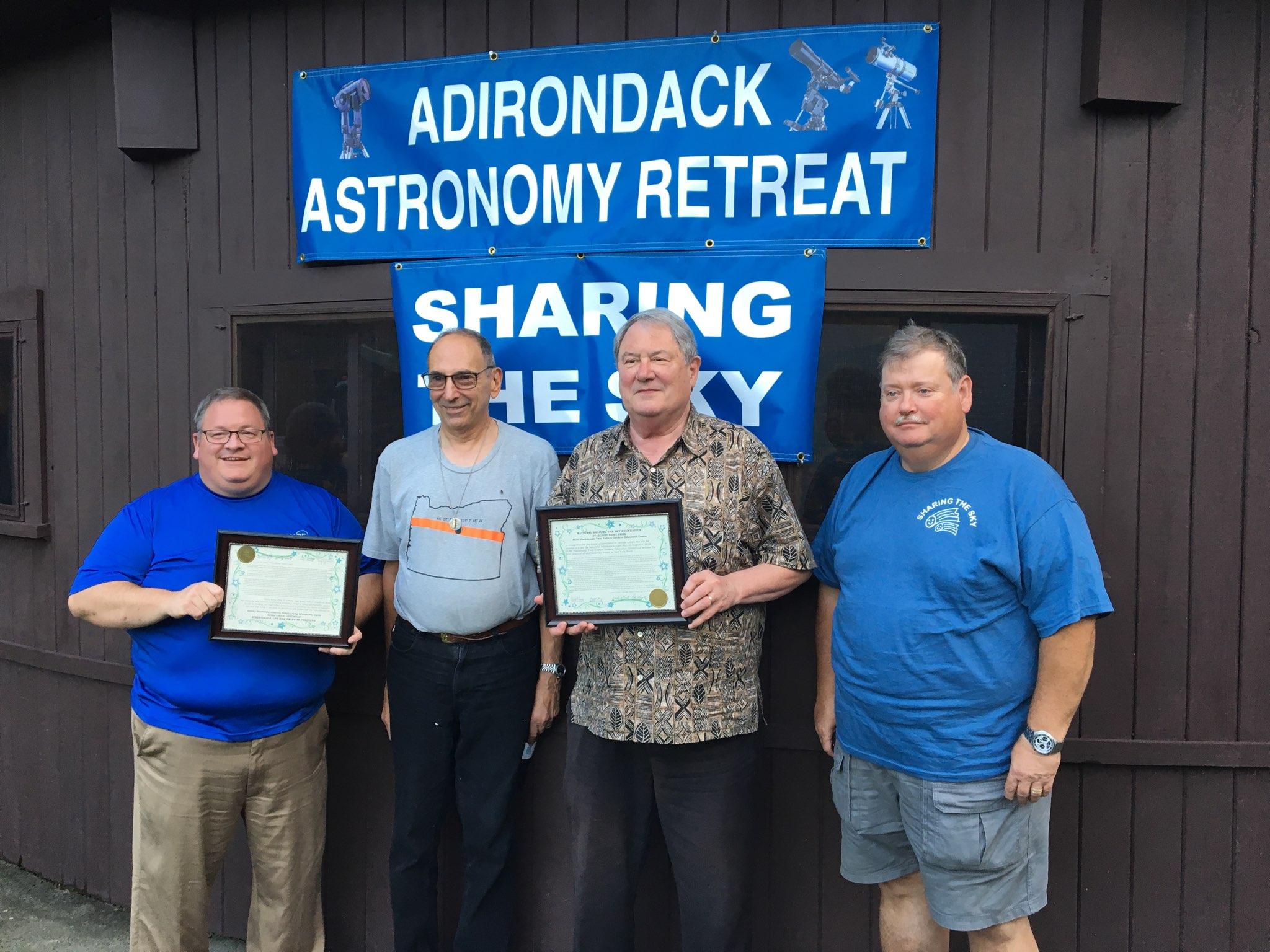 SUNY Plattsburgh's Twin Valleys Outdoor Education Center was recognized by the National Sharing the Sky Foundation and the astronomer who co-discovered the Shoemaker-Levy comet that collided with Jupiter in 1994.
The National Sharing the Sky Foundation Starlight Night Prize, presented to President John Ettling on behalf of the college by Dr. David Levy on the final night of the annual Adirondack Astronomy Retreat, is in recognition "for the major achievement to provide a dark sky site for anyone to enjoy the beautiful Adirondack night sky" at Twin Valleys, the college's multi-use outdoor education and recreation center.
Levy has said that Twin Valleys is one of the darkest spots in the United States and makes for great sky gazing by professional and amateur astronomers. The Gerard L. Cutting Pavilion at the David H. Levy Observatory at Twin Valleys is dedicated to the former science editor of Parade Magazine.
The retreat, organized by Levy and his wife, Wendee, at the center since 2004, brings 35-40 amateur astronomers to Twin Valleys from all over United States and Canada to spend five nights watching the night skies of the Adirondack region. Lectures, hikes and other activities round out the remainder of the time.
Levy founded the National Sharing the Sky Foundation to share his passion for astronomy with others, particularly young people, and to inspire them to pursue interests in science and engineering. Levy's own interest was sparked when, as a young boy in the early 1960s, he attended the college's Adirondack Science Camp at Twin Valleys. He said his experience in the summer science programs led him to become an amateur, and eventually, a professional astronomer.
"It's designed to inspire people to want to look up at the night sky," he said. "There is already an excellent national organization dedicated in part to teaching about astronomy and space — it's called NASA. But if people — particularly children — are not inspired, then all the teaching in the world won't help."
Levy, recent past-president of the foundation, said his task "was to give lectures designed to inspire people to want to look at the sky."
Indeed, in 2017 and again in 2018, Levy gave talks at SUNY Plattsburgh on how the night sky has influenced scholars and artists throughout history and how poets and astronomers read the sky. Before that, he was honored by SUNY with an honorary doctor of science degree, given at the May 2005 commencement exercises.
Levy said that Twin Valleys is the first recipient of a Starlight Night Prize in the state of New York.
"It is an honor to receive this recognition. We are grateful," said Ettling. "Twin Valleys is a valuable resource for both the college and the wider community."