Jump to Footer
Students Earn 2016 Chancellor's Award for Excellence
---
Three SUNY Plattsburgh students with nine majors between them received the Chancellor's Award for Student Excellence at a ceremony held in Albany April 5.
Grace Carlic, a senior majoring in anthropology and Latin American studies from Marcellus, N.Y.; Kevin Clayton, a senior majoring in entrepreneurship, business administration, international business and political science from Manorville, N.Y.; and Adam Saccardi, a senior from East Setauket, N.Y., who is majoring in history, political science and economics, received their awards from Chancellor Nancy Zimpher at the event.
"This award is our way of saying 'thank you' to stand-out SUNY students whose achievements reflect their own impressive hard work as well as the support of their families and friends, and SUNY's world-class faculty and staff," Zimpher said.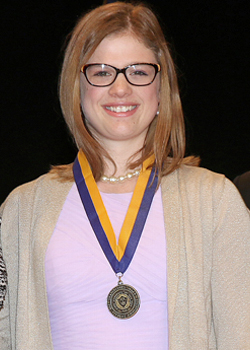 Grace Carlic
Carlic has served as president of the Anthropology Club at SUNY Plattsburgh and volunteered to create a month-long series of speakers and programs. She has also served as a delegate at the Model Organization of American States conference. In addition to her dual majors, she has dual minors in history and religious studies.
"This award means many things to me," she said. "But perhaps the most significant meanings rest in how it reflects upon myself and others. I came to SUNY Plattsburgh with the motivation to develop into the young woman, leader and academic I knew I could be. (This award) means that my achievements have been recognized and that my personal experience here has been significant beyond myself and has reached into the college community."
Carlic said her future is on hold following her May graduation while she takes time "to relax and reflect on my college years. I am not looking to jump into anything just yet.".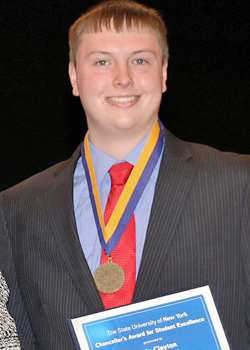 Kevin Clayton
Kevin Clayton served as president of the SUNY Plattsburgh Student Association in addition to having served in two other elected SA positions. Active in several student clubs, including Model UN and the entrepreneurship student organization, he has developed two mobile applications for the Android platform. On April 1, he won $700 for taking second place in the inaugural Clinton County Business Plan Competition for his "Mobile Form Processing" business plan.
The Chancellor's Award "is a reminder of what I've accomplished," said Clayton, who had been homeschooled prior to attending SUNY Plattsburgh. "I'm sure that everyone receiving this award, including me, has put in a lot of hours of work that no one else ever saw or recognized. It's easy to get caught up in what you still have to get done and forget about all you've accomplished to get where you currently are. This award serves as a nice reminder that hard work will be rewarded in the end."
Clayton plans to pursue his master's in business administration at Clarkson University.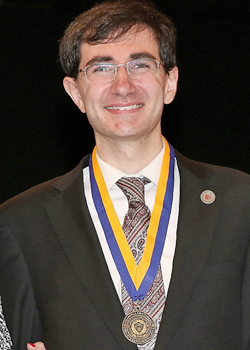 Adam Saccardi
Saccardi, who has earned a perfect GPA at SUNY Plattsburgh, said that the Chancellor's Award "is a monumental honor, and I am thankful to have received it. I am humbled that my contributions to campus have been considered meaningful enough by the college to earn this award."
On campus, Saccardi excelled both inside and outside the classroom, representing various academic departments with papers he presented at regional conferences. A member of the Student Association, he also served on the Model UN and is a member of the Tau Kappa Epsilon fraternity.
Saccardi said he hopes to work for Congressman Lee Zeldin from New York's 1st Congressional District in central and eastern Suffolk County with whom he previously interned.
The Chancellor's Award for Student Excellence is the highest honor bestowed upon a student by SUNY. This year, 248 students from SUNY's 64 campuses were recognized. Nominations are solicited for students who have best demonstrated and been recognized for their integration of academic excellence with other aspects of their lives including leadership, campus involvement, community service, creative or performing arts, athletics, and/or career achievement.
"The 248 students we honor with this year's award have excelled academically, become role models on campus, and established themselves as leaders in the community," Zimpher said.