Jump to Footer
CAS, Chartwells Make Positive Strides Incorporating Sustainable Initiatives
---
As SUNY Plattsburgh prepares to welcome students back to campus this weekend, College Auxiliary Services and its dining partner, Chartwells, continues to make strides in minimizing their environmental impact through campus sustainability initiatives.
"Sustainability is one of the core values of CAS," said its executive director, Catherine Keleher. "We oversee each of our dining facilities and manage dining services through our contract with Chartwells; I appreciate their shared commitment to this value, and we work in tandem to produce an innovative program with sustainability at the forefront."
For instance, CAS and Chartwells partnered to install waste and recycling receptacles in all dining venues, partnered with Casella Waste Systems to provide zero sort recycling and use a local vendor for pre-waste composting, Keleher said.
"We hope to be able to start pre- and post-composting withing the next six months as our partners move forward with this capability," she said.
Waste Not 2.0
Additionally, Chartwells uses waste-tracking program, Waste Not 2.0 to measure food waste at its source in an effort to keep waste out of the landfill.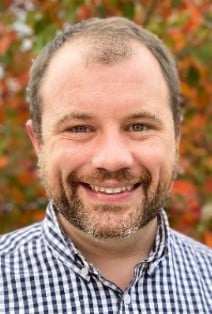 "Waste Not 2.0 is one of the best programs that I have worked with," said Chris Mihalyi, Chartwells resident district manager on campus. "All of our food in Clinton, Kent, Samuel D's in Sibley and in our campus bakery and the Sundowner is made from scratch daily. Waste Not allows us to track our natural waste from production and set goals to decrease it."
In 2020, Chartwells tracked 18,658 pounds of waste in the Sundowner alone. By 2022, that had decreased to 12,809 pounds, he said.
"The app allows us to be continually conscious in our efforts to not overproduce food and use all viable pieces of the ingredients that we bring in."
Aside from the facilities, Chartwells effort for sustainability is seen in its menu offers, with a continued effort to increase plant-based items year after year, Mihalyi said.
Larger Plant-Based Menu Selection
"During the 2021-2022 academic year, only 22 percent of our menu items were considered plant-based," Mihalyi said. "But for 2022-2023, about 45 percent of our menu items were plant-based." Nationally, 53 percent of menu offerings by Chartwells include plant-based items.
"Coming into this year, our menu will be about 58 percent plant-based. This data is pulled from a full menu mix in all of our locations with our largest plant-driving units being Clinton Dining Hall, the Sundowner and Kent," he said.
To aid diners, Chartwells has introduced "climate labeling" in its dining halls through partnership with HowGood, a database on ingredient and product sustainability, according to Lisa McEuen, Chartwells CEO. Mihalyi said at SUNY Plattsburgh, the HowGood technology can be found at both Clinton and the Sundowner.
"HowGood is a tracking program for when we are building our made-from-scratch menu items," Mihalyi said. "We input ingredients via their tracking SKUs that measure the sustainability — carbon emissions — of the company that manufacturers the ingredient, then all the ingredients are calculated in the recipe to make the item generating a 'carbon footprint' for each.
"We can then set goals to decrease our carbon footprint, and the program will show an algorithm that suggests alternative ingredient choices to meet our goal," he said. "It is reviewed every semester and recipes are tweaked to continue to reduce our footprint."
Locally Sourced Products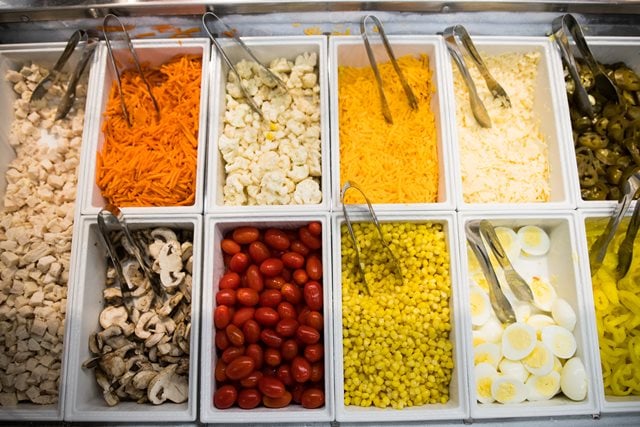 To loosen the ties on producers further afield, Chartwells sources locally and regionally produced foods whenever possible, Mihalyi said.
"All of the eggs we use in our facilities outside Tim Hortons and Einsteins are from Giroux in Chazy. We use Prays, Rulfs and Chazy Orchards for all of our apples and seasonal products; we use Parker's for our maple syrup and Upstate Farms out in Buffalo for all of our milk and milk products," he said. In addition, they partner with Cabot and King Arthur Baking Co., both located in Vermont.
"Last year, we spent nearly $1 million with New York state vendors, which made up close to 35 percent of our total food spend," Mihalyi said. "My goal is to increase that to 50 percent within the next two years."
Additionally, Chartwells, both nationally and locally, strives to increase the percentage of its budget spent on minority and women-owned businesses. Mihalyi said locally, SUNY Plattsburgh is in line with the 20 percent goal set by Chartwells nationally.
"Those (businesses) range from local farms and wine/spirits businesses for our wedding venue at Valcour to partnering with larger local businesses such as Plattsburgh Creative Signs and TwinState Technologies," he said.
Sustainability Goes 'Beyond Plastics'
"Sustainability to Chartwells, especially here at SUNY Plattsburgh, goes far beyond eliminating plastics for more eco-friendly containers," Mihalyi said. "It dives into looking at our entire supply chain, from farm to table and from table to ground.
"We continue to diversify our menus, procure locally and regionally, decrease our carbon footprint by retaining our staff and empowering them to make more sustainable choices," he said. "Our largest opportunity is communicating to students how they can also be a part of the impact. Post-consumer waste is still the leading cause of unsustainability here at SUNY Plattsburgh, especially in Clinton, where entire meals are thrown away. Education is a major piece for students to know the impact that they have."
Education Key
Keleher agreed that education — for all — is key to minimizing waste.
"For instance, one piece of trash or food waste thrown into a recycling container can contaminate the entire bag and sometimes, even an entire truck of zero-sort recycling. We work together with partners to minimize our footprint, but at the end of the day, we as individuals must do our part," she said. "This year, CAS will be working with Chartwells and Casella on messaging and education around compost and recycling. Casella will be tabling at our Cardinal Cash Fair Sept. 25 at 5 p.m. in the Warren Ballrooms to help educate our campus community about waste management."
For more information, contact CAS at 518-564-2035, email [email protected] or visit https://www.plattsburgh.edu/plattslife/food-dining/index.html.
— By Associate Director of Communications Gerianne Downs