Jump to Footer
Black History Month Center Stage Throughout February at SUNY Plattsburgh
---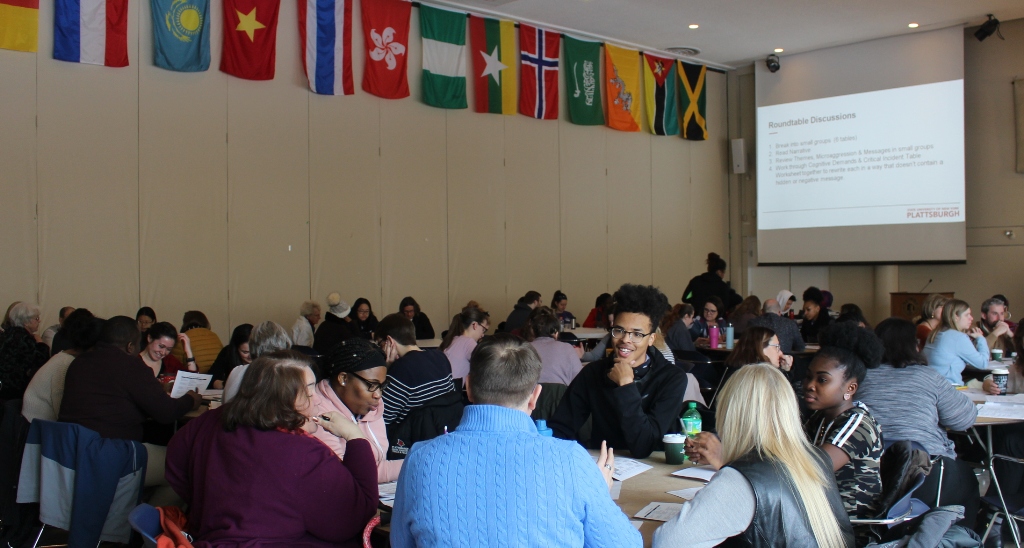 SUNY Plattsburgh File Photo
The SUNY Plattsburgh Office of Diversity, Equity and Inclusion is hosting a month of activities during February honoring Black History Month including lectures, films, meals and more in celebration of achievements made by African Americans and their central role in U.S. history.
Black History Month originally began as Black History Week nearly 100 years ago, according to Allison Heard, vice president for diversity, equity and inclusion, started by Carter G. Woodson, "known to many as the 'Father of Black History,' she said.
"His goal was to promote education and awareness, and to celebrate the achievements of Black Americans which often go unnoticed," Heard said. "As an institution of higher learning, it is important for SUNY Plattsburgh to follow in this tradition. We want to promote the love of learning and the importance of people knowing about history.
"We can learn so much about history. We can learn about ourselves and others. We can learn about how we are connected to one another and to other communities. We can also learn from mistakes of the past and how we can do better in the present and future," she said.
This year's theme, "Black Resistance," reflects on how African Americans have resisted ongoing racial violence — police killings, lynching, oppression and more — since before the formation of the United States. February has been officially designated Black History Month by every U.S. president since Gerald Ford proclaimed it to be such in 1976.
"This type of inclusion and growth mindset is the reason why we need to promote these events during February and every day of the year beyond this month," she said. "SUNY Plattsburgh has a responsibility to promote a love of learning and academic scholarship. The schedule we have created is a true collaboration and example of that."
Events going on during February include:
"Loving Every Shade of You" pre-Valentine's Day tabling in the Angell College Center Monday, Feb. 13 from 10 a.m. to 1 p.m. DEI welcomes everyone to surprise a student or employee with a card.
A Feinberg Library "You Belong Here" popcorn party Thursday, Feb. 16 from 1:30 to 3:30 p.m.
A Black History Month read-in Friday, Feb. 17 at 10 .m. in the James Augustus Wilson Commons, Champlain Valley Hall
A lecture by Dr. Stephen Light, professor of sociology, Tuesday, Feb. 21 from 3:30 to 4:45 p.m. in the Cardinal Lounge on "W.E.B. DuBois: Pioneering Sociologist of the African-American Experience."
Mardi Gras and Carnivale Masquerade Dinner featuring DJ Sha, Fat Tuesday, Feb. 21 from 5 to 7 p.m. in Clinton Dining Hall. Students eat free with meal swipe; others pay $10. Contact DEI if cost is prohibitive to attend. Foods include oxtails, seafood and chicken gumbo, dirty rice, grits, brown-stew chicken, curry chicken, sweet potato pie, orange cake, paczkis and beignets.
"The Souls of Black Folk" book discussion and SoulFood Dinner Thursday, Feb. 23 from 4 to 6 p.m. in Clinton Dining Hall. Students eat free using a meal swipe; others pay $15. Contact DEI if cost is prohibitive to attend. Foods include jerk chicken, macaroni and cheese, black-eye peas, greens, hot water cornbread, peach cobbler, pound cake and sweet tea.
"This is the perfect opportunity for our students, staff, alumni, business owners, families, and all members of the community to celebrate our diversity," Heard said. All events are open to the public.
"We have a program for everyone. From mask-making to speaker presentations, to book discussions, to a soul food dinner, and Mardi Gras Carnivale celebration. Everyone is welcome to participate."
For more information, contact the Office of Diversity, Equity and Inclusion at 518-564-5410 or email [email protected].
— By Associate Director of Communications Gerianne Downs