Jump to Footer
Marketing Major Andrew Adams Buys Long Island Radio Station | SUNY Plattsburgh
---
The owner of an eastern Long Island radio station said he plans to work until he can't do it any longer.
By all accounts, that should be 50, 60 years from now since the new media-industry mogul is 20 years old and graduating with a degree in marketing a full year early from SUNY Plattsburgh.
Andrew Adams of Smithtown, Long Island, along with his business partner, Stony Brook senior Matthew Glaser, also from Smithtown, heard last spring that radio station WELJ was being put up for sale.
Adams immediately put a bid together for what was then a national simulcast country station, and it was accepted in June 2016.
Financed by Adams, Glaser and private investors, the Federal Communications Commission approved the sale in July under the name of the pair's company, BOLD Broadcasting LLC.
"We began broadcasting on Nov. 2. Now all programming is done locally out of East Hampton," he said.
During December, it was an all-Christmas format. The station moved to a soft adult contemporary/oldies format Dec. 26. The pair plans to brand the station as "The East End's Easy Favorites" to better fit the market.
Growing a Partnership
When the two were freshmen in high school, they entered the school's "Business Olympics," an entrepreneurship competition that required students to create a theme-based business plan. That year's theme was mobile applications.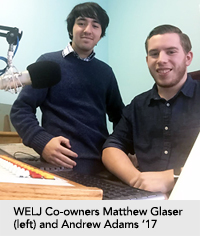 "After winning the competition, we thought the app had potential," Adams said. "I took out a loan from my parents and fully developed and launched the application six months later. It was the application that cemented Matthew and I together as business partners and led to many other ventures."
As a result, the pair developed a mobile applications suite for the Bethpage Air Show at Jones Beach. In 2014, they founded and co-produced the annual Long Island Summer Festival, a two-day family-friendly event that features vendors, food, hot-air balloons and live entertainment. Their first company, BOLD Entertainment, was born.
But Adams said knew he needed a college degree, if for nothing more than validation that he "already knew it all.
"I was so wrong," he said.
"In my junior year of high school, my father and I planned 10 or so visits to colleges in and around New York. Plattsburgh was first on that list," Adams said. "After visiting the campus, I decided I loved it here and didn't need to look anywhere else. Before even applying to any school, I'd made up my mind and cancelled the rest of the trip. I knew this was the college for me. Since then, I have not regretted it once."
'Ton to Learn'
The Plattsburgh Experience has proven to be worthwhile.
"From day one, I knew there was a ton to learn," Adams said. "I took international marketing with Dr. Richard Gottschall and saw a whole other side of business that I had never thought about. I took a math modeling class and learned how inefficient I had been operating the past few years. Dr. Laurent Josien taught my marketing strategies course and really challenged me to look at problems from a different perspective. Overall, I've built relationships and learned many new things that I have already started to implement within my business."
Gottschall is also Adams' adviser.
"Being a full-time student constrains the type of venture that you can develop," Gottschall said. "I have had students get over-involved in their ventures and suffer the consequences academically. When I started to talk to Andrew about his venture, he seemed so calm and practical. He also seemed to have no problems striking a balance between his academic and entrepreneurial pursuits. I guess it helps if you're a business major, and his first business is seasonal and runs primarily in the summer months.
"So I was pretty surprised when, as we talked, I came to understand the scale of what Andrew was undertaking."
Gottschall said that Adams "seems to be a quiet, confident entrepreneur; he never asked for any specific advice about his business, as some students do. He seems to be a quietly, confident entrepreneur." He said it reflects Adams' appreciation for what he's learned here. And he's excited for his soon-to-be-graduated advisee.
"While I don't think all students should be starting businesses right out of school, Andrew sets a good example for how it can be done," he said.
An entrepreneur from childhood, Adams said he always had his parents' support at every turn, even if it was just going door to door mowing his East Long Island neighbors' lawns."They always helped me — financially when I needed it, but always with their support. I don't think they were surprised at all when I told them I bought a radio station," he said. "I am hungry for success and am willing to put in the hard work."
Being a 20-year-old entrepreneur hasn't derailed his determination, either.
May Not Have All the Answers
"I try not to let my youth play a role in my businesses. I recognize the fact that I may not have all the answers, so I surround myself with experienced professionals who have done this before me and are willing to advise me," he said. "These are individuals who have experience in the media industry. My partner and I manage the businesses ourselves, but we're not too stubborn to ask for advice when we need it."
Adams said the best part of graduating early will be having the time to do what needs to be done in the company.
But first, the radio station needs his attention. Although the automated station has no on-air personalities yet, Adams said they hope to add some later in the spring and into the summer.
"Being the owner of a small station means I have my hand in pretty much everything," Adams said. "In the summer, I will be working full time on sales and promotions, working to get 104.7 WELF to be a local presence within the East End community."
Not Slowing Down
Though WELJ has only been broadcasting under their management for a few months, Adams said they've already begun looking for their next venture.
"I hope to add more public events to my portfolio as well as other media properties," he said. "I plan on staying within the New York metro market, but I have explored other surrounding markets. It may be another radio station; it may be other media, like out-of-home properties or a digital property. Overall, I don't see myself slowing down any time soon. I plan on working until I can't anymore."
Adams said he could then retire and work only five days a week.
Then, he thought better of it.
"Probably not," he said. "I'd get bored the other two days."