Jump to Footer
Alumnus Features Retired President in Public Radio Program
---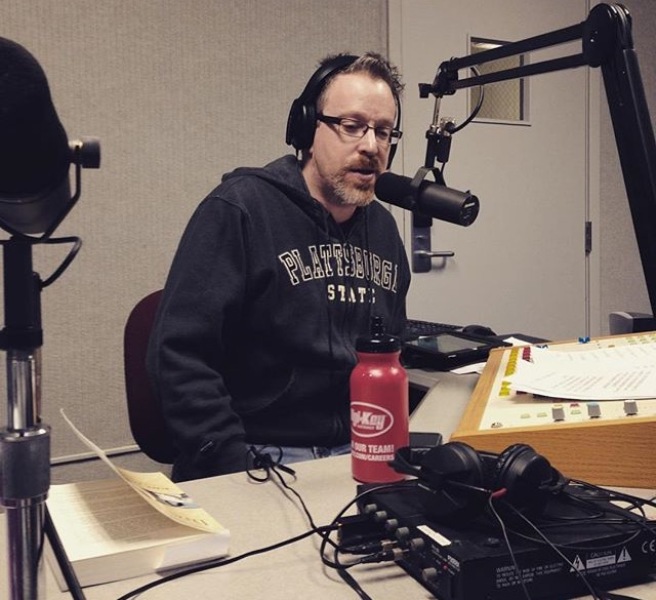 Class of 1991 alumnus and professor of philosophy at the University of North Dakota-Grand Forks Dr. Jack Weinstein hosted an on-air remote interview in December with retired SUNY Plattsburgh President John Ettling.
Weinstein's "Why? Philosophical Discussions About Everyday Life with Jack Weinstein" is broadcast on the second Sunday of every month on Prairie Public Radio in North Dakota. Before arriving at SUNY Plattsburgh 15 years ago, Ettling served as dean and provost at UND-Grand Forks, where he met Weinstein.
Since then, Weinstein has returned several times to his alma mater as a visiting professor and guest lecturer, often as a guest of the college president and his wife, Lisa Lewis, who had previously taught in the English department with Weinstein's wife, Dr. Kim Donehower.
During the hour-and-a-half conversation recorded Dec. 4, Weinstein and Ettling addressed the question, "What's it Like to be a University President." Weinstein asked the 75-year-old Ettling how a university president deals with the sometimes disparate relationships that the faculty have with their place of employment and students and alumni have with the institution.
Loyal to Plattsburgh
"There is a loyalty I have to Plattsburgh that I can't imagine ever having with UND, even though at this point, UND has employed me for 19 years," Weinstein said. "But as an undergraduate, Plattsburgh has given me a lift that I often describe in teary terms. How does a president deal with these contending visions — you get faculty who have loyalty and animosity and frustration and excitement, and then you have students and alumni who have this existential connection to their university. How do you balance those two things?"
"I'm not sure you have to; you just have to acknowledge that they co-exist," Ettling said. "Faculty understand that most alums don't stay in higher education. They leave the college and go out into the world to make a living doing something else. My theory is people who end up spending a lifetime in academia as faculty members — especially in humanities and social sciences — have an inherent critical relationship to the world and the people around them, and that's going to manifest itself not just in the kind of skepticism in their own research but also in their relationship with the institution that employs them."
Weinstein wondered if what "informs research, that informs inquiry is such a personality trait that it's going to define how you deal with your boss, how you deal with our colleagues, how you deal with your institution?"
"What's it like to lead a group of people, a large portion of whom sees their role as constantly analyzing, second-guessing, critiquing and even scoffing at whatever decision you make regardless of what it is?" he asked.
Shield as Much as Possible
"It comes with the territory," Ettling said. "When I was provost at UND, I used to say, and I believed it, that UND comprised the greatest conglomeration of brains and talent between Minneapolis and Seattle … but there are people who are cranky, individualistic, prima donnas, but who are very good at what they do. I saw my job and saw my job at Plattsburgh in much the same way, as a Van Allen radiation belt; I was supposed to help shield them as much as possible from the slings and arrows of state politics and budget cuts and all the rest of it as I could so they could go about their business and do what they do."
"That's a real interesting point of contention, though," Weinstein said. "Isn't the great complaint of faculty that they don't feel shielded, they feel exposed? You see your job as shielding, but the fundamental complaint of almost all faculty, other than not having enough resources, is they feel exposed. Is there a way to reconcile those two things or is it just a matter of this is how people are placed in the world and as a manager you have to negotiate incommensurable attitudes about what you do?"
"There is always tension between being completely forthcoming with faculty … and protecting from the assaults on the institution, which are coming fast and furious," he said. "Morale is an important thing; you don't want to go out of your way to destroy it. At the same time, you don't want to shield people, from unpleasant facts that they should know."
To listen to the rest of the discussion, visit
https://philosophyinpubliclife.org/2019/12/08/whats-it-like-to-be-a-university-president-with-guest-john-ettling/
.