Jump to Footer
SUNY Plattsburgh Students Provide Service Through Alternative Breaks Programs
---
For 17 years, SUNY Plattsburgh has offered the Alternative Break program as an opportunity for students to participate in community service through extended volunteer experiences. Projects over the years have included working with children, building homes and working with the homeless.
This year, however, a new Alternative Break option was born through the initiative of Michael Cashman, the coordinator for student activities and volunteerism at SUNY Plattsburgh, and John Malcolmson, Tim Hortons Onondaga Farms general manager.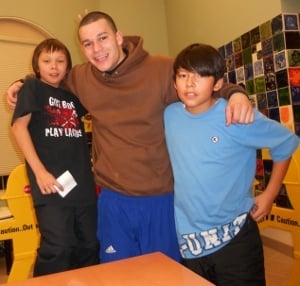 Develop a Sense of Personal Identity and Community
The Canada-based company sponsors the Tim Hortons Children's Foundation, a nonprofit organization that provides a camp for children from economically disadvantaged homes.
"These experiential learning opportunities help students develop a sense of personal identity and community, as well as an understanding of important societal issues," Cashman said.
Seven SUNY Plattsburgh students spent eight days at Onondaga Farms in St. George, Ontario, where they worked with a group of children from the First Nation, the Aboriginal peoples in Canada; modernized farm maintenance facilities; took a day trip to Niagara Falls; and participated in high ropes courses.
Opportunity to Learn About Different Cultures
"Volunteering for the Tim Hortons Onondaga Camp has proved that individuals can work together effectively for the common good," said Alma Hidalgo, a junior from Brooklyn. "This has been a great experience."
Senior Emily LaForce from Massena echoes that feeling.
"I thought I would only be learning about Canadian culture, but our group had so much diversity to it. With students from all over the world, I have had a unique opportunity to learn about a lot of different cultures."
Cashman said the excursion, which ran Jan. 21-28, made such an impact that the group has already started talking about next year's trip.
"In most cases, students who have participated in a program of this nature go on to further incorporate volunteerism and community service into their everyday lives," he said.
This year's Alternative Spring Break program had students heading to seven locations across the United States. These trips had them helping programs like Habitat for Humanity, the Student Conservation Association and more.