Jump to Footer
Admissions Events Warm Up for Spring 2023 Semester
---
It may only be the start of the spring 2023 semester, but the Office of Admissions has a full slate of events for prospective and accepted students planned for the coming weeks.
According to Tonya Baker, senior events and recruitment administrator with admissions, accepted students will have the chance to travel to campus during the annual spring bus trips Friday to Saturday, March 24-March 25 or April 7-April 8. Students will stay overnight on campus in conjunction with the spring open house events.
In addition, accepted student receptions will be held as follows:
Monday, March 13 in New York City
Tuesday, March 14 on Long Island
Wednesday, March 15, Hudson Valley
Thursday, March 16 in the Capital district
New this year is the Friday, March 17 reception for North Country accepted students, Baker said.
"These events are an opportunity for students to get a jumpstart on their Plattsburgh experience," Baker said. "They will have an opportunity to connect with currently enrolled students, accepted students from their region, and representatives from financial aid, enrollment and student success, academics and admissions."
This year's two spring open house events will be held March 25 and April 8 and are for accepted and prospective students.
"It's an exclusive event where students can explore all residence halls and speak one on one with faculty from all areas, admissions and financial aid and key student success areas," Baker said. "These opportunities are not offered during our standard (prospective student) visit opportunities."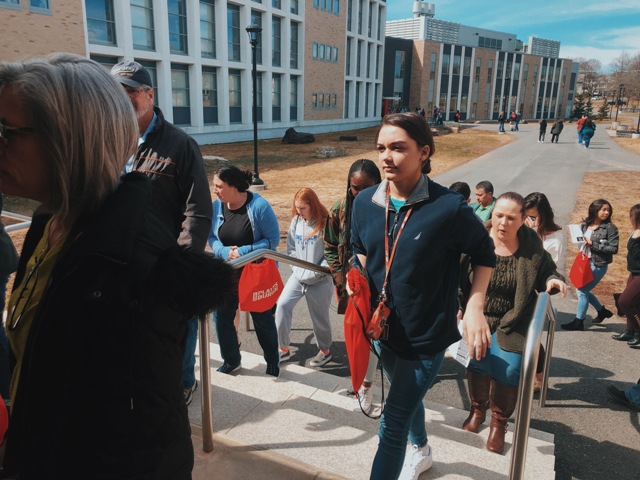 Open house begins at 10 a.m. in E. Glenn Giltz Auditorium in Hawkins Hall with a welcome presentation and student panel who will highlight academics, campus life, the admissions process and answer questions.
From there, students break out into sessions with faculty to learn more about the college's majors and hands-on learning opportunities available.
From 11:30 a.m. to 1:30 p.m., students can take guided tours of campus, showcasing classrooms, dining facilities, a residence hall and more.
From noon to 1 p.m. in the Angell College Center, students can attend a Supporting Student Success and Academic Fair to learn more about our programs and activities available. There, they'll be able to get information on:
Cardinal Core curriculum
Career Development Center
Center for Student Involvement, fraternity and sorority life, and orientation
Dining services and Cardinal Cash
Student Health and Counseling Center
Student support services and accessibility resources
Honors Center
Representatives from majors and programs across campus will also be on hand to talk about academic programs, majors, minors and more.
While on campus, students will also be able to set up 15-minute financial aid and admissions appointments.
For more information on the accepted student and spring house events, or to learn more about virtual chats with currently enrolled students and virtual Instant Decision Days, call the Office of Admissions at 518-564-2040, email [email protected] or visit https://www.plattsburgh.edu/admissions/visit/.
— By Associate Director of Communications Gerianne Downs