Jump to Footer
3-D Network Draws Help from SUNY Plattsburgh Volunteers
---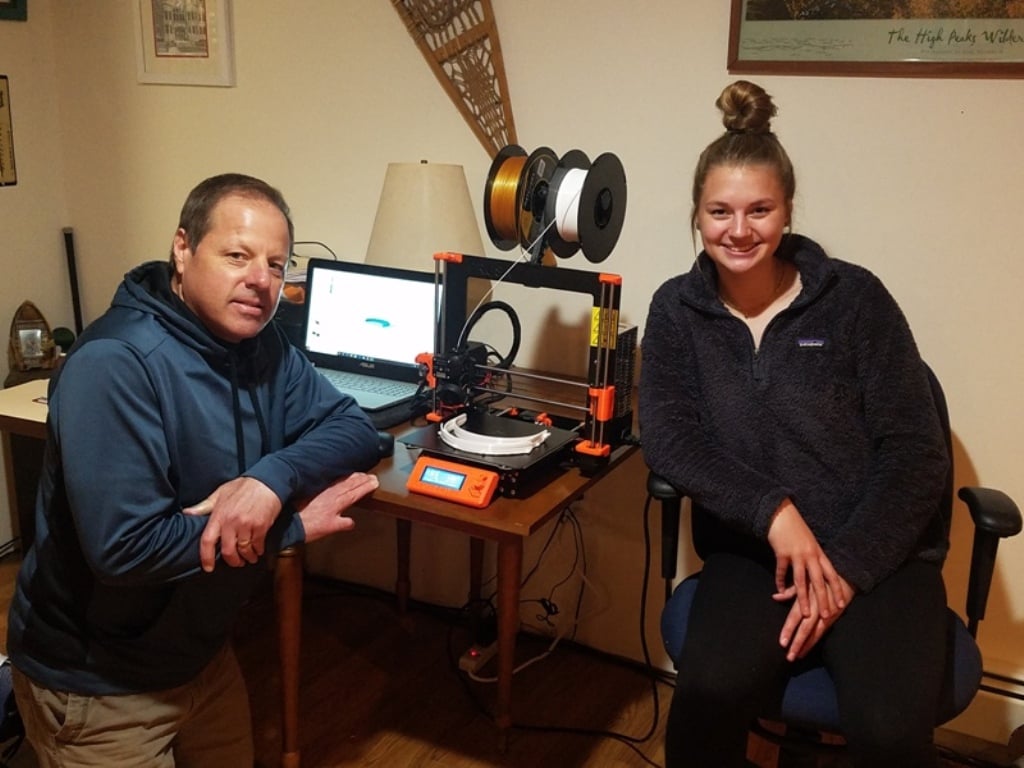 Faculty, staff and alumni from SUNY Plattsburgh are using 3-D printers to make face shields for area healthcare providers.
Dr. Michael Walters, associate professor and chair of physics, answered the call, as well as the Upward Bound program housed at the college.
Andrea Audi of Northern New York 3-D Printing Network said the effort first began in the Tri-Lakes region and then branched out into Plattsburgh because of need. She sent emails and posted to Facebook asking for anyone with 3-D printers if they can volunteer to make the shields according to the specifications they created.
After making a few with his home printer, Walters, who commutes from Potsdam, was given permission by the college to bring the two physics department printers home to notch up the process to where he'll be printing "as close to 24/7 as I can," he said.
"I am glad that the Northern New York 3-D Printing Network is handling most of the coordination. Without their leadership, this would be a much more scattered response."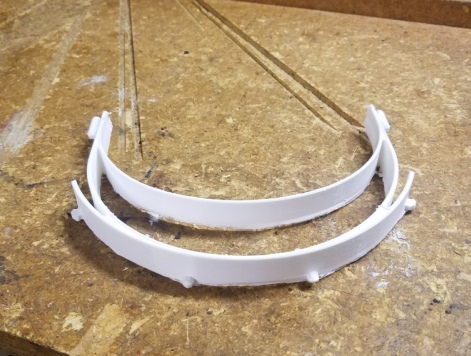 The shields being created will be attached to the clear plastic covers in hubs like Lake Placid and now, Beekmantown. Volunteers will deliver the finished products where needed.

3-D printers use a spool of plastic filament, akin to the thread used for sewing.

"The filament is fed into an extruder, which heats the plastic at or just above its melting point," Walters said. The plastic oozes onto a surface." The print head then moves back and forth in the pattern being created.

Brian Post, director of the Upward Bound program housed in Hawkins Hall, began making the shields in his basement workshop April 3 after hearing that Northern New York 3-D Printing Network put out a call for help. His daughter, Allison, home from college because of COVID-19, has been assisting him.

"They said the hospital needs between 1,200 and 1,600," Post said.

The shields that Post and others are creating look like headbands to which clear plastic barriers are attached. Together, the unit covers the entire face to stop respiratory droplets from coughs, sneezes and other fluids from going into the eyes, nose and mouth, the main way COVID-19 is transmitted. The printers create the product using a 3-D computer program.

Corery Mousseau, a 2004 SUNY Plattsburgh graduate and physics teacher in the Plattsburgh City School District, works with Post as a summer Upward Bound instructor. He emailed Post to see if he'd be interested in helping.

"Corey knew we had 3-D printers in our space in Hawkins from teaching there during the summer," Post said. "I picked one up and set it up in my basement workshop. Corey walked me through some of the technical stuff — we've been emailing back and forth — and I've been pumping them out."

Each shield component takes about three hours to produce. So far, Post has made about a dozen.

For his part, Mousseau received an email from the 3-D network, made up of folks who use the machines as hobbyists and in their work, looking for volunteers.

"I jumped on board and have been printing since (April 3)," he said.

Mousseau has made more than two dozen shields so far, saying he has "dialed in the machine to allow for 18-20 prints a day, which I am very happy with."

Walters joined the faculty in the fall 2011 semester and teaches the basics of 3-D design and printing in the Fundamentals of Engineer Design class, among others.

"When SUNY Plattsburgh competed in the NASA Centennial Space Rover Challenge four years ago, probably a quarter of our rover was 3-D designed and printed by our students," he said.

For more information on the 3-D Printing Network or to volunteer, visit www.NY3Dnetwork.com or email Audi at [email protected].

Unable to retrieve file contents for https://www.plattsburgh.edu/news/news-list.php
Warning: count(): Parameter must be an array or an object that implements Countable in phar:///var/www/staging/_resources/scripts/brei.feedmanager.ext/Filtering/FilteredObject.php on line 126