Jump to Footer
SUNY Plattsburgh Salutes Class of 2006 Stand Out Seniors
---
Spotlight on Seniors
On December 16, 2006 Plattsburgh State sent forth another class of graduates who are off to start the next step in their lives. Some will continue their education at institutions across the country while others will enter the workforce. We're proud of each and every one of them.
The following profiles highlight a few students from the Plattsburgh State Class of 2006.
Erin Joyner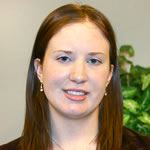 Erin Joyner, a graduating senior from Sandy Creek, N.Y., received her bachelor's degree in communication disorders and science. Erin has been working for the past three years in Student Financial Services at SUNY Plattsburgh.
"Erin has been the best student worker in our office during my five-year tenure as director," said Todd Moravec, director of Student Financial Services. "She is extremely reliable, persistently hard working, always courteous and incredibly honest. She has consistently performed at this high level during her long history in the office."
Erin has been accepted as a part-time graduate student in communication disorders and science at SUNY Plattsburgh for the spring semester and is applying for full-time status next fall.
"The teachers are all very supportive," said Erin. "The program has given me good experiences to help me in my career. I was able to do a practicum for a semester and saw a client. It was a good experience."
She has been an active member of the Plattsburgh community. She volunteered through Project HELP, mentored students outside of school, served as treasurer for her major club, the National Student Speech Language Hearing Association (NSSLHA), and is a member of Psi Chi, the psychology honor society.
"I'm very excited about graduating," she said with a huge smile.
Meghan Greene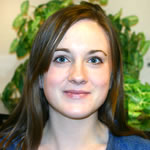 Meghan Greene is an environmental science major (with an option in ecology) from Glens Falls, N.Y.
She says the best part of her undergraduate experience at SUNY Plattsburgh was doing research work with the Lake Champlain Research Institute (LCRI).
"Working with LCRI was a really great experience, and I gained a lot of knowledge and real-world experience," said Meghan, who is the process of looking for a job and contemplating going on to graduate school. "Every summer I had the opportunity to go on Lake Champlain and collected samples that we tested in the lab. We monitored blue-green algae and worked collaboratively with SUNY Environmental Science and Forestry (Syracuse). The hands-on research has expanded my classroom experience."
She said that the opportunity to do important research as an undergraduate was something that would not have been available to her at many other schools.
"Professors at SUNY Plattsburgh get to know you, and they go out of their way for you," she said.
Andre Marshall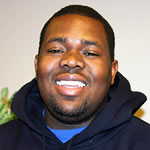 Andre Marshall is an accounting and business major from Bronx, N.Y. Following winter commencement, Andre will have a few months to relax before he starts his new career with UHY, an accounting firm in Washington, D.C.
"My advisor, Dr. (Mohamed) Gaber, was excellent. I definitely learned enough to survive in the accounting world," said Andre. "Plattsburgh is a small school, but not too small. It's not so big that you get lost, but big enough to give students many different opportunities."
Andre has been a member of the Plattsburgh State Gospel Choir and served as vice president for finance in the Student Association (SA), which has an annual budget of nearly $1 million dollars.
"I learned a lot through these opportunities," said Andre. "When I first came here, I wasn't the best of public speakers. Through the SA, I was able to get hands-on leadership experience. I wouldn't change my decision to come here at all."
Caroline Huising
Caroline Huising is not your typical student. The 50-year old from Saranac, N.Y., graduates with honors (summa cum laude) in human development and family relations, with a concentration in gerontology.
"I'm very privileged to be here. I went to college in the '60s, didn't finish, got married and had three children," said Huising. "When my last son went to college, I was running a bakery out of my home and decided to take a class." Now she's a SUNY Plattsburgh graduate.
"I'm walking in some pretty big shoes," she said as she described the accomplishments of her three children. Her oldest son, Damien, is a phycist working at Rensselaer Polytechnic Institute (RPI) in its nanotechnology department. Her daughter, Anja, completed her master's in education from St. Lawrence University and is engaged to be married. Her youngest son, Matthew, is currently studying Middle Eastern history at American University in Cairo, Egypt.
"I've led an exciting life, and I'm happy to get up every day and get going," said Caroline. "Life's not over when you turn 50; it's just beginning. I hope to dispel ideas about ageism."
She said as a student at SUNY Plattsburgh, she met many people of all ages and from all over the world.
"I've had wonderful opportunities as a student. Life is never boring, and I have helped make my life beautiful. And, I couldn't have gone back to school without my husband, Jurgen's, support. He really is my wind beneath my wings."
Joanne Parkinson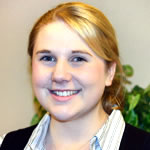 Joanne Parkinson's future says there will be a lot of travel.
Following commencement, Joanne will be the marketing coordinator at Tour Aid Travel. She started with Tour Aid as part of an internship last year, which turned into a job over the summer. At the end of the summer, the company offered her a job following graduation. She will be responsible for maintaining the Website, capitalize on marketing opportunities and traveling.
"The people at Tour Aid are great, and I'm going to be doing exactly what I want to. I'm all set. It will be nice to stay in the area, but I will also have opportunities to travel."
A marketing major from Westport, N.Y., Joanne transferred to SUNY Plattsburgh after attending a year at SUNY Albany.
"I just didn't fit there (in Albany). I came up to Plattsburgh. I like my professors, and Plattsburgh had that small-town feel," she said. "I like how personable the professors are with you. In Albany, my teachers had no idea who I was the whole year. Within a very short amount of time, my professors here knew my name."
Joanne said as a student at SUNY Plattsburgh, she had the chance to learn on her own and that it was easy to excel by applying your own knowledge.
"SUNY Plattsburgh is special because of the people you meet. It's what you make of all the experiences available to you. I feel everybody is accepted up here."
Tameka Walker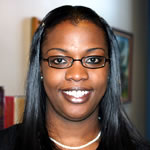 When Tameka Walker came to Plattsburgh in January, she knew she was in for an experience of a lifetime. Coming from Jamaica, she didn't quite know what to think of the North Country winter. But she survived the cold and graduated with a bachelor's in accounting, finance and business.
"I love the diversity at Plattsburgh State," she said. "You meet people from every part of the world. The class size is great and allows you to have close interaction with your professors who will work around your schedule. The entire Plattsburgh area is great, with its beautiful natural surroundings. I couldn't have chosen a better place to come to school."
Tameka will trade in North Country living for a somewhat bigger place. In August, she starts her new job as staff accountant with KPMG in Manhattan.
"I'm excited as much as I am afraid of going to a big city. I'm excited to be working on Park Avenue with one of the big four accounting firms."
It was a grueling interview process, and she was in the interview room with other students from the top schools in the country. But she said that it was obvious the foundation she received at SUNY Plattsburgh allowed her to compete with anyone.
"There were students from about eight or nine of the elite schools, and nobody knew where Plattsburgh was. With the support I got from my professors, I realized that I could compete with students from any school - Harvard, Fordham - I was up to the standards."
Ashley Smith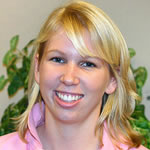 Ashley Smith, a member of the Cardinal women's tennis team, graduates with a bachelor's degree in business management.
SUNY Plattsburgh wasn't her first choice. As a freshman, she traveled from her hometown of Ithaca, N.Y., to Lexington where she enrolled at the University of Kentucky. But, according to Ashley, Kentucky wasn't the right fit for her.
"I was looking around at the state schools (in New York) and came to Plattsburgh for a visit. I loved the surroundings," she said. "I'm glad I went here. I really appreciated the small class sizes."
Ashley made the most of her time as a SUNY Plattsburgh student. She had the opportunity to spend a semester abroad in Australia and played on the tennis team for two years.
"Playing on the tennis team was good for me, and I love to play tennis. As a member of the team, I got to meet a lot of people and other athletes.
"Coming here was the best decision. I would never have gotten the study abroad opportunity. It's just a lot different up here. The professors are here for you."
Ashley is currently sending out applications for Master of Business Administration programs at Harvard, Stanford, University of Pennsylvania, New York University, Cornell, Arizona State and University of California at Irvine.