Jump to Footer
One Button Studio
---
Video production made easy.
One Button Studio is a Technology Enhanced Learning (TEL) resource. Located in Feinberg Library room 235, the studio provides faculty and their students with a convenient venue to record videos as instructional tools and presentations.
Choose from either an iPad or computer for an easy-to-use teleprompter. This eliminates the need to memorize long scripts and ensures maximum eye contact between the speaker and audience.
User-friendly technology. Designed for quick and easy use, the studio includes a fixed, preset video camera, microphone, lights, and green screen backdrop.
Customizable sessions. With advance notice, the studio can be configured for custom sessions to record hands-on demonstrations from above, or to feature note writing "in mid-air" by means of the custom light board. For customized configurations, please contact us within two business days of your appointment.
Expert support. Coupled with the Video Production for Students, Faculty and Staff virtual workshop, the One Button Studio enables the SUNY Plattsburgh community to produce professional quality, HD video with a do-it-yourself platform.
Get Started
---
Visit the Video Production Moodle page to learn more. Once you've prepared what you want to present, follow these steps:
Reserve a time online at booking.plattsburgh.edu.
Go to "My Reservation Templates"
Select Feinberg Library Room 235 (One Button Studio) and then enter the reservation info.
Remember to bring along a flash drive with at least 1GB of free space.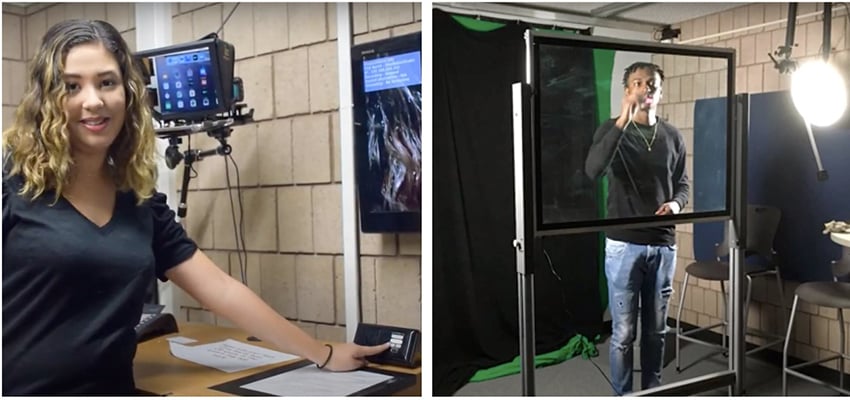 Caption: The One Button control panel (left) and One Button light board (right)