Jump to Footer
Governor Appoints Plattsburgh Town Supervisor Michael Cashman to College Council
---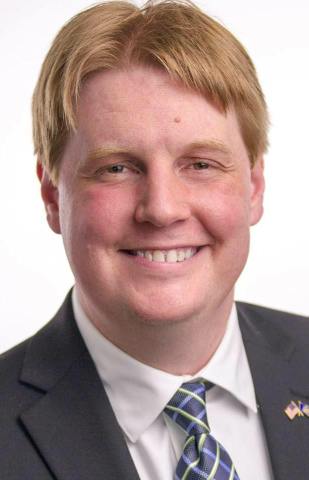 New York Gov. Kathy Hochul has appointed Michael Cashman, supervisor of the Town of Plattsburgh, to the SUNY Plattsburgh College Council.
Cashman, who earned both his undergraduate and graduate degrees from SUNY Plattsburgh in 2003 and 2006, respectively, served two terms as president of the Student Association as an undergrad and grad student, devoted more than 1,000 hours to community service, and received the President's Volunteer Service Award.
"He is a strong advocate for the college," said SUNY Plattsburgh President Alexander Enyedi. "I look forward to his joining the council. I know we will benefit from his perspective and Cardinal passion in the years to come."
A native of Massachusetts, Cashman fell in love with the North Country upon his arrival at SUNY Plattsburgh. He has lived here ever since, marrying his college sweetheart, Olivia Busuttil Cashman, in 2005 on the steps of Hawkins Hall, where the couple met as freshmen.
Foundation for Success
Cashman credits the TRIO Student Support Services program, giving him a foundation for success: Cashman was both a first-generation college student and a dyslexic.
"I take an incredible amount of pride in what our alma mater does to enrich the lives of students in and outside the classroom," he said. "My own success is the product of strong academic programs, lifelong mentors, the extraordinary TRIO-SSS program and involvement in curricular experiences like the Student Association."
Cashman joined the staff at the college after graduation, first as grad assistant and coordinator of the Cardinal Connections program and then as assistant director of alumni affairs for student/alumni programs. He then moved to student affairs where he was coordinator of student activities and, later, led Project HELP as the assistant director of the Center for Student Involvement. He also was given a Chancellor's Award for Excellence in Professional Service.
Proud Past, Strong Future
In addition to his many honors and awards during his tenure at SUNY Plattsburgh, Cashman has been active and cited for many years of service off campus as well, including serving as chair of the New York State Commission on National and Community Service.
Earlier this month, Cashman received the Cheryl M. Hogle Distinguished Service Award from Omicron Delta Kappa national leadership honor society. Hogle was SUNY Plattsburgh retired dean of students and executive director of College Auxiliary Services who died in April 2019. She was the first woman president of the national ODK chapter.
He successfully ran for office in the Town of Plattsburgh in 2015 and was re-elected four years later.
His appointment to the College Council is effective immediately through June 30, 2024.
"It is humbling to be appointed by Gov. Hochul to serve," Cashman said. "I look forward to working alongside the other council members to challenge and support the institution in embracing our motto of a 'Proud Past and Strong Future.'"