Jump to Footer
Three Seniors Receive Chancellor's Awards for Excellence
---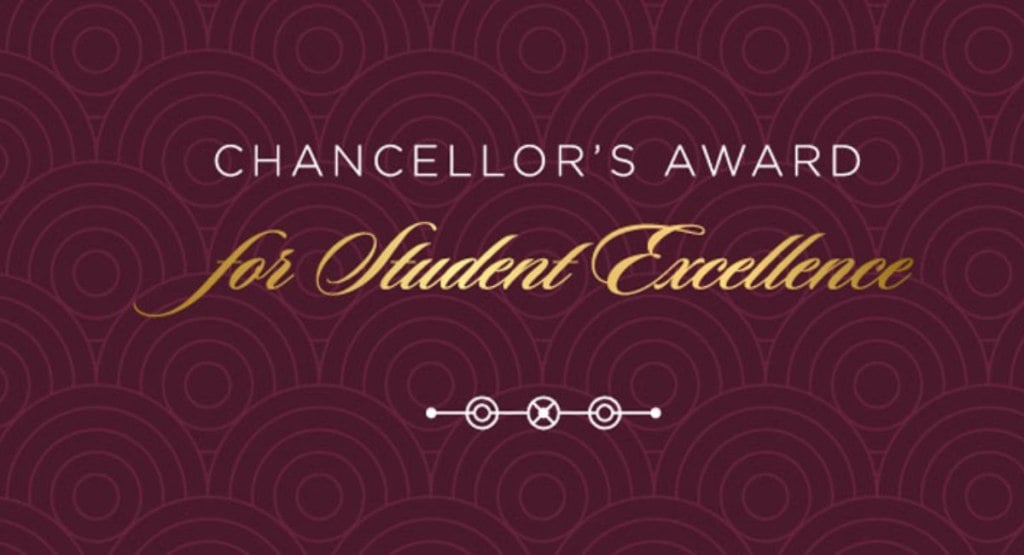 Three SUNY Plattsburgh students were recognized by the State University of New York with the Chancellor's Award for Student Excellence at a an April 26 ceremony in Albany.
Seniors Willie Corley of Johnstown, N.Y., Bailey Dell'Erba of Babylon, N.Y., and Hadar Pepperstone, originally from Syracuse, N.Y. but most recently Wichita, Kansas, were cited for accomplishments in areas such as leadership, campus involvement, athletics, career achievement, community service, creative and performing arts.
Corley, a pre-health professions major who plans to go on to medical school for a career in cardiothoracic surgery, said he was in the research lab when he found out about the award.
"I was helping out some students and went to check my email," he said. "I screamed out of excitement. This award means a lot to me as college is not easy; it was nice to see that all of my hard work over the three years that I have been here at SUNY Plattsburgh have paid off. It is an honor and a privilege to have received the Chancellor's Award."
"I found out I won the award on my birthday, so it was the best birthday gift I could ever ask for," Dell'Erba, a TV/video production and public relations major, said. "It was an honor to know that not only did my school feel as though I deserved this award, but the SUNY chancellor herself believed in me as well."
Hadar Pepperstone, an environmental science and environmental planning and management major, said she never thought she'd win the award.
"I was a little overwhelmed and then felt very proud of myself since I have worked very hard for the last four years, in and out of classes," she said. "Having your efforts recognized is always very nice. I also know that there are so many other people who worked just as hard, if not harder, than I did (who) didn't receive the award."
Interim Chancellor Deborah Stanley presided over the ceremony in Saratoga Springs, N.Y.
"The Chancellor's Award for Student Excellence awardees we honor exemplify the students who leave incredible legacies behind on their campus communities," Stanley said. "These are students who fight, innovate, dream, and achieve. They are students who never fail to try their best and have proven that their best is extraordinary."
"We celebrate these students on this well-deserved recognition for their remarkable achievements," said President Alexander Enyedi. "Their hard work and dedication represents the best of SUNY Plattsburgh and reminds us that student success lies at the heart of all we do."
Pepperstone, who aims to get a job in sustainability and eventually go to graduate school for a degree in the subject, came to Plattsburgh because of the Center for Earth and Environment Science, "which is a wonderful program, and I am so grateful for it," she said.
"I chose to come to Plattsburgh because of the affordability and reputation of the SUNY system," she said. "(The center) has really made my time at Plattsburgh what it is."
Dell'Erba said she is going to parlay her experiences in the TV/video production program into a job in career in New York City.
"I chose SUNY Plattsburgh because of the amazing TV program we have here," she said. "We have amazing studios that students can use as early as freshman year. That is not the case for most colleges."
"I came to SUNY Plattsburgh mainly because of the opportunities it offers," Corley said. "I am aspiring to become a doctor, and after meeting with the pre-health adviser, I was persuaded to come to Plattsburgh.
"While being here I have been able to undergo research and connect with many faculty who have blessed me with skills that many do not get in their undergraduate programs," he said.