Jump to Footer
SUNY Plattsburgh to Participate in Chartwell's National Street Food Festi-Ful Event
---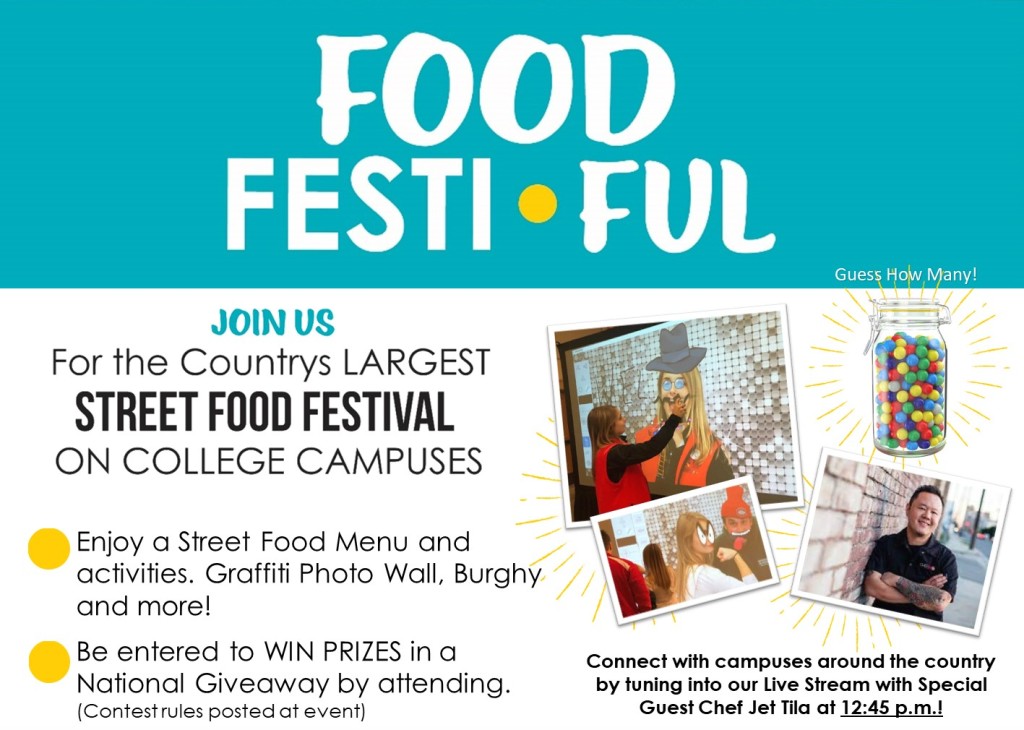 Chartwells, SUNY Plattsburgh's foodservice provider, will host Street Food Festi-Ful, at Clinton Dining Hall Friday, Sept. 24 from 11 a.m. to 2 p.m.
Held in conjunction with Chartwells Higher Education Joy-Ful campaign, Festi-Ful is being billed as "the nation's largest street food festival" taking place across 300 U.S. colleges and universities.
As part of the event, Food Network's Chef Jet Tila will appear via live feed from Louisiana State University and talk with colleges across the country, including SUNY Plattsburgh, where they'll discuss the North Country's regional favorite, the michigan.
Tila said as soon as he heard about the Festi-Ful, he was "all in."
"It's a great event for the students and the community," he said of the national event. "For students who didn't get the traditional college experience last year, this is an exciting and memorable way to kick off a new year."
Events at the Plattsburgh Festi-Ful include street food such as michigans, tacos, sliders and more, a graffiti photo wall, prize giveaways, a visit by Burghy, and more. The live feed with Tila starts at 12:45 p.m. The feed can be found on Chartwell's Instagram at plattsburgh­_dining.
Amy Rascoe, marketing director with SUNY Plattsburgh Chartwells, said other events planned under the Chartwells Joy-Ful theme include a Joy-Ful Giveback food drive for the campus food shelf in November, Joy-Ful giveaways with scratch-off prizes coupled with purchases, Joyful notecards to be distributed randomly, in the nature of Random Acts of Kindness, with little gifts included.
"The notecards will be dropped on random desks with a little gift inside like a sticker or magnet that may say, 'Choose Kindness,' or other nice sayings. I can't wait," Rascoe said. "I love spreading joy."
For more information, visit Food FESTI-FUL.pdf or contact Rascoe at 518-564-4090 or email [email protected].