Jump to Footer
SUNY Plattsburgh Student Receives Statewide EOP Award for Excellence
---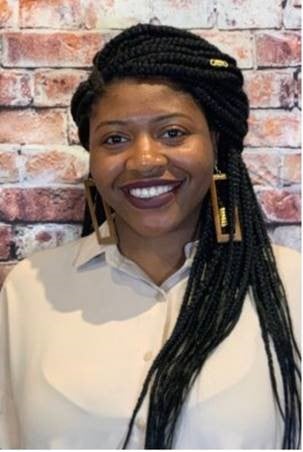 A SUNY Plattsburgh English major is among a group of Educational Opportunity Program students from across the SUNY system to receive the Norman R. McConney Jr. Award for Student Excellence.
Marie Alcis, a senior from Brooklyn by way of Haiti, was tapped for the academic achievement award that bears the name of the man who helped draft the legislation that established the EOP as a statewide program in SUNY.
Recipients will be honored through a compendium of videos that will be available for viewing Dec. 14 at http://sysadm.mediasite.suny.edu/Mediasite/Play/b66aa1919b21454082c36fb590479b721d.
Quoting Voltaire, Alcis said, "'Appreciation is a wonderful thing. It makes what is excellent in others belong to us as well.' With that being said, I am beyond grateful to EOP for recognizing the gold in me and for their endless support from the minute I stepped foot on SUNY Plattsburgh's campus," she said. "I will continue to strive my hardest to embody excellence in all that I do."
A dual major in English writing and literature with a minor in Africana studies, Alcis has been on the dean's list five out of six semesters to date.
"Marie embodies the true spirit of EOP," said Cassie Joseph, associate director of SUNY Plattsburgh's EOP. "She continues to mentor and lift others up all the while striving to leave a legacy of success that is a testament to her own determination, resilience and tenacity."
Joseph said it is important that EOP in Plattsburgh and across the state "continue to recognize our students for their hard work and dedication to completing their degree, especially at times like these. We are all faced with a great deal of adversity, but it is our reaction to our adversity that determines our next steps and the opportunities that will become available to us. We admire Marie's ability to continue to spread light and hope. She is dedicated to working for a better future despite any challenge."
Amy Daniels, SUNY Plattsburgh senior EOP counselor, works closely with Alcis.
"Marie is a dedicated and determined student," Daniels said. "She exemplifies success through hard work, perseverance and initiative. She is not only dedicated to personal growth but also to helping lift those around her through kindness and unending support."
The late McConney, a graduate of the University at Albany who died in 2016 at the age of 70, was former assistant dean for special programs at SUNY. He was a champion for addressing inequities faced by economically disadvantaged and underrepresented populations. The award, now in its second year, recognizes students who have exhibited academic success, perseverance and leadership qualities during their journey to earn an associate's or bachelor's degree.