Jump to Footer
SUNY Plattsburgh Roundtable Addresses Supreme Court Ethics
---
The SUNY Plattsburgh Institute for Ethics in Public Life recently hosted a lunch conversation, "Judicial Ethics and the Supreme Court," featuring political science associate professor, Dr. Ray Carman, leading a conversation on the court's recent ethics scandals.
In April, the judiciary was rocked when a succession of investigative reports by the nonprofit journalism agency ProPublica revealed that Justice Clarence Thomas benefitted financially from a longstanding personal relationship with billionaire Republican donor Harlan Crowe, a real estate magnate from Texas.
The revelations drew the Supreme Court's ethics into question since the strict rules of the lower federal courts don't bind the nine justices.
Investigative Reporting
ProPublica's reporting showed Thomas and his wife, Ginny, accepted lavish vacations, including rides on Crowe's private jet and superyacht and private school tuition payments for Thomas's nephew. The reports also showed a company owned by Crowe purchased and renovated Thomas's childhood home, where his mother still lives.
The majority of these monetary gifts were not in Thomas's financial disclosures.
Further investigation revealed that Crowe had purchased a house where Thomas' mother lives from the justice without it being properly disclosed and had renovated the house while allowing the Thomas' mother to continue to live there.
Justice Neil Gorsuch has become embroiled in a property disclosure scandal of his own when it was revealed that shortly after being confirmed, a property he had been trying to sell for two years was purchased by a major law firm that routinely appears before the Supreme Court.
And most recently, it was revealed that Chief Justice John Roberts' wife had earned more than $10 million in commissions as a legal headhunter for major law firms — many of which argue before the Court — which were reported as "salary" on their taxes.
In addition to all being violations of laws regarding financial disclosure, all of these would be significant breaches of the Code of Conduct of U.S. judges if it applied to Supreme Court Justices. But it doesn't.
'Crisis of Faith'
"When I was studying the courts in undergrad and grad school and even early on in teaching, the legitimacy of the Supreme Court wasn't something I ever questioned," Carman said to the group at the conference table in the Ethics Institute in Hawkins Hall and others listening via Zoom.
Carman said much of the activity on the court since Justice Antonin Scalia's death in 2016 has caused him to question the court's legitimacy "and when you're questioning something that like and that's what you're teaching, it can be a struggle to set that aside, to not have a crisis of faith."
Future New York State Trooper
Students, faculty, staff and members of the larger community asked Carman questions after his presentation.
One of them was Matthew Foy of Floral Park on Long Island, a criminal justice major with a legal studies minor who graduated last month.
"This is normally something that really interests me and also why I got into criminal justice," Foy said. Foy said he had taken the exams and is waiting to attend the police academy on his way to becoming a New York state trooper.
"I have a few family members in law enforcement, and I've seen the climate around law enforcement in general. I wanted to change that," he said. "It's a challenging, hard job that I wanted to take on. I know I can do it as well as hopefully make a difference in people's lives for the better."
'Ethical Quandaries'
Carman said that part of the difficulty with these recent ethical quandaries is that even those who have studied the courts their entire careers don't have a good answer for how to address the issues.
"Sometimes students will ask me: 'What's the solution, what's the answer?' And I'm just like 'I don't know. I can give you a ton of answers, but none of them are going to happen.' So, I don't know what to do, so it can be a challenge both personally and in terms of my classes," Carman said.
Court Controversies from History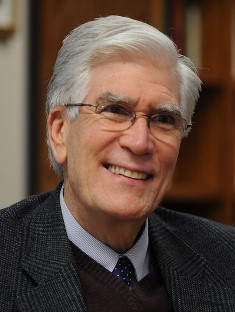 Thomas Moran '69, who retired in 2016 after four decades working in administration at the college and founded the ethics institute in 1999, spoke through the Zoom feed about previous Supreme Court controversies including Franklin D. Roosevelt's disdain for the court after they struck down several aspects of the New Deal and Abraham Lincoln accusing the chief justice of a conspiracy with other government officials to preserve slavery.
But as far as ethics questions similar to current concerns, "the only other case that I can think of like the current Thomas case is the one with Abe Fortas in the late 1960s," Moran said.
While a justice, Fortas took funds equivalent to about $160,000 in today's dollars from a foundation of a Wall Street financier and friend. The agreement was for Fortas to offer advice and, in return, he would receive payments annually for life.
"In looking back at him, he resigned in facing the same kind of criticism that Thomas is now facing. It strikes me, especially in retrospect, as a grace note that solved our dilemma that we're talking about by placing the burden on the goodwill of the justices to protect their own institution."
Lunch colloquies hosted by the Institute for Ethics in Public Life are free and open to the public.
— Story, Photos by Assistant Director Communications Felicia Krieg
Dr. Thomas Moran Photo Provided