Jump to Footer
SUNY Plattsburgh Invites Alumni, Friends to Turn Dollars into Change on #GivingTuesday
---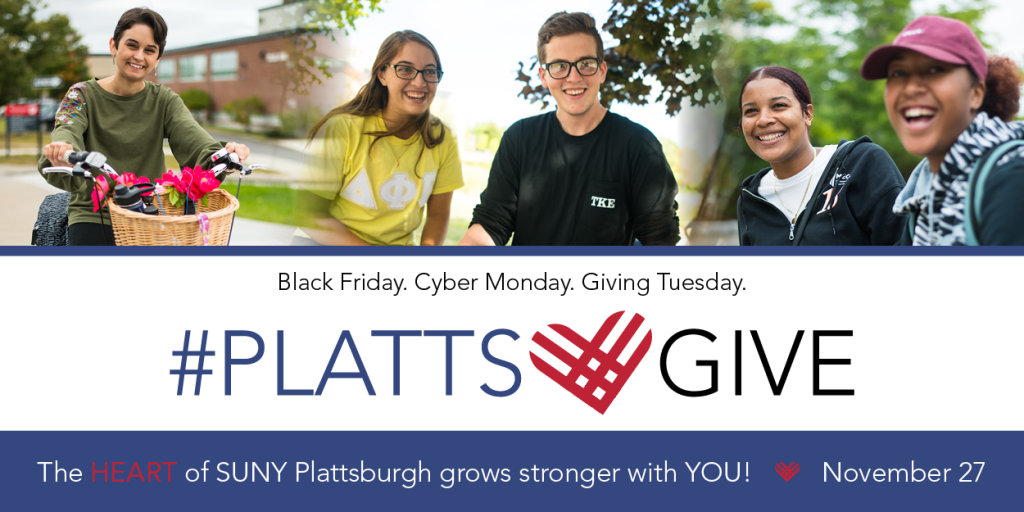 SUNY Plattsburgh is advocating for a variety of educational opportunities through the annual #PlattsGive campaign by celebrating #GivingTuesday Nov. 27.
#GivingTuesday was created in 2012 by the 92nd Street Y and United Nations Foundation to create a national day of giving following the widely recognized shopping events Black Friday and Cyber Monday. SUNY Plattsburgh is encouraging alumni and friends to join in the global day of giving by making a gift to the Plattsburgh College Foundation in support of student success.
Many of the learning opportunities SUNY Plattsburgh students depend on, such as scholarships, internships, career support and dynamic programming, are fueled by alumni and friends who participate in #PlattsGive. A nonprofit organization, the Plattsburgh College Foundation transforms the gifts it receives into life-changing experiences for the next generation.
The campaign is also an opportunity for alumni to give back to their alma mater and bolster the value of their own Plattsburgh degrees, as alumni giving rates are among the factors used by publications like U.S. News & World Report to determine institutional quality ratings. As the college's ranking increases, so does the value of a Plattsburgh diploma.
This year, SUNY Plattsburgh hopes to inspire 250 people to #PlattsGive by midnight on Tuesday, Nov. 27. Every gift, regardless of its size, counts toward this participation goal and may be designated to the foundation's general fund or to a particular department, program or scholarship.
To learn more and participate in #PlattsGive, visit
plattsburgh.edu/onegift
or contact Paula Bachman, associate director, annual giving, at 518-564-2398 or email
[email protected]
.