Jump to Footer
SUNY Plattsburgh Dean Ortiz-Walters Tapped for SUNY Hispanic Leadership Institute
---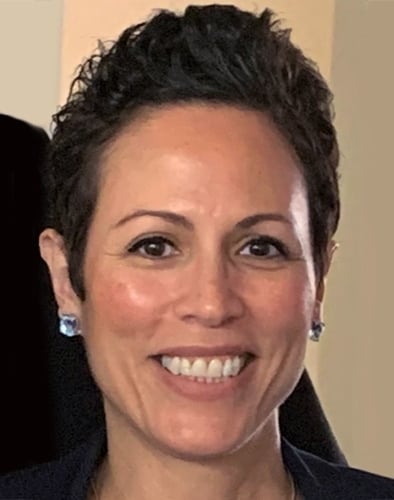 PLATTSBURGH, N.Y. (Dec. 3, 2020) — The dean of the School of Business and Economics was selected as one of 11 faculty and staff from across the state to serve as fellows in SUNY's Hispanic Leadership Institute.
Dean Rowena Ortiz-Walters and her institute colleagues are charged with developing and supporting the next generation of Hispanic/Latinx leaders across the state university system. Thirty-two SUNY leaders have graduated from the institute to date from the four-year-old program.
"Becoming a 2021 SUNY HLI fellow, to me, means an opportunity to focus more intently on strengthening core leadership areas that help us build an inclusive academy," Ortiz-Walters said. "I also get to engage in this process alongside other successful Hispanic leaders throughout SUNY and build the social capital necessary to effect change."
The institute serves as a resource for Hispanic and Latinx leaders in higher education, both in New York state and across the country. Its mission is to foster and support the professional development and retention of current and emerging leaders to create a more diverse university system.
SUNY Chancellor Jim Malatras said the institute "provides rigorous training and support for our emerging leaders within the Hispanic and Latinx community. As it grows, it is creating opportunities for more of our faculty and staff," he said. "My congratulations to this year's class and to our former graduates, including those within the 2020 graduating class who persevered during an extraordinary year."
Oritiz-Walters said she feels this builds leadership capacity, specifically Hispanic leadership in key areas across the region and across academic roles.
"This will become increasingly important as more SUNY campuses become emerging Hispanic-serving institutions," she said.
SUNY Board of Trustees Vice Chair Cesar Perales said the chance to participate in the Hispanic Leadership Institute "is one that is life-changing and provides the graduates with the essential framework to return to their institutions and affect positive change for themselves, their colleagues and SUNY's Hispanic/Latinx students.
"By continuing to lift diversity up throughout our system, SUNY remains a leader in higher education when it comes to equity and inclusion efforts, and the members of our 2021 class — and all graduates of the institute — act as stewards of these values throughout New York state," he said.
Trustee Marcos Crespo, former assemblyman from the South Bronx, said the institute was first launched during his tenure in the Assembly when he was chair of the Puerto Rican/Hispanic Task force.
"It had my full support then just as it does today as a model for how we can make our institutions more diverse," he said. "It may begin as a six-month program, but it actively engages past and present fellows to offer continual support and growth for our up-and-coming leaders."
"These individuals are already having an impact on their campuses, and with the Institute's professional development training, their influence is certain to grow," said Institute Executive Director and President, University at Albany Havidan Rodriguez. "I applaud them for their dedication to the students at SUNY and look forward to working with each one of them."
Dr. Teresa Miller, SUNY's chief diversity officer, who will select an institute director in residence by the end of the year from previous fellows, said that the institute "showcases SUNY's efforts to make the university system the most inclusive in the nation by developing the leadership potential of faculty and staff from groups historically underrepresented in higher education administration. When we invest in their success, we foster a more inclusive climate across New York state."
For her part, Ortiz-Walters thanked Dr. Anne Herzog, provost and vice president for academic affairs, who nominated her for the position, and both Herzog and President Alexander Enyedi, both of whom "have been incredibly supportive from the start."
For applicants not selected for the institute this year, there will be a one-day virtual summer leadership training workshop where participants will receive an introduction to the program and its selection process. Participants will also have the opportunity to discuss how to strengthen their applications to ensure future success should they decide to apply again.