Jump to Footer
Students Return to SUNY Plattsburgh Campus for 2022-2023 Academic Year
---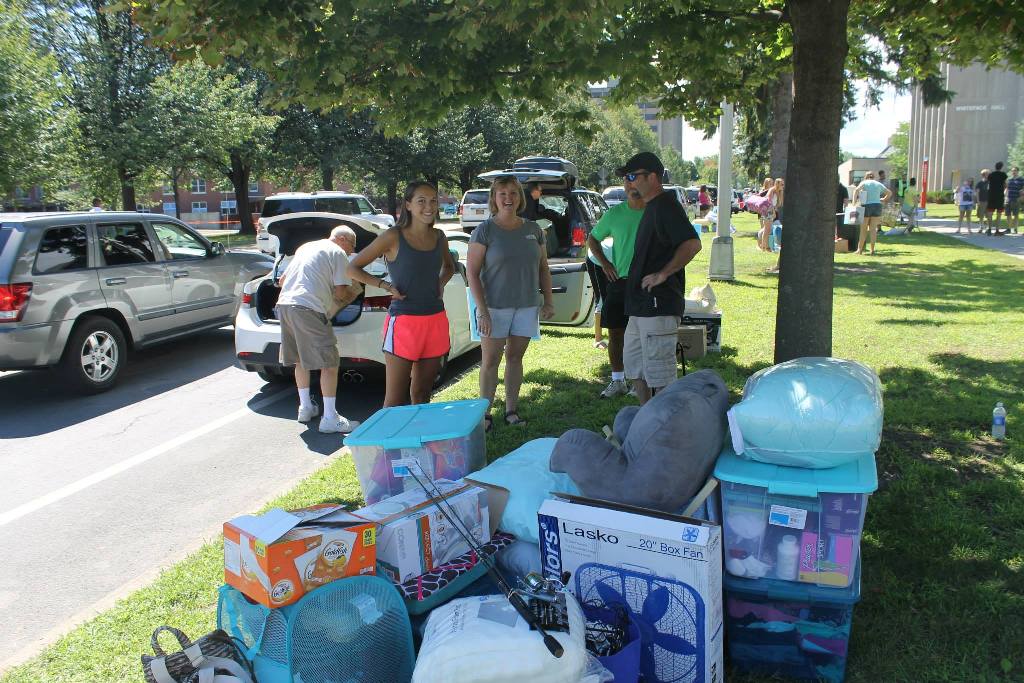 SUNY Plattsburgh will welcome students to campus for the start of the 2022-2023 school year beginning with the arrival of the first wave of first-year students Thursday, Aug. 25.
While international students began arriving on campus over the Aug. 20-21 weekend, new students from inside the United States whose last name begins with A through M can check into their residence halls Aug. 25 from 9 a.m. to 4 p.m.
Those students whose last names begin N through Z will check in Aug. 26 from 9 a.m. to 4 p.m.
Returning students living on campus will check in in a similar manner, with students whose last names begin A through M moving in Saturday, Aug. 27 and the remaining students, N through Z, moving in Sunday, Aug. 28 from 9 a.m. to 4 p.m. both days.
With the adoption a few years ago of a four-day move-in process, there is no need to change the Rugar Street traffic pattern. Through-traffic is just asked to watch out for students as they unload cars and move across the street to their residence halls along Rugar.
About 4,500 students are expected to be here for the start of the fall semester, and all of those who will have a physical presence on campus are required to provide evidence of — at minimum — the initial course of COVID vaccinations or proof or exemption. Masks are not generally required to be worn on campus but are encouraged for those who with do wear them. There are certain instances where masks are required. The details on mask requirements, and more on SUNY Plattsburgh campus COVID resources and requirements can be found at https://www.plattsburgh.edu/covid-19/index.html.
A full slate of opening weekend events meant to entertain and inform are on tap, beginning Thursday, Aug. 25, with mini glow golf and bowling in the Angell College Center ballrooms from 6 to 10 p.m. Other events, meetings and schedule "walk throughs" include:
Friday, Aug. 26
Fall 2022 Matriculation Ceremony, 4 p.m., Memorial Hall Gymnasium. The Matriculation Ceremony marks students' formal entry into the SUNY Plattsburgh community. New students can connect with their class as they're welcomed by faculty and staff. All new students should plan to attend this event.
Murder Mystery Dinner Theater: Two showings, 6 p.m. and 9 p.m. Kent Hall Courtyard. Come for free food and a murder mystery show. Be the first to solve the mystery, win a prize. Rain site: Macdonough Hall.
Saturday, Aug. 27
Welcome Back BBQ, 11:30 a.m.—3:30 p.m., courtyard between the Angell College Center and Champlain Valley Hall. Lunch provided by CAS/Chartwells. All students and opening volunteers welcome.
Involvement Fair, 1–3 p.m. Angell College Center. Find out more information about clubs, organizations, sports clubs, and other groups on campus.
Plattsburgh Palooza, 2–6 p.m., grounds around the Angell College Center. Inflatables including wipe out, dizzy maze, obstacle course, inflatable axe throwing.
Alpha T-Shirts: Students receive t-shirts and will interact with other student participants to form words in a game of human scrabble.
Glow Roller Rink, 7–11 p.m., Angell College Center Ballrooms: Do you love roller skating? Come to the Angell College Center and take a spin lit by black lights.
Movie in the Green, 8 p.m., Memorial Field: "Ferris Bueller's Day Off"
Sunday, Aug. 28
Academic Department Meetings, 11 a.m.—noon. New students are expected to attend their academic department meetings. Students will have the chance to meet their new faculty members, interact with other students in their major and gain familiarity with their degree program. Additional details will be sent to new students via Email.
Arts and sciences majors: Meet at Hawkins Pond
Business and economics majors: Meet at Au Sable Hall
Education, health and human services majors: Meet at Sibley Hall
Undeclared and unsure majors: Meet in the Angell College Center Lobby
Academic buildings open, 1 – 3 p.m. All academic buildings will be open for students to "walk their schedule." Use this time to take your self-guided tour, find your classrooms and if you're a new student, learn more about your new campus.
Fraternity and sorority life information session, 3 p.m., Angell College Center, Cardinal Lounge: Thinking of joining a fraternity or sorority while a student at Plattsburgh? Come meet representatives from our fraternity and sorority leadership to learn about our community and get all of your questions answered
Community meetings, 7 p.m., individual floors within each residence hall: All on-campus students are required to attend this mandatory community meeting. See your individual community advocate for any additional information.
For more information on opening weekend, visit https://www.plattsburgh.edu/current-students/opening-week-information.html or contact Steve Matthews, interim dean of students, at [email protected].