Jump to Footer
Rockwell Kent and the Evolution of his Work Subject of New Kent Gallery Exhibit
---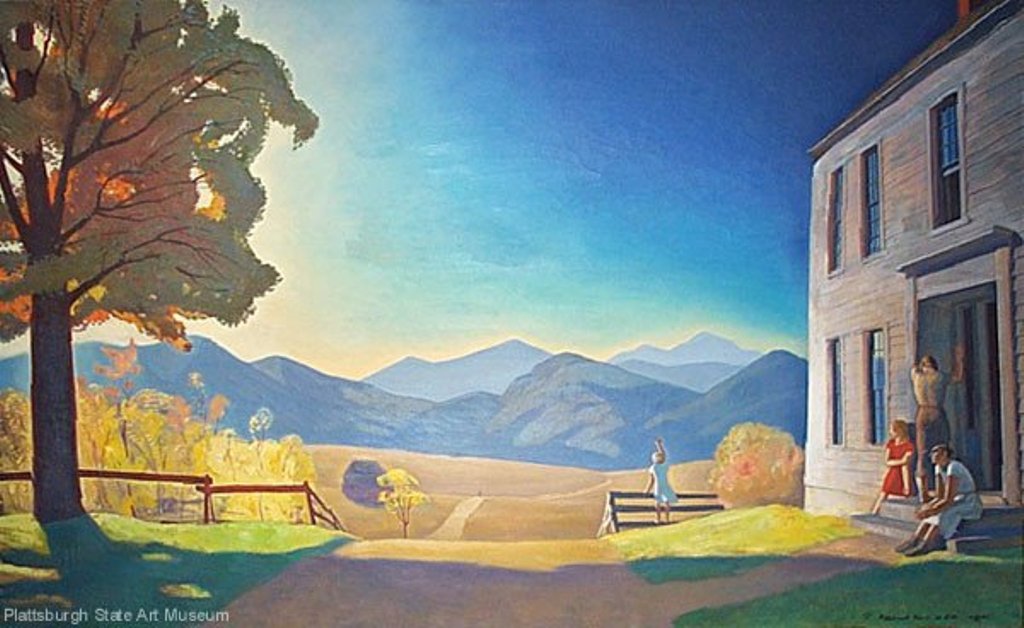 The Plattsburgh State Art Museum, in conjunction with curator Scott Ferris, will host a new, temporary exhibit, "Origins: The Development of an Artist and His Craft," in the Rockwell Kent Gallery on the SUNY Plattsburgh campus.
"Origins" will run through Aug. 11, 2023 with a reception Thursday, Dec. 1 from 5 to 7 p.m. and gallery talk Friday, Dec. 2 at 11 a.m., all on the second floor of Feinberg Library.
The Rockwell Kent Collection at SUNY Plattsburgh is one of the most comprehensive selections of the artist's work in the world, with paintings, drawings, prints, personal photographs, ephemera, books, films, and letters all housed at Plattsburgh State Art Museum and the Benjamin F. Feinberg Library's Special Collections.
Ferris, a 1979 grad who worked as director of The Rockwell Kent Legacies from 1980 to 1982, selected a variety of work, in a variety of media, to show how Kent developed and matured in his craft. From childhood artwork through his last works, the exhibit shows how Kent's ideas developed from sketches to finished compositions.
Visitors will see paintings — Kent's first love — as well as drawings, prints, fabrics, dinnerware, and books. There are also examples of what he called his "potboiler" work — commercial commissions, which supported his travels and his Asgaard, his AuSable Forks dairy farm.
As an undergrad, Ferris assisted the late museum director, Edward Brohel, in cataloguing and labeling the budding Kent collection. It was after his tenure at SUNY Plattsburgh that he was hired by Kent's widow, Sally Kent Gorton, to continue the task of labeling much of Kent's artwork, which then became the bulk of the Rockwell Kent Gallery at SUNY Plattsburgh upon the Sally's death in 2000.
Since working on the estate, Ferris has been a Kent consultant for auction houses, museums, galleries and private collectors. His catalogue of Kent's 1960 gift of artwork to the former Soviet Union, "Rockwell Kent's Forgotten Landscapes," and his position as curator for the Adirondack Museum exhibit, "The View from Asgaard" Rockwell Kent's Adirondack Legacy, earned him recognition as a leading authority on Kent's artwork and life.
He last curated an exhibition for Plattsburgh State Art Museum in 2002 with "Generations: The Artistic Heritage of Rockwell Kent." The exhibition later traveled to the Frye Art Museum in Seattle.
For more information, contact the museum office at 518-564-2474 or email [email protected].
— By Associate Director of Communications Gerianne Downs