Jump to Footer
Poems Give Voice to a Nation of Jane Does Waiting to be Identified
---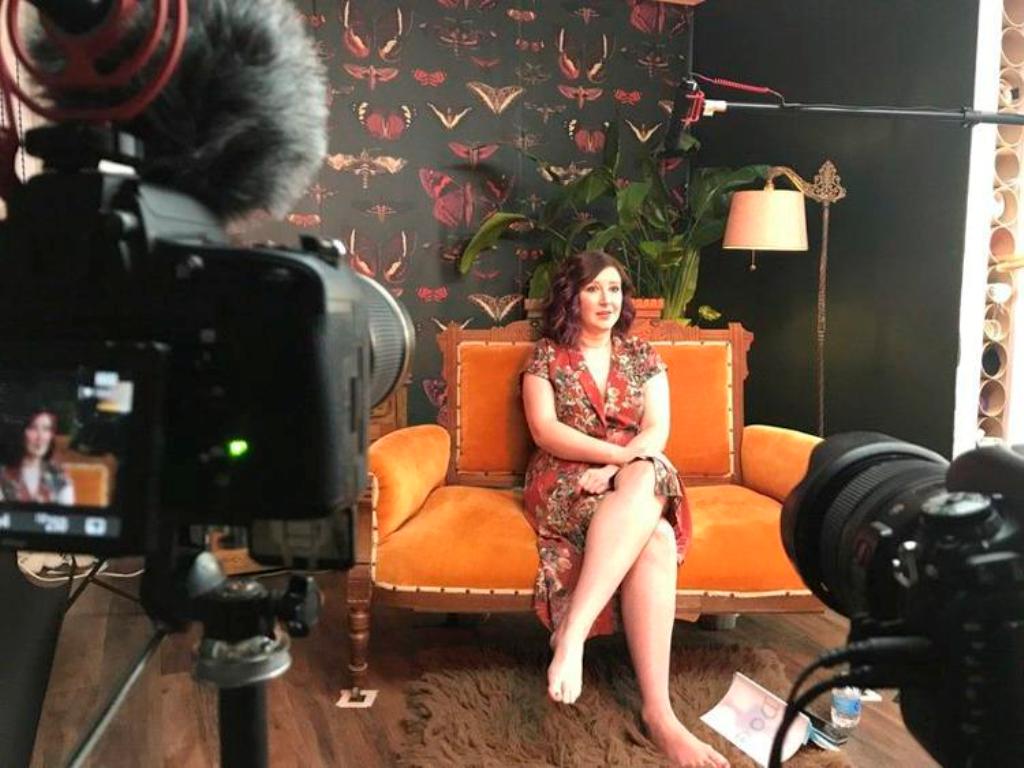 SUNY Plattsburgh English lecturer Aimee Baker never imagined a book of poems she wrote to give a name to the nameless would be optioned for a documentary film featuring the voices of nationally recognized television actors.
Baker, who teaches in the professional writing certificate program at the college, penned "Doe" as a homage to the thousands of Jane Does across the country, their case files gone cold for lack of evidence, lack of interest and for some, lack of family to have even reported them missing.
"I was finishing up my master's in fine arts at Arizona State University in 2008 and working on my thesis when I came across a news story about the ninth anniversary of the death of an unidentified woman," Baker said. "Witnesses said she was thrown or jumped from a car on the I-10 as it was leaving Phoenix, and she died two days later. She had no ID on her.
The woman, known as Maricopa Jane Doe, had a blue heart tattoo. Baker Googled missing women with blue heart tattoos and found more stories.
"But I didn't find her."
"While I had been aware of other missing and unidentified stories, this was the first moment when I actually sat with the reality of what that means in the United States — that this young woman could be unidentified for nine years despite having clear photos of her, other identifying information available and news coverage about her case."
Baker began reading about "everyday people working to solve cases."
"They used message boards and research, devoting amounts of time and crowdsourcing information in a way law enforcement wasn't doing," she said. "I thought, briefly, I'd use my research skills this way, but as a writer, I know there were other ways for me to amplify these stories."
Although she didn't identify at the time as a poet, having taken a single poetry-writing course in grad school, Baker said poetry spoke to her as "the best way for me to work on these stories." She researched hundreds of police reports, missing-person fliers and news articles. The first several poems came rather quickly, Baker said.
"But it took me seven years to finish the collection. My last poem is a 12-page-long series about 12 women who are in some way connected to a single killer."
"Doe" was published by University of Akron Press in 2018.
And it caught the eye of local photographers Jason Greer and Vanessa Circarelli.
"When we first heard about Aimee and her book, we were immediately invested," Greer said. "These beautiful poems tell the eye-opening story of a truth that can no longer be ignored. The compassion Aimee has for missing and unidentified women is infinite, and we wanted to help share these stories the way they are meant to be shared, with the women and only the women as the focal point."
The result is "She," a full-length documentary featuring Baker, her poems and the women represented in those poems. Directed by Green and Cicarelli through their film company, Birdy & Bean Films, and executive produced by Sue Vicory of Heartland Films, "She" also features the voice talents of Kate Mulgrew — from "Orange is the New Black" and "Star Trek: Voyager," to narrate and Raven Goodwin of "Lovely & Amazing" and "Glee" to read Baker's poems.
"They really wanted to work on some side passion projects in documentary films with their Birdy & Bean Films label," Baker said. "They read 'Doe' and thought it might be a good short documentary mostly focused on my work as a writer and using poetry as a form of activism and witness."
Baker said the project, which is still in production, "is truly driven by Jason and Vanessa's energy and their willingness to put themselves and this project out into the world," Baker said. "All of the women who signed on have made it clear they're passionate about telling these stories and raising awareness."
For her part, the poetry allowed Baker, who also serves as executive editor for the college's literary journal, "Saranac Review, to tell these stories in a way other forms didn't.
"Poets have a long tradition of activism and using their works as a form of witness to violence, but I also appreciated the way poetry makes the reader slow down and pay attention. And that's what I wanted, above all, for people to pay attention to these women."
And Maricopa Jane Doe, the young woman whose identity was unknown for nine years and first caught Baker's attention, was finally identified.
"Her name is Tawni Mazzone. She was 17. She had never been reported missing."
For more information on "She" and a first look at the trailer, visit www.officialshe.com.
For more information on the professional writing certificate program at SUNY Plattsburgh, visit https://www.plattsburgh.edu/programs/professional-writing-certificate.html.