Jump to Footer
Partners in Cross-Cultural Learning (PICL) Program Helps International Students Make Lasting Bonds at SUNY Plattsburgh
---
When he came to Plattsburgh, Nishank Bhalla '10 found more than a "home away from home."
The biochemistry major enrolled in the college's Partners in Cross-Cultural Learning (PICL) program, which helped him make his transition from Delhi, India, to Plattsburgh seamless while forming a lifelong friendship.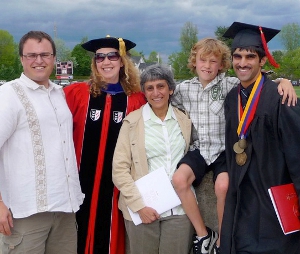 Developing Appreciation for Other Cultures
A program overseen by International Student Services at SUNY Plattsburgh, PICL pairs international students with local families in a situation that Program Coordinator Michelle St. Onge called a win-win.
"Local families get the privilege of getting to know another culture through the eyes of a bright and motivated young person," she said, pointing out that, meanwhile, international students get to explore American culture off campus.
That is exactly what happened to Bhalla, who was matched with businessman Doug Butdorf; his wife, Associate Professor Jessamyn Neuhaus; and their now 10-year-old son, Solomon.
"I think my relationship with Doug, Jessamyn and Solomon very early on was beyond the scope of what I was expecting and hoping for," Bhalla said. "I think we just clicked really well."
The program is set up so that the student spends time each month with the host family, enjoying a meal or exploring the region. In Bhalla's case, these monthly meetings grew more frequent, and even today he remains close with the Plattsburgh family, despite him having graduated and moved away to study at the University of Pittsburgh School of Medicine.
'People, Just Like Us'
"We got along so well we started meeting on our own," he said. "I've stayed at their home for vacations and celebrating holidays. I couldn't ask for a better host family or better friends.
Neuhaus couldn't agree more.
"We quickly went from socializing to him becoming a member of the family," she said.
The family even traveled to Delhi and stayed with Bhalla and his family there for more than three weeks.
"We want Solomon to learn that there's a big huge world," Neuhaus said. "People have very different cultures and come from different places and backgrounds, but they're people, just like us. If we've been a help to Nishank, he's been just as big an influence on our life."