Jump to Footer
Campus Move-In, New Mascot Highlight Start of Fall 2017 Semester | SUNY Plattsburgh
---
Classes began before Labor Day, with more than 5,600 students enrolled for the fall semester at SUNY Plattsburgh. The start featured a new cardinal mascot, Burghy, rappelling off Memorial Hall on campus.
Hundreds of students descended upon campus for move-in weekend Aug. 26 and 27. Rugar Street was turned into a one-way thoroughfare from Broad Street to Sanborn Avenue throughout the day Saturday, with vans and SUVs parked at the curbs while road-wearing parents and anxious students — many of them incoming freshmen — unloaded the contents on the sides of the road.
Members of SUNY Plattsburgh's sororities and fraternities, faculty and staff were on hand throughout the day to help students and their families transport mini-refrigerators, bedding, trunks and totes to residence halls where resident assistants awaited to sign them into their rooms.
"I can't wait to get this over with," said Jeremiah Jones, a freshman biology major from Valley Stream, Long Island. The future anesthesiologist was unpacking the family SUV outside deFredenburg Hall. "It's been a long day."

President Visited Halls
President John Ettling visited many of the residence halls where students were being checked in. A free picnic lunch was provided, as were free activities, such as a make-your-own stuffed animal station, bouncy house basketball and caricature drawings. Saturday night, students were entertained in the Angell College Center ballrooms by illusionist Elliot Zimet.
Freshman Mykai Sullivan of the Bronx, said she was juggling feelings of nervousness and excitement.
"It was a relief," she said. "To be able to say 'I've finally made it here' was like, wow." The social work major said she had more unpacking to do and found she had to send some things back home with her family.
Kia Maria Scott, also of the Bronx, had a fairly easy first-day experience.
"It wasn't too hectic," the English major said. "But the moment we got here, my mom started unpacking everything." Scott laughed. "She stayed a little too long."
Scott said she's looking forward to getting more involved on campus.
Queens resident Cindy Zhuo had a smooth move-in day. Her family couldn't be with her, so she said she had a leisurely time exploring the surrounding Plattsburgh community. She said she was excited to get involved in sports, basketball in particular.
"I'm a sports girl," she said.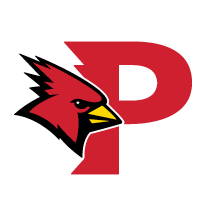 Burghy Unveiled
On Sunday, faculty and staff donned Cardinal red and lined the sidewalks in front of Hawkins Hall to cheer on some 800 incoming freshman who gathered in E. Glenn Giltz Auditorium for the annual matriculation ceremony. That was followed by a photograph taken of the freshmen on Memorial Hall Field, who formed a giant "P" for Plattsburgh.
Jared Paratore of Canajoharie, N.Y., was in line for the Plattsburgh "P" Sunday afternoon. The broadcast journalism major said his move up from the state's Leatherstocking Region wasn't as bad as he thought it was going to be.
"I was excited to get up here," he said. "I know Plattsburgh has a great journalism program with great radio and television studios. That's what got me up here in the first place."
After the photograph was taken, students' attention was then drawn to the roof of Memorial Hall where Burghy, sporting an updated look, rappelled down the side and landed to thunderous applauses from the crowd. Shaking his tail feathers, he ran down a tunnel made up of students on each side, high-fiving it all the way.
"That's so bad," one student said as he reached out for a wing slap. Burghy's transformation comes on the heels of the recent debut of a new logo for SUNY Plattsburgh Department of Intercollegiate Athletics, which features a more sleek, defined cardinal with a "feathered" capital "P" — all of which will create a consistent brand across campus.
The process for transforming the logo and mascot began two years ago when a core team consisting of representatives from athletics, alumni relations, students affairs, and marketing began discussing the college's needs. Student-athletes, coaches and staff were then brought on board to weigh in during the process. Texas-based Torch Creative design studio created the look.
Updated signage will be hung across campus in the coming months, and as uniform cycles arrive, SUNY Plattsburgh athletes will appear in new uniforms with the updated logos.