Jump to Footer
Spring 2016 Commencement Features Two Distinguished Service Awards, Honorary Degree | SUNY Plattsburgh
---
Cerise Oberman, SUNY distinguished librarian and the college's first dean of library and information services, and Dr. Laurence Soroka, associate professor emeritus of expeditionary studies, both now retired, will be honored with the 2016 Distinguished Service Award at SUNY Plattsburgh's spring commencement exercises on Saturday, May 14.
In addition, Dr. Michael Hawes, CEO with the Foundation of Educational Exchange Between Canada and the United States and executive director, Fulbright Canada, will receive a SUNY honorary degree of doctor of letters at the ceremony.
Spring 2016 Commencement will be held Saturday, May 14 at 9 a.m. for those students majoring in programs within the School of Education, Health and Human Services, and the School of Business and Economics, and at 2 p.m. for students majoring in programs in the School of Arts and Sciences.
Distinguished Service Awards
Both Oberman and Soroka have both served the college, community and state with distinction since their arrival in the North Country in 1988 when Oberman was director of Feinberg Library and he a visiting professor of history.
In 1995, Oberman was appointed dean of what is now called Library and Information Technology. Two years later, at a time when the institution's first strategic plan urged the college to recognize and promote SUNY Plattsburgh's unique location in the both the Adirondack Region and Champlain Valley, Soroka suggested an academic program that could do just that. He began to lay the groundwork for what is now expeditionary studies.
"We were initially attracted to the area because of the uncluttered climbing areas and the ease of getting to the mountains to ski and the lakes to paddle, not to mention the proximity to Montreal," Oberman said. "We planned to stay for three years, but the support and opportunities at the college kept us here much longer."
Three years quickly turned into nearly three decades. Today the couple has retired in the town they now call home.
Oberman, in her role, guided the college's library and computer and technology operations into an effective, unified area that integrates the way the college preserves, stores, retrieves and disseminates knowledge.
"These are central functions of the academic enterprise; they are at the heart of teaching and scholarship — and the means of learning and creativity," said Dr. E. Thomas Moran, director of the Institute for Ethics in Public Life and SUNY distinguished service professor, who nominated the couple for the Distinguished Service Award. "Cerise understands this and her technical knowledge, administrative acumen and her character as a leader assured the organizational success of this profoundly important vision. Her achievements as dean are an enduring legacy for the college."
Invested in Place that 'Invested in Us'
Moran went on to describe how the expeditionary studies program "attracts students who have exciting and life-changing experiences. It also helps to define the college and this region in wonderfully positive ways. Those who worked directly with Larry as he developed the program emphatically attest to his patience, skill, energy and vision in establishing expeditionary studies. In the modern history of the college, there are few, if any other instances, in which a single individual has so successfully built from scratch an institutionally defining program in the way that Larry has."
"Being nominated for this award by a colleague of Tom Moran's stature and then receiving the award from the College Council was doubly satisfying," Soroka said. "In Tom's case, he was the catalyst behind expeditionary studies. He shares, in some way, in the award."
"Over my 27 years at the college, I have seen many outstanding individuals receive the Distinguished Service Award," Oberman said. "I never dreamed that I would one day be a recipient. What is even more surprising is that I am receiving the award for doing the work I love for an institutional that I deeply care for. There is a special irony in us receiving this award together. Neither of us ever thought that SUNY Plattsburgh would be much more than a way station on our academic journey. But together, in our own separate ways, we found ourselves invested in a place that invested in us."
While the couple has long supported SUNY Plattsburgh financially, they decided to make a gift that will have a lasting impact on students. Last year, they created the Expeditionary Studies Endowment Award, which will fund deserving students enrolled in the undergraduate EXP capstone "Senior Expedition" course.
The late college President George Angell created the Distinguished Service Award in 1966 to be given to a person or persons who have in some way played a key role in advancing SUNY Plattsburgh. Past recipients have included the late New York Sen. Ronald Stafford, U.S. Sen. Daniel Patrick Moynihan, retired Adm. Grace Hopper, and Dr. Joseph and Joan Burke.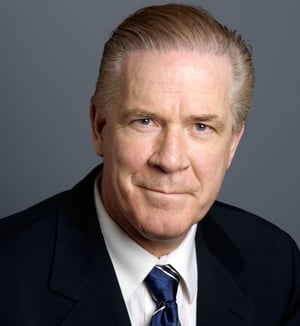 Honorary Degree to be Conferred
Hawes has spent much of his 30-plus-year career in collaboration with SUNY Plattsburgh and the Center for the Study of Canada.
Working closely with center Director Christopher Kirkey, Hawes has established several Fulbright Canada Visiting Research Chairs — the first in Canadian studies and more recently in Quebec studies — in partnership with the Government of Quebec. The collaboration has also resulted in a short-term visiting research fellow at the center.
"Dr. Christopher Kirkey and I have also worked on a number of projects, including conferences designed to support and provide opportunities for graduate students and early career colleagues," Hawes said. The pair has co-authored several journal articles, special issues of journals and academic books. "I am also proud to support and partner with the center on its Canada-U.S. Youth Ambassador Program.
"I feel very much at home at SUNY Plattsburgh, where a caring and careful academic environment has translated into important outcomes for the relationship — including opportunities for business leaders to get together, teaching young people that relationships matter, that diversity and tolerance are the hallmarks of a great friendship, and that while genuine collaboration takes hard work, the results are truly worthwhile."
Geography 'Made Us Neighbors'
Hawes maintains that a vibrant relationship between Canada and the United States is imperative.
"There are no two countries on Earth that have a more substantial, more peaceful, or more fully integrated relationship," he said. "The free and steady movement of goods, services, and people between Canada and the United States is critical to our common future and very important to economic prospects for our students — on both sides of the border.
"More than 50 years ago, President John F. Kennedy famously claimed that 'geography has made us neighbors. History has made us friends. Economics has made us partners, and necessity has made us allies. Those whom God has so joined together, let no man put asunder.' This is as true today as it was in the early 1960s."
He said he is "deeply honored and humbled to be recognized by SUNY. It recognizes a key ongoing partnership, a long-term commitment to promoting mutual understanding and a mutual respect. I am most grateful."