Jump to Footer
Move-in Weekend Sets Stage for New Semester, Class of 2023
---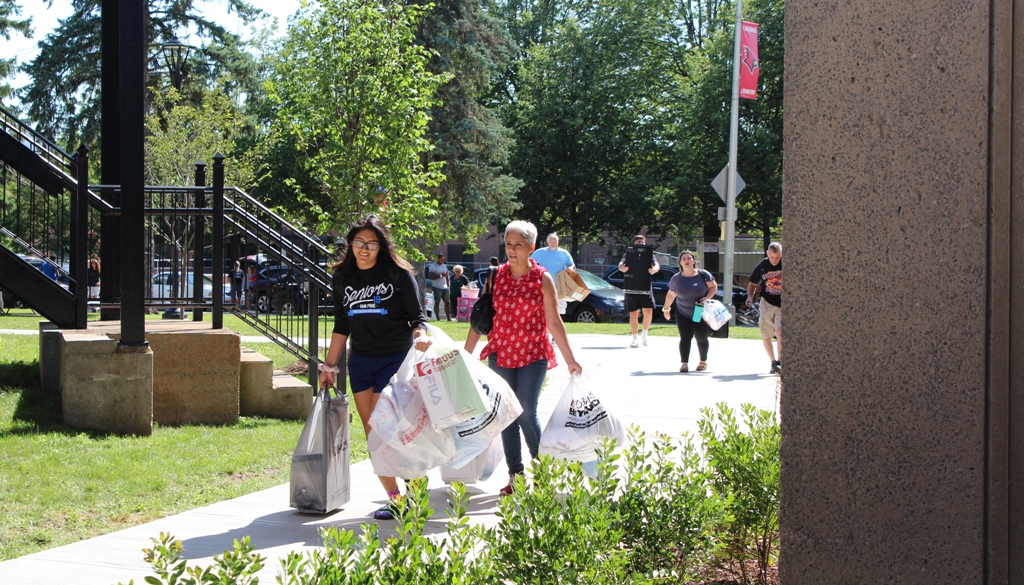 Volunteers from residence halls, fraternities and sororities helped hundreds of students move into their homes-away-from-home over the weekend when SUNY Plattsburgh opened for the 2019-2020 academic year.
In keeping with a tradition started last year, freshmen were allowed to move in a day early, on Friday, Aug. 23, which helped relieve congestion along Rugar Street and gave them the chance to acclimate themselves to campus ahead of the returning students.
EOP Summer Institute Helped
Ashly Contreras, 18, of the Bronx, was one of them, although she was no stranger to campus.
Contreras attended the Educational Opportunity Program Summer Institute, which ran from July 6 through Aug. 3. The program, open to accepted EOP students, opens the doors to higher education for students who might otherwise not have a chance because of academic or economic disadvantages. Contreras is the first of four siblings to attend college.
"I'm trying to hold it together," said Saadia Estrella, Contreras' mom, who was helping her new freshman move in. "She's my first; it's going to be so hard. I know she'll be fine, but I won't see her for a long while."
Contreras knew the first day would be difficult, but she brought support from home in the form of a huge blonde teddy bear.
"I don't live with my dad; he gave this to me last Christmas for when I couldn't be with him. When I get lonely, I can cuddle it," she said. The biomedical sciences major won't be too uncomfortable — she was moving into the newly renovated Whiteface Hall.
"I can't wait," she said. "I'm so excited."
Full Weekend Schedule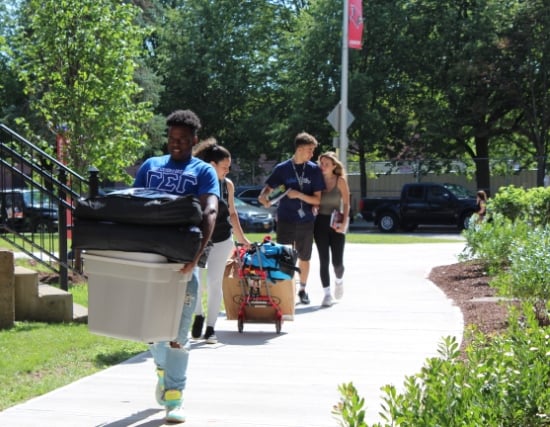 Under a tent between the Angell College Center and Champlain Valley Hall, freshmen like Contreras and their families found a picnic lunch prepared by Chartwells. At 3:30, freshmen were escorted to the Field House for a matriculation ceremony. Faculty and staff were escorted in by bagpipes, a foreshadow of what the Class of 2023 will experience at their own graduation. They heard words of welcome and encouragement by Bryan Hartman, vice president for enrollment and student success, Dr. Michelle Cromwell, vice president for diversity, equity and inclusion, and Essence Hightower, president, Student Association, among others.
Returning students began arriving Saturday. All students had events planned throughout the weekend, including placement exams, course advisement, academic meetings and floor meetings in the residence halls. The College Bookstore offered extended hours, and the campus shuttle, which transports students to shopping centers and grocery stores, started its regular schedule on Aug. 25.
For more information on opening week, visit https://www.plattsburgh.edu/current-students/opening-week-information.html.