Jump to Footer
Kent Gallery Reopens Following Podium Renovation with Sept. 27 Reception
---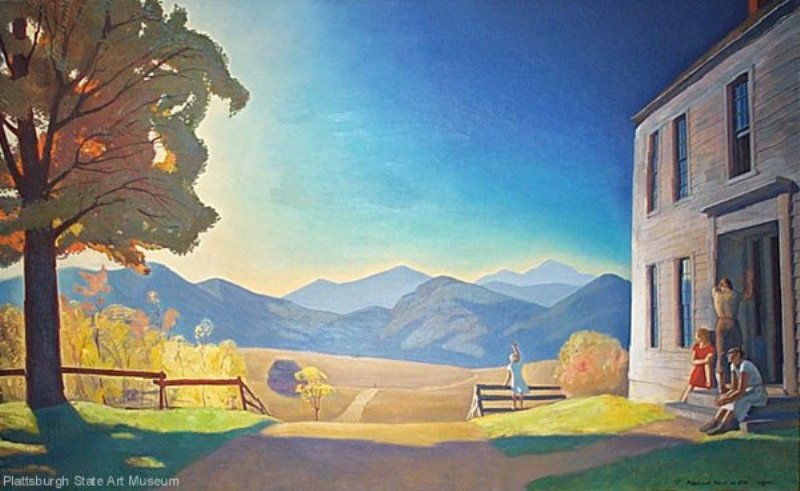 The Kent Gallery, one of the largest repositories for the works of the late artist and political activist Rockwell Kent, closed since December 2016 during reconstruction of the podium walkway, will reopen Thursday, Sept. 27 with a reception beginning at 4:30 p.m.
In 1974, Kent's widow, Sally Kent Gorton, presented the college with a representative collection of Kent's works that became the foundation for the Rockwell Kent Collection. In 2000, she donated additional items to the collection, referred to as the "Kent Legacies" materials.
Kent was more than a painter. He was a muralist — his large-scale American Lung Association mural hangs in the northern stairwell of Angell College Center — illustrator, printmaker, book designer, graphic artist, architect and builder, writer and editor, and world traveler.
The gallery at SUNY Plattsburgh showcases 34 paintings done by Kent between 1900 and 1965. These paintings as well as a large collection of prints, drawings, dinnerware, books, design art, photographs, bookplates, archives and personal items from his travels and from his life at Asgaard Farm near AuSable Forks, N.Y., are on permanent display there. A long-time friend of the late Dr. George Angell, who served as SUNY Plattsburgh president from 1952 to 1973, the two envisioned a collection of his work on campus.
According to Dr. Karen Blough, professor, art history, the Kent Gallery was closed in Feinberg "because the podium work was causing shaking to Feinberg that could have resulted in damage to framed paintings.
"They were moved to the Slatkin Room in Myers where they remained until March of this year," Blough said. "At that point, the majority of them were sent to the Hyde Collection in Glens Falls, N.Y., for the Hyde's exhibition, "Rockwell Kent: Prints from the Ralf C. Nemec Collection and Paintings from North Country Collections," which ran April 8 through July 22."
Thursday's reception will include a gallery talk by Kent scholar, art historian and director emerita of the Adirondack Museum, Caroline Welsh. Welsh most recently curated the Hyde Collection's Kent exhibition.
The Rockwell Kent Gallery's regular hours are noon to 4 p.m. Monday through Friday. For more information on the gallery or the re-opening reception, contact Edith Ellis at 518-564-2474 or visit https://www.plattsburgh.edu/plattslife/arts/art-museum/rockwell-kent-collection.html.