Jump to Footer
Instant Decision Days Usher Transfer Students Through Admissions Process
---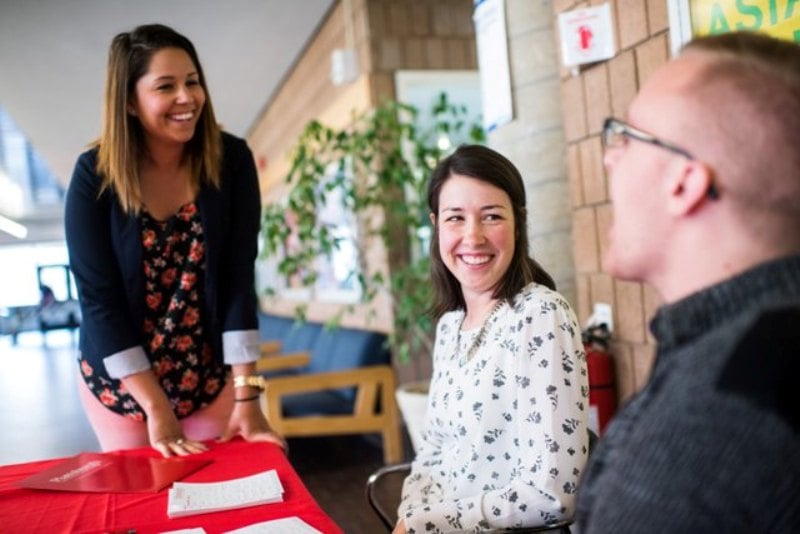 Students at four community colleges looking to continue their degree at SUNY Plattsburgh can find out within 20 minutes if their applications are complete for transfer during one of the Office of Admissions Instant Decision Days.
More than half of the college's transfer students come from Clinton Community, North Country Community, Hudson Valley Community or SUNY Adirondack community colleges. The college has partnered with these schools to reduce barriers to enrollment by giving potential transfer students direct access to advisers who review applications and complete credit evaluations on the spot.
According to admissions, the three questions most transfer students typically ask are:
What is needed to complete the application
Are all credits transferrable
How long will it take to finish the degree
Students are able to get answers to those questions and more in 20-minute appointments made throughout the day.
Through the collaboration, the community colleges promote Instant Decision Days on their campuses. Students register online, and members of SUNY Plattsburgh's admissions office reach out to them ahead of time to ensure they've submitted everything needed to deliver a decision and credit evaluation during the event.
Upcoming Instant Decision Days for the four colleges are:
Clinton Community College: Feb. 26, March 26 and April 16
SUNY Adirondack: Feb. 27, March 25 and April 15
Hudson Valley Community College: Feb. 28, March 27 and April 17
North Country Community College: March 28 9 a.m.-noon, Saranac Lake campus; 1-4 p.m. Malone campus
All others are 9 a.m.-4 p.m. For information on transferring to SUNY Plattsburgh, visit https://www.plattsburgh.edu/admissions/transfer/index.html.
For information on Instant Decision Days, contact admissions at 518-564-2040 or email [email protected] or visit https://www.plattsburgh.edu/admissions/visit/index.html to register directly for one of the 20-minute Instant Decision Day appointments.