Jump to Footer
Information Sessions, Open House Events on Tap for Prospective SUNY Plattsburgh Students
---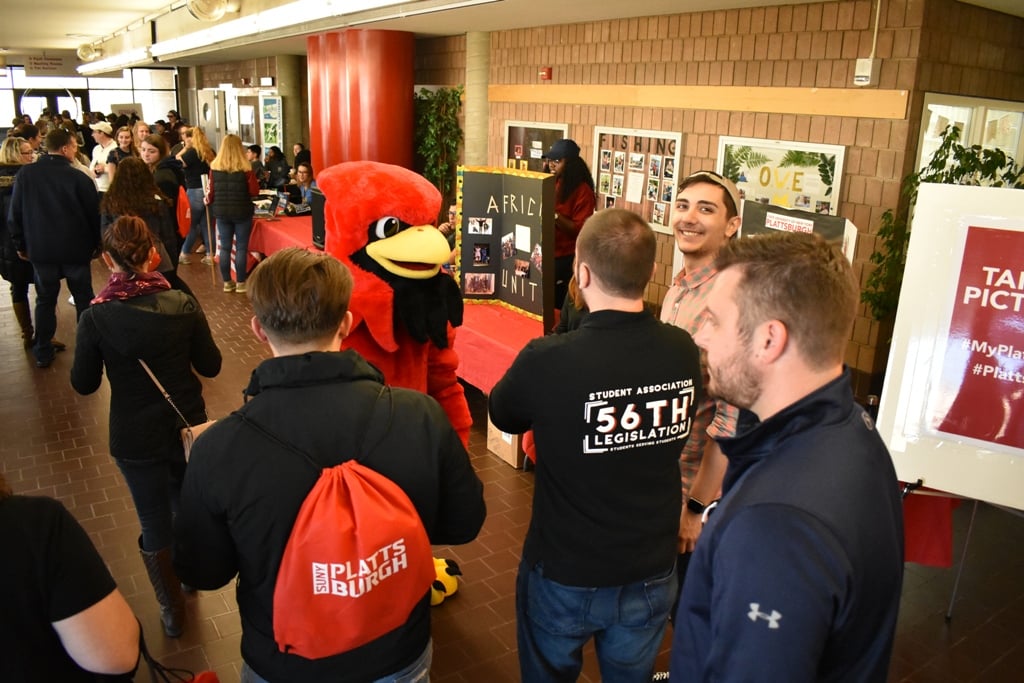 The start of the fall 2019 semester is still more than two weeks away, but the Office of Admissions has been busy hosting and planning events to show off all the college has to offer someone considering a SUNY Plattsburgh degree.
Information sessions — on campus, online and at regional locations — two fall open house events, community college Instant Decision Days and more are on the admissions calendar.
Group information sessions are held Mondays and Fridays from now throughout the fall and run 1-3:30 p.m. Select Saturday information sessions are being held:
Sept. 28
Oct. 12
Nov. 9 and 23
Special group information sessions are also scheduled Tuesday, Oct. 1 (Rosh Hashanah); Tuesday, Nov. 5 (Election Day); and Monday, Nov. 11 (Veteran's Day), from 1 to 3:30 p.m.
Group information sessions are a great way for prospective students to meet others who are looking at SUNY Plattsburgh and include academic highlights, student-life information, access to admissions advisers for one-on-one questions, and interactive Q&A sessions with current-student panels. Tours of campus, residence halls and dining facilities are also held.
Admissions also holds two open house events in the fall. This year's programs are Saturday, Oct. 26 and Saturday, Nov. 16. Both begin at 10 a.m. with an admissions presentation. Students interested in attending will have the chance to participate in academic break-out sessions with faculty and students for specific program areas. Tours of campus showcase classrooms, dining, residence and campus life facilities and more. A student-service fair introduces prospective students to programs and activities available.
Those students transferring from area community colleges have the opportunity to participate in one of several admissions Instant Decision Days held at Clinton Community College, Hudson Valley Community College, North Country Community College and SUNY Adirondack. There, students can meet with transfer advisers who will answer questions about credit transfers and have SUNY Plattsburgh applications available. Admissions decisions may be made on the spot.
Appointments for Instant Decision Days are held throughout the day in 20-minute intervals and are by registration only. Events are as follows:
Clinton Community College, 9 a.m.- 4 p.m.:
Tuesday, Oct. 8
Tuesday, Nov. 19
Thursday, Dec. 5
Hudson Valley Community College, 9 a.m.- 4 p.m.:
Thursday, Oct. 10
Thursday, Nov. 21
North Country Community College, 9 a.m.-noon:
Thursday, Oct. 10
Thursday, Nov. 21
SUNY Adirondack, 9 a.m.-4 p.m.
Wednesday, Oct. 9
Wednesday, Nov. 20
Students in the New York City area don't need to feel left out of information sessions. They can learn about academics and student life, the Plattsburgh area and more Monday, Sept. 30 at the SUNY Welcome Center across from Bryant Park beginning at 6 p.m. Other regional sessions will be held on Long Island, the Capital District, and Central and Western New York. Those dates will be announced later in the fall, and can be found at https://www.plattsburgh.edu/admissions/visit/ along with all admissions events including online, financial aid, RN-to-B.S. in nursing, and Educational Opportunity Program sessions.

For more information, call the Office of Admissions at 518-564-2040 or email

[email protected]

.

Unable to retrieve file contents for https://www.plattsburgh.edu/news/news-list.php
Warning: count(): Parameter must be an array or an object that implements Countable in phar:///var/www/staging/_resources/scripts/brei.feedmanager.ext/Filtering/FilteredObject.php on line 126

Warning: count(): Parameter must be an array or an object that implements Countable in phar:///var/www/staging/_resources/scripts/brei.feedmanager.ext/Filtering/FilteredObject.php on line 243