Jump to Footer
SUNY Plattsburgh 2012 Incoming Class Diverse and Academically Strong
---
For the seventh year in a row, SUNY Plattsburgh has had so many applicants that it had to turn away more than half, accepting only 45.6 percent.
Having surpassed its enrollment goals for fall 2012, the college is also welcoming the most diverse freshman class in its history. More than 25 percent — not including international students — identify themselves as coming from an ethnically diverse background. This is up from 23 percent last year and 20.2 percent in 2010.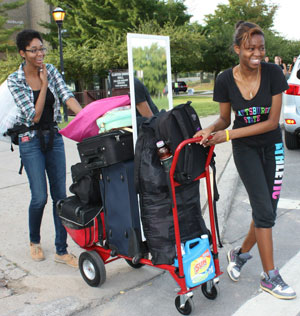 Meanwhile, more than 100 of the new students hail from other countries, their top five countries of residence being China, Japan, Canada, Ethiopia and Korea. A total of more than 60 countries will be represented in the overall mix at the college this fall.
Forty Percent of Freshman Class Are Merit Award Recipients
Not only is the incoming group diverse, it is also strong academically, according to Richard Higgins, associate vice president for enrollment management and director of admissions at the college. Higgins said that, of the 985 freshman admitted, 40 percent are merit award winners.
In addition, the college has received deposits from more than 650 new transfer students, many coming from Clinton, Adirondack, Hudson Valley and North Country community colleges.
At the same time, 117 new students are enrolling in the Branch Campus at Queensbury and the college's extension site at Hudson Valley Community College. Ninety-six of these are undergraduates and 21 graduate students.
A Place Where Students Want to Be
"We know our faculty and staff are doing something — indeed, many things — right because of the accolades we have just received from the Middle States Commission on Higher Education (accrediting association), the growth in graduation rates and our success in not just meeting, but exceeding, our enrollment goals," SUNY Plattsburgh President John Ettling said. "Much credit goes to all of the individuals who make up our campus community for continuing to make this a place where students want to be."