Jump to Footer
In-Person Commencement Events Planned for Class of 2021
---
SUNY Plattsburgh will host a series of smaller, in-person commencement ceremonies for members of the Class of 2021 Saturday, May 15 in the Field House gymnasium.
"As a first-generation student, I know the milestone that graduation represents," said President Alexander Enyedi. "I want to acknowledge how challenging this year has been for everyone. Each of us, students, faculty and staff have navigated the pandemic and done so much under the most challenging conditions. This college's resilience and drive has shown what Cardinal Strong means and now is the time to celebrate."
Following state and county health department guidelines, attendance will be limited to the Class of 2021 graduating seniors and graduate students. Graduates will be assigned an event time according to their major and school.
Events will likely run at 8 a.m., 10 a.m., noon, 2 p.m. and 4 p.m. An additional 6 p.m. online ceremony option is to be created for those unable to attend in person. The ceremonies will include elements of the college's traditional commencement events.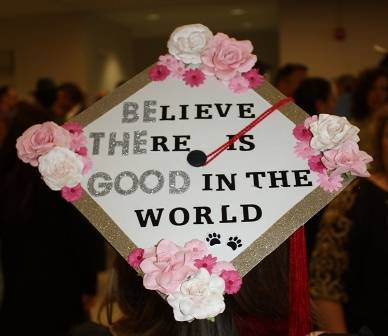 Guests and spectators will not be allowed to enter the Field House or other campus facilities. The college continues to follow state health and safety guidance that limits attendance regardless of size or location. Masking, social distancing and other safety precautions will apply. The college is also working to determine whether and how many faculty may be able to attend.
The events will be available by livestream for all to view via the college's website. A recording of the events will also be made and shared online.
All participants will need proof of vaccination or a negative COVID test within 72 hours as required by the state. Plans for commencement are contingent on the public health situation and state guidance. Should COVID-19 cases locally or regionally rise markedly, the college may alter the plans.
Graduation regalia can be purchased from the Campus Bookstore or directly through the college regalia vendor. Ordering and other commencement details are online at www.plattsburgh.edu/commencement.