Jump to Footer
Many Return to the Burgh for Homecoming 2017 | SUNY Plattsburgh
---
More than 500 people celebrated SUNY Plattsburgh's Homecoming Oct. 13 and 14, with nearly 300 alumni and friends participating in the weekend's festivities.
Many of them could be found at Memorial Hall Field Friday night for the Homecoming bonfire, where members of the campus community mingled, danced and enjoyed free popcorn, peanuts and hot chocolate.
Banners decorated by various student groups were also on display at the event, and attendees voted for their favorites. The Educational Opportunity Program took first place in the banner contest, winning $250. The college's American Red Cross group took second place and $150, while Club Al-Arabiyya came in third, winning $100.
"We wanted to create a Homecoming event that encompassed the entire campus community, including our student body, and in its third year, the Homecoming bonfire brought together more than 300 students and alumni to celebrate their pride in the campus," said interim Director of Alumni Relations Kerry Chapin-Lavigne.

Musical Showdown
New to the Homecoming lineup this year was the Battle of the Bands, for which four musical groups played back to back at the Field House as members of the campus community danced and sang along. Attendees voted for their favorite bands, whose performances were also evaluated by a panel of judges.
Student band Izland Tonik was declared the overall winner of the battle, taking home $200. In second place was Taylor LaValley & The Intangibles, followed by student band Divide By Zero and student/faculty group Mambo Combo.
Stephen MacIntyre '77 of Rochester, N.Y., and Bob Uerz '78 of Jericho, Vt., attended this year's Homecoming festivities together, as they do every few years.
"It's a lot of fun," MacIntyre said. "It brings back a little bit of the youth that you experienced."
As students, he and Uerz were roommates and resided in Harrington Hall.
"It's nice after all these years to think of Steve as my best friend," Uerz said.
In addition to catching up with his former roommate, Homecoming weekend was an opportunity for MacIntyre to connect with current students.
"Even though there's a big age difference, we all have the same common ground," he said.

Celebrating Gaber
The weekend also served as an opportunity to honor Dr. Mohamed Gaber, chair of the accounting department, for his recent promotion to SUNY Distinguished Service Professor.
Faculty, staff, students and alumni gathered in Feinberg Library Friday afternoon for the unveiling of a portrait of the educator, who has been with the college for 32 years.
Celebration of Gaber's service to the college and community continued the following day with a gathering hosted by the School of Business and Economics (SBE) in AuSable Hall. Attendees had a chance to check out the school's new Bloomberg Terminals, which the college was able to purchase thanks to the success of a recent crowdfunding campaign.
SBE hosted an alumni presentation and networking session on Friday as well, giving students an opportunity to have informal conversations with accomplished alumni from various SBE disciplines.

Meals and More
Additionally, SUNY Plattsburgh Hillel held its second-annual Hillel Homecoming on Friday, for which alumni gathered with current Hillel students for a Shabbat dinner in the Angell College Center.
On Saturday morning, communication studies alumni and student members of the National Broadcast Society, as well as Lambda Pi Eta — the Delta Xi chapter of the National Communication Association Honors Society — gathered for a meet-and-greet breakfast in the Angell College Center.
That evening, Alpha Phi Alpha fraternity presented its Battle of Olympus Stroll Show Competition, a dance contest featuring students and alumni.
As always, athletics were a central part of the weekend, with the Cardinal men's soccer team taking on opponents Friday and Saturday. Several sports were represented in alumni games as well. On Saturday, women's hockey alumnae and friends celebrated the 10-year anniversary of the back-to-back championship teams of 2007 and 2008 with a golf tournament at Bluff Point Golf Resort.
Other weekend festivities included two shows for children at the Northcountry Planetarium and an opportunity to skate with SUNY Plattsburgh's mascot, Burghy, at the Stafford Ice Arena.
The spirit of Homecoming could be felt in the greater community as well, with the English department drawing people off campus to the Strand Center for the Arts Friday evening to celebrate the 13th issue of its literary journal, Saranac Review.
And lastly, the ever-popular and longest-running Homecoming event, the Welcome-Back Social at the Monopole, attracted many to the historic downtown establishment to reconnect.
"For the alumni who returned to campus to celebrate Homecoming, I hope it brought back wonderful memories of years spent on campus and in Plattsburgh," Chapin-Lavigne said.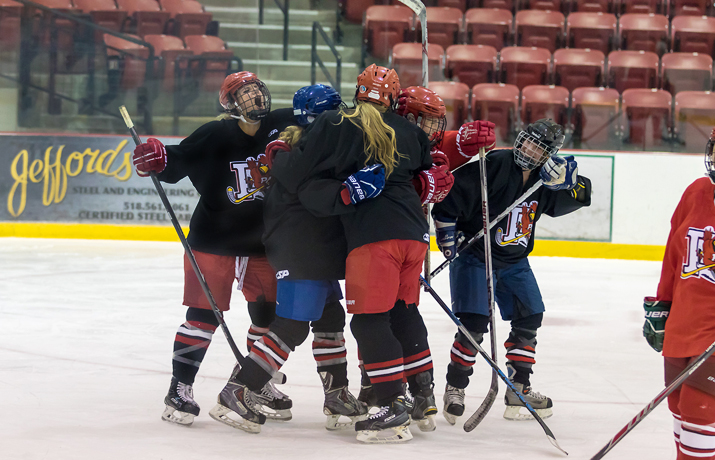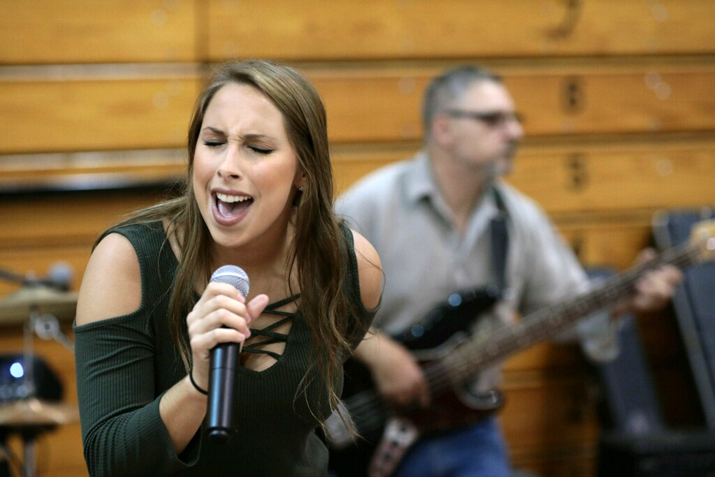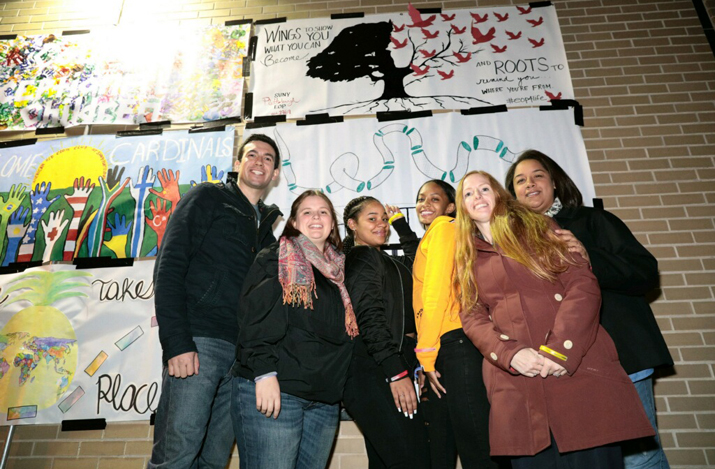 Office of Alumni Relations
Room 113 Hawkins Hall
101 Broad Street
Plattsburgh, N.Y. 12901-2681
Phone: 518-564-2090 or 800-964-1889
FAX: 518-564-2094
Email: [email protected]