Jump to Footer
GospelFest to Feature High School Students from Around Adirondack Region
---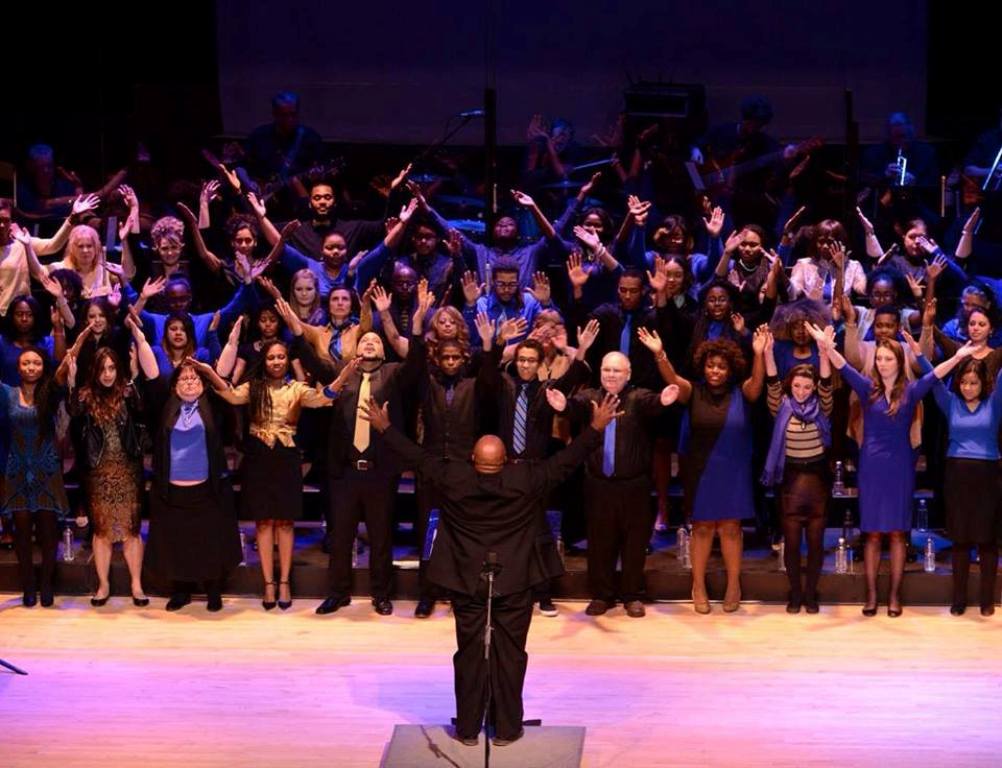 The Plattsburgh State Gospel Choir is upping its game for this year's GospelFest when it hosts 60 high school students from across the Adirondacks for a two-day clinic that culminates with a concert April 27 at 6 p.m. in the E. Glenn Giltz Auditorium.
Students will work with Stan Spotswood, a composer, arranger and jazz pianist from Silver Springs, Md., learning the music they will then perform in concert. The 15-piece Adirondack Chamber Orchestra, under the leadership of Jennifer Moore of the Willsboro Central School District, and the Gospel Choir band will perform with the students, who hail from AuSable Valley, Crown Point, Keene Valley, Peru, Saranac, and Willsboro central schools. Alumni from the Ithaca College High School Gospel Choir Festival will also participate.
In addition to the performances by the inaugural Adirondack High School Gospel Honors Festival Choir, soloists from the Plattsburgh State Gospel Choir will perform as well as Stafford Middle School's a cappella group, Fermata Nowhere, under the direction of SMS music teacher Cody Hampton.
In February, Fermata Nowhere competed against high school students at the International Championship of High School A Cappella regional quarterfinals, where they missed qualifying for the semifinals by three points.
The April 27 concert will feature a cappella, concert spirituals, contemporary gospel, traditional gospel and inspirational ballads.
Advance ticket prices are $8 for students, $15 general admission. Day of show ticket prices are $10 students, $20 general admission. Children under 5 are free but must share a seat with an adult.
Advanced tickets are available for purchase at the Christian Supply Center, 164 Prospect Ave. in Plattsburgh and the Gospel Choir office in 133 Hawkins Hall or online at www.plattsburghstategospelchoir.org.
Co-sponsored by the Lake Champlain Mass Choir, SUNY Plattsburgh Department of Music, Plattsburgh State Gospel Choir and the SUNY Plattsburgh Student Association. For more information, contact the Gospel Choir office at 518-564-2704 or email [email protected].